Who can see the media details page?
All users who have media in their Library can view the details page for that media.
All Admins can view details for media from the Captures page.
All Instructors and Teaching Assistants can view the details page for media in their courses.
As the name would imply, the Media Details page provides details about the media and gives access to ALL THE THINGS you can do with the media. This article provides some basic information. You can find detailed descriptions of the page and its contents in The Media Details Page help article.
There are two ways to access the media details page:
OR...
Click on the media icon in the Class List of your course and select Details from the menu.
This is NOT available for students.

If you are a student, and you have no items in your Library OR you do not have a Library option in the top navigation shown above, this article does not apply to you. You can only view media that has been embedded in an LMS/VLE page, through your EchoVideo course classes, or through a Collection in which you are a member.
The top section of the Media Details page has a playback or preview panel at the top. This allows you to play the video or page through the slides.
Below the playback panel, you will find the Name of the media, a row of command buttons, and a set of tabs containing additional information and functionality for the media.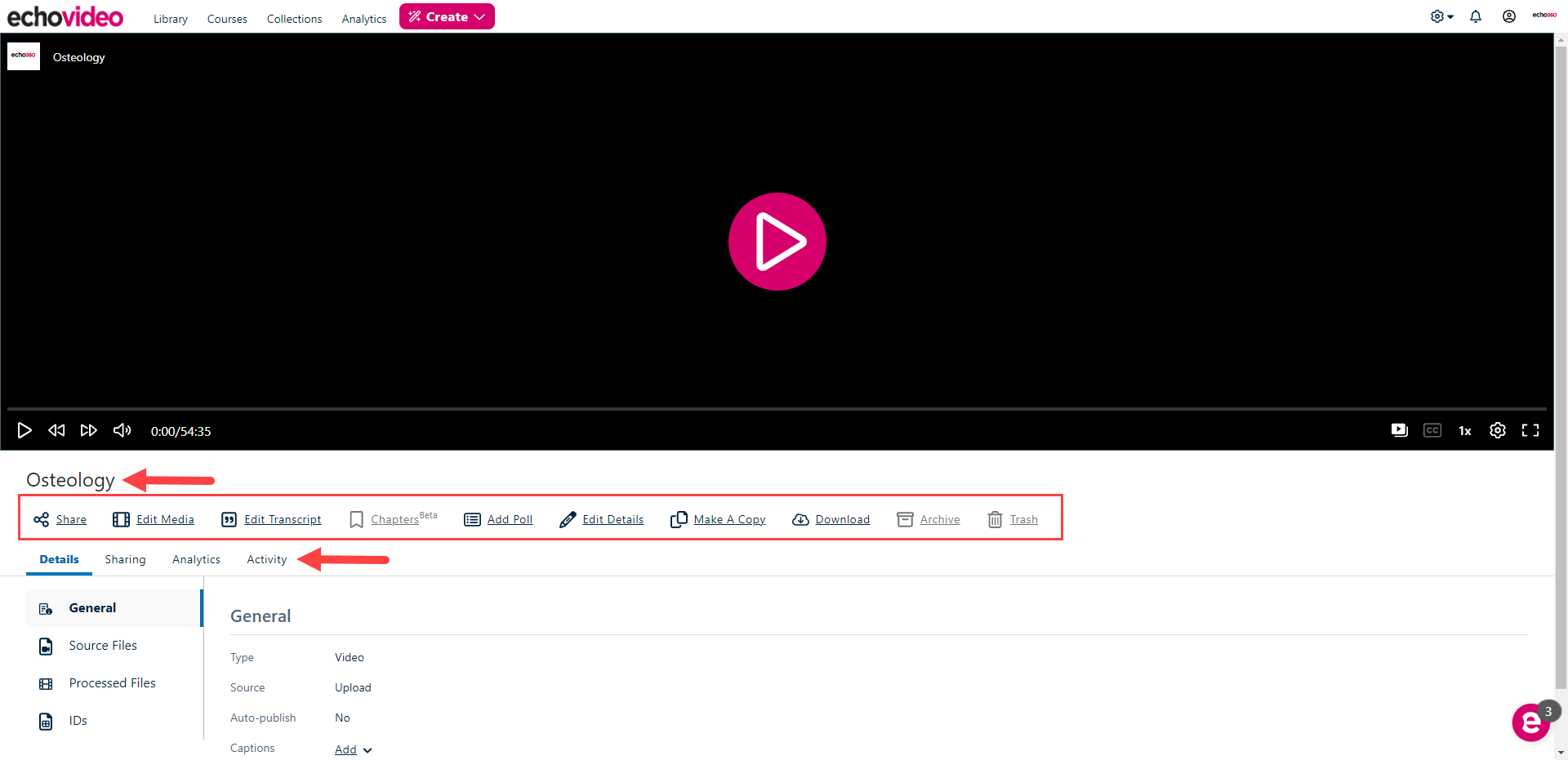 Media Commands
The Commands shown for the media, located in the box in the above figure, are described below. All commands appear but which are active for you depends on your role in the system, whether or not you own this piece of media, or what Collection media permissions you have. If a command is grayed out and not selectable, you cannot perform that action on this media.
Media Tabs
Below the row of commands, you will see one or more tabs, each containing different information or actions for the media. What tabs appear depends on what KIND of media this is.
The possible tabs include:
Once again, see The Media Details Page in the Teaching & Learning section of the online help for more information about the details page.