This article discusses the necessary configuration for utilizing one or more of the supported third-party closed captioning providers listed below. These configurations will then be able to be utilized for specific Organizations, Departments, and/or Sections within EchoVideo.
EchoVideo also offers an automated transcription service for media, which can be configured to automatically push transcriptions to closed captions if they meet an accuracy threshold. See Automatic Speech Recognition (ASR) Service for Media Transcription as well as Automatically Apply Transcripts as Closed Captions for Media for more information.
Closed captioning is the process of generating text from captured material and presenting the text in a readable format for end users during playback. Originally developed as an aid for the hearing-impaired, it is also useful for reinforcing lesson materials for all students.
The capture material (audio/video) is sent to a captioning service and then retrieved by the platform to integrate with the capture material.
BEFORE you can enable closed captioning in EchoVideo, you must set up an account with your captioning provider. EchoVideo currently supports the following third-party captioning providers:
If you have configured a closed captioning provider but no longer wish to use it, you can turn the closed captioning feature off for the institution or disable it by changing the active status of the configuration. This still allows for captions to be manually uploaded if appropriate, or fall back to using the default configuration when applicable.
Configure Closed Captioning in EchoVideo
Once an account is established with your captioning provider, they will provide the necessary information and authentication values needed to configure closed captioning in EchoVideo. There is no limit to the number of closed capture configurations you can have set up at the institution level.
To configure closed captioning
Log into EchoVideo as an Institution-level administrator.
Click the Settings icon and select Institution Settings.

General settings appears and Basic Info is selected by default.

Click Integration.
From the middle panel, select Closed Captioning, as identified in the below figure.

Click the Add Configuration button.
Use the Provider drop-down list, shown below, to select the provider you are using.

Complete the requested Provider Settings options using the information you have from your captioning provider.


This may include secure communication values, such as API Key or Secret given to you by the captioning provider. It may also include selections for turnaround time, accuracy, language, or service profile the provider will be using for your agreed-upon captioning service.

Enter a Configuration Name that will help you identify the configuration later when generating captions.
Optionally, select Additional Options.


Set As Default - This sets the closed caption configuration as the default. It is used as the main configuration at the Institution level as well as a fallback. You must have at least one institution configuration set as default.
Active Status - Allows you to turn off and on the individual caption configurations without losing their settings.
Allow Ordering - For any users you have granted caption ordering permissions to, they are able to order from any of the capture configurations that have this option enabled.
Allow Configurations - This enables you to configure closed captioning to be generated automatically for different areas of your institution. You can specify different caption configurations for different organizations, departments, and sections.

When finished, click Save.
Repeat the above steps to add additional providers.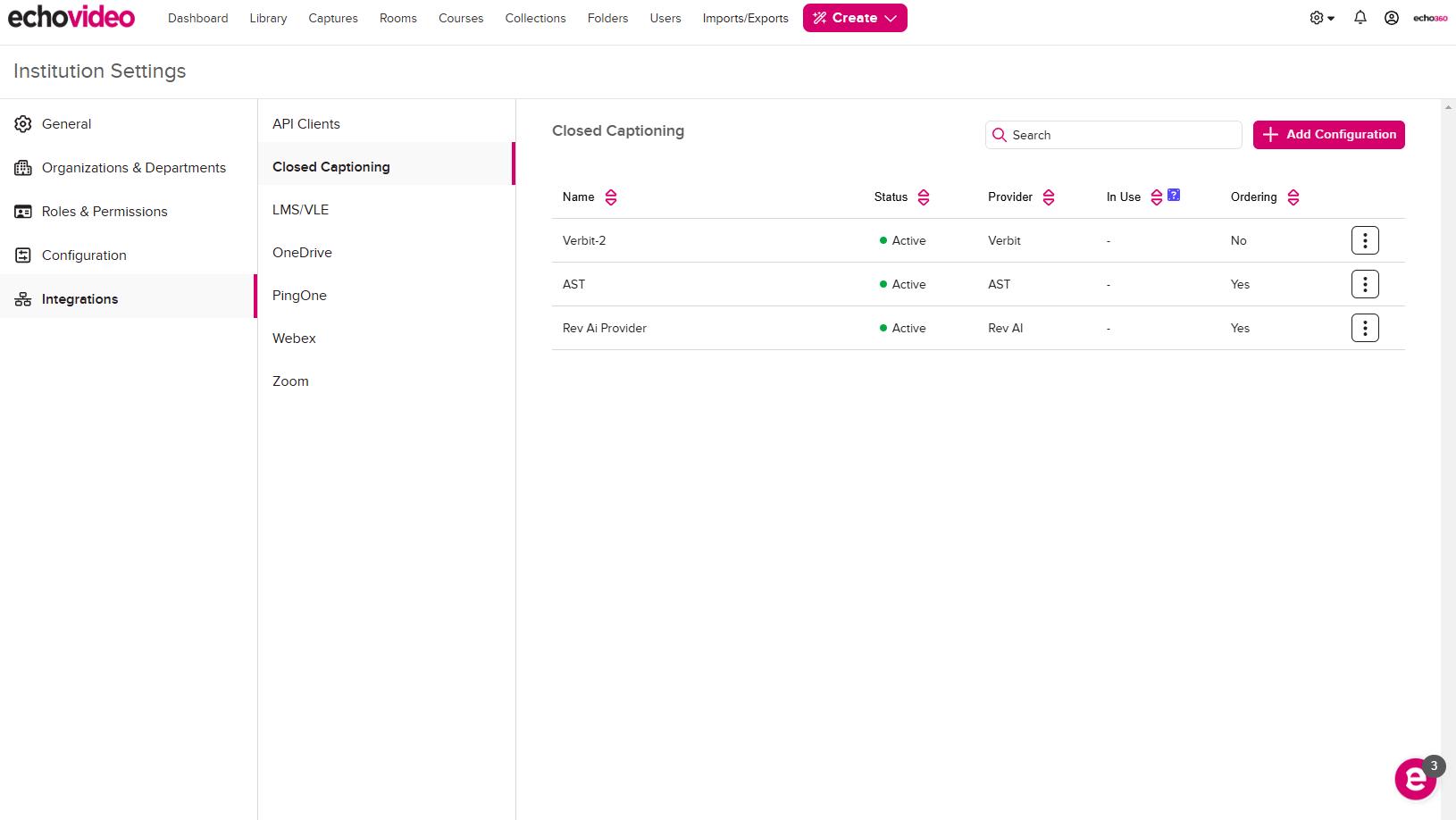 What counts as "In Use"?
A closed caption configuration counts towards the total when explicitly selected for automatic captioning in an Organization, Department, or Section. When set in one or more places, you can click on the number in this column to see where it is being used.
The default closed caption configuration will always display N/A. It is used as the main configuration at the Institution level as well as a fallback when conflicting captions happen.
Apply Captioning to Captures
Closed captioning can be applied to individual captures or to all captures in a scheduled series, such as for a section. Closed Captioning is enabled through the capture options.
Unlimited configurations are possible across one or more caption providers. Automatic caption configurations can be set up for Organizations, Departments, and Sections so that published content is automatically sent out for captioning.
You can also have captions applied to captures after they have been processed, or you can have a captioned capture reprocessed.
To apply captioning to scheduled section captures
From the main menu, click Courses.
Find the course containing the sections with captures you want to caption.
Expand the course to show the sections.
Click the Calendar icon to view the current capture schedule for the section.
Click on the Pencil icon for the capture you wish to edit.
Enable the Closed Captioning slider.

This option will appear grayed out if closed captioning is not configured for your institution.

Click SAVE.
To apply captioning to an individual capture
From the main menu, click Captures then click SCHEDULED.
Find and click the scheduled capture for which you want to enable captions.
Enable the Closed Captioning slider.

This option will appear grayed out if closed captioning is not configured for your institution.

Click SAVE.
To apply captioning to a capture after processing
From the main menu, click Captures and make sure you are viewing the Completed captures list (it appears by default).
Find the completed capture you want to caption and click on it to open the media details view.


Details -> General displays by default.

Find the Captions entry, as identified in the below figure. If the capture does not yet have captions, this entry shows Add. If it has captions, the entry shows Update, as shown in the figure below.
Click the chevron to the right of the Captions option and select one of the following:

If the media already has captions, uploading or reprocessing for captions replaces the existing captions. SEE ALSO the note below regarding sending or re-sending for caption processing.

If the Captions option says Add, select Order Captions to choose the desired configuration and submit the media to your provider to have closed captions applied to the media.
If the Captions option says Update, select Reprocess to have captions re-generated and re-applied to the media by your captioning provider. This is shown in the below figure.
If the Captions option says Error, you can choose to Order Captions from the configuration of your choice to resubmit the request, but you may want to reach out and work with your provider directly to avoid additional charges.
Select Upload to upload an SRT or VTT caption file you have and apply it to the video.

Click OK on the confirmation dialog box that appears.
If you sent the video for processing/re-processing, the new captions are applied to the capture in the timeframe you have configured in the Closed captioning settings and negotiated with your captions provider.
NOTE: Before sending a capture to have captions added or to be reprocessed for captions, know that:
Some institutions set the caption turnaround time for several days in order to lower captioning costs. Be certain you do not inadvertently send any captures for processing before the initial captioning is slated to be completed. This will incur a second captioning cost for these captures.
All caption reprocessing will likely incur a captioning cost when sent for reprocessing. If you are reprocessing captures for captioning because of errors or problems with the original captions, contact your captioning provider to mitigate this problem.
If you uploaded a manually generated caption (VTT or SRT) file, the application of those captions to the video should take only a few minutes.