Universal Capture (UC) lets you Live Stream any Capture by selecting it as an option prior to starting a recording.
Starting an ad hoc Live Stream
Log in (if not already authenticated).
Click the pencil icon or title to launch the Capture Details dialog box.
Enter a Title, add a Description or Tags as desired.
Select a recording Quality for the capture as desired. For more information on quality options, see Universal Capture Recording Quality.


BEST PRACTICE: A/D/V, A/V/V, and A/D/D recordings can be processor-intensive. Do test captures to be sure your computer and input devices output a quality that meets your standards.

Select a Publishing and Class location.

The publishing location and class selection lists are searchable for long lists. Click into the field and start typing to search.

You MUST select a section for the capture; you cannot save your changes without selecting a publishing location.

If applicable, enter a Duration for the capture. (Does not apply to UC: Personal, see the section below)

NOTE that the Duration field is limited by upcoming scheduled captures. Captures can be initiated for any duration (up to the 8-hour maximum) up to the time the next recording is scheduled to start and will automatically stop to allow the previously scheduled capture to occur.


Click the Live Stream checkbox.
Click SAVE to return to the preview screen.

The preview screen is updated to show the Live selection.

Select and preview the inputs you want to capture.
Click Record.

A countdown appears after which the Universal Capture window minimizes and the capture begins. See Controlling a Capture for details on additional options during a recording.
After clicking Record, it may take a minute or two for the Live stream to begin as it connects to or starts up a streaming server even though UC is actively recording. During this time, students in the Classroom will see a "Waiting for Live Stream" message. In the Universal Capture window, also referred to as the UC UI (Universal Capture User Interface), instructors will see a similar message that also counts down an estimate of time remaining until the live stream kicks off.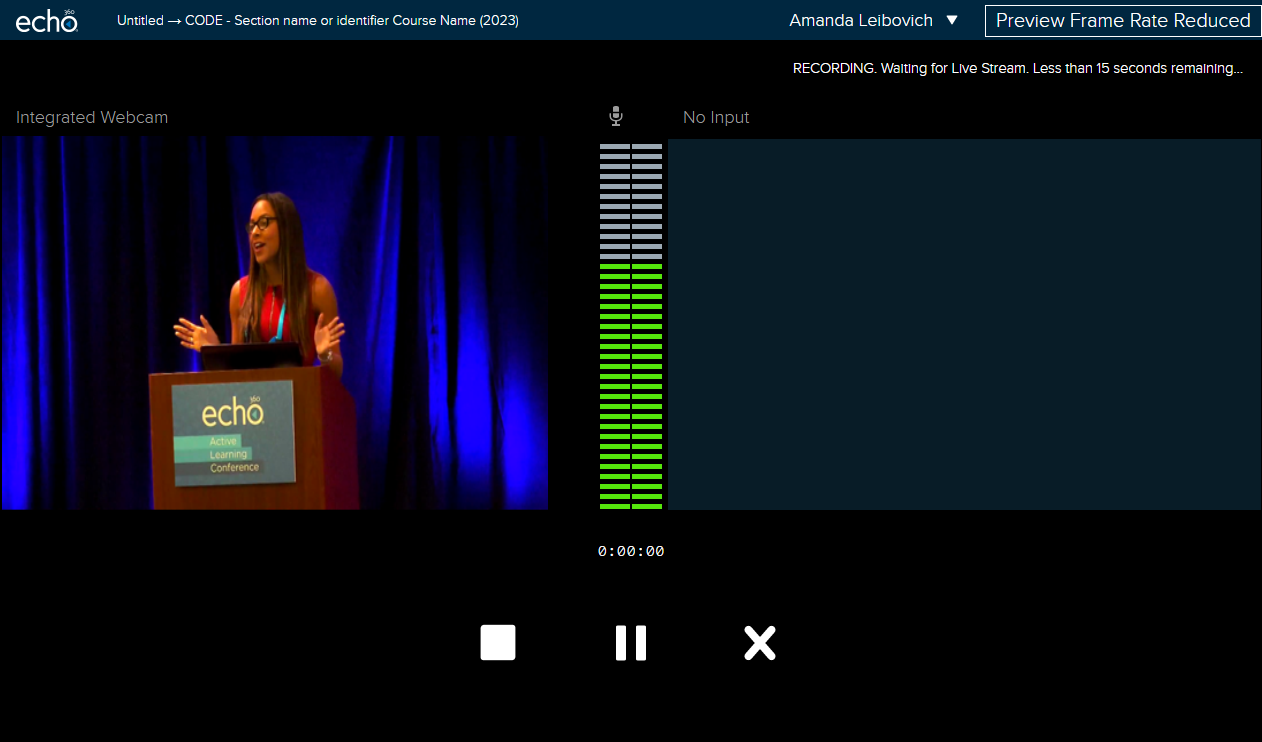 How do I know that my recording is live streaming?
- A red LIVE badge will appear in the UC UI



- A green LIVE badge will appear next to the new class in the Class List



When checking the Class List, this may be a good opportunity to add a presentation, check live attendance, manage Q&A, etc. See Live Streaming for Instructors for more details.
Network and Bandwidth Requirements
Live streaming your recordings may be impacted by network and bandwidth limitations which could interfere with streaming performance.
IMPORTANT: Users are not limited in any way to specific quality options. If you are planning to stream the capture Live, we do NOT recommend selecting Highest Quality; live streaming performance is likely to suffer, particularly for users with lower or shared bandwidth.
In general, if you are not sure what quality to select and would like to know more about recording quality see Universal Capture Recording Quality.
Best Practices
Use a wired network connection
Do a single-stream recording (A/D or A/V)
Limit the usage of other potentially conflicting or intensive applications
Select a lower recording quality
Ensure your computer meets the general Universal Capture Specifications
Live Streaming Upload Requirements
Up to 2.0 Mbps for single-stream
Up to 6.0 Mbps for dual-stream
Outbound UDP ports to be open
Not sure?
Check to see that your upload speed meets our requirements here: Global Broadband Speed Test
Check to see if your ISP (Internet Service Provider) is blocking or filtering outbound UDP traffic here: Is my ISP filtering my outgoing network ports?
See Live Streaming Data Rate & Usage and Port Configuration for Live Streaming for specific details.
UC Personal specifics
Universal Capture: Personal provides the same ad hoc live streaming capabilities that managed capture devices (UC: Classroom, Pro, Pod) do, but with two specific differences as well as a couple of additional items note.
In order to save on network resources, UC: Personal uploads and publishes your live recording once the Capture is complete instead of in the background during the ongoing recording like it does with VOD. If the Class needs to be available to students right away, make sure the upload is complete before closing your laptop or shutting down your computer.
As with VOD recordings in UC: Personal, there is no Duration to set for your Capture beforehand. When you start an ad hoc live stream, UC will keep recording and streaming until you stop it, you close the application, or the 4-hour system limit is reached.

If you try to close the application during an active capture, you will be prompted to be sure you want to stop recording and/or streaming.

Even though you can, we do not recommend that Live stream at the Highest quality.
Universal Capture: Personal requires you to be Working Online in order to stream live. Working Offline is not supported.