Features, Improvement, and Fixes
These Release Notes contain a summary of the changes made for the October 6, 2023 release of EchoPoll and EchoPoll+ for PC and Mac. For changes made in previous deployments, visit the Deployment Notes section of our Knowledge Base or contact support@echo360.com.
New Features
Capture Clicker Responses with EchoPoll+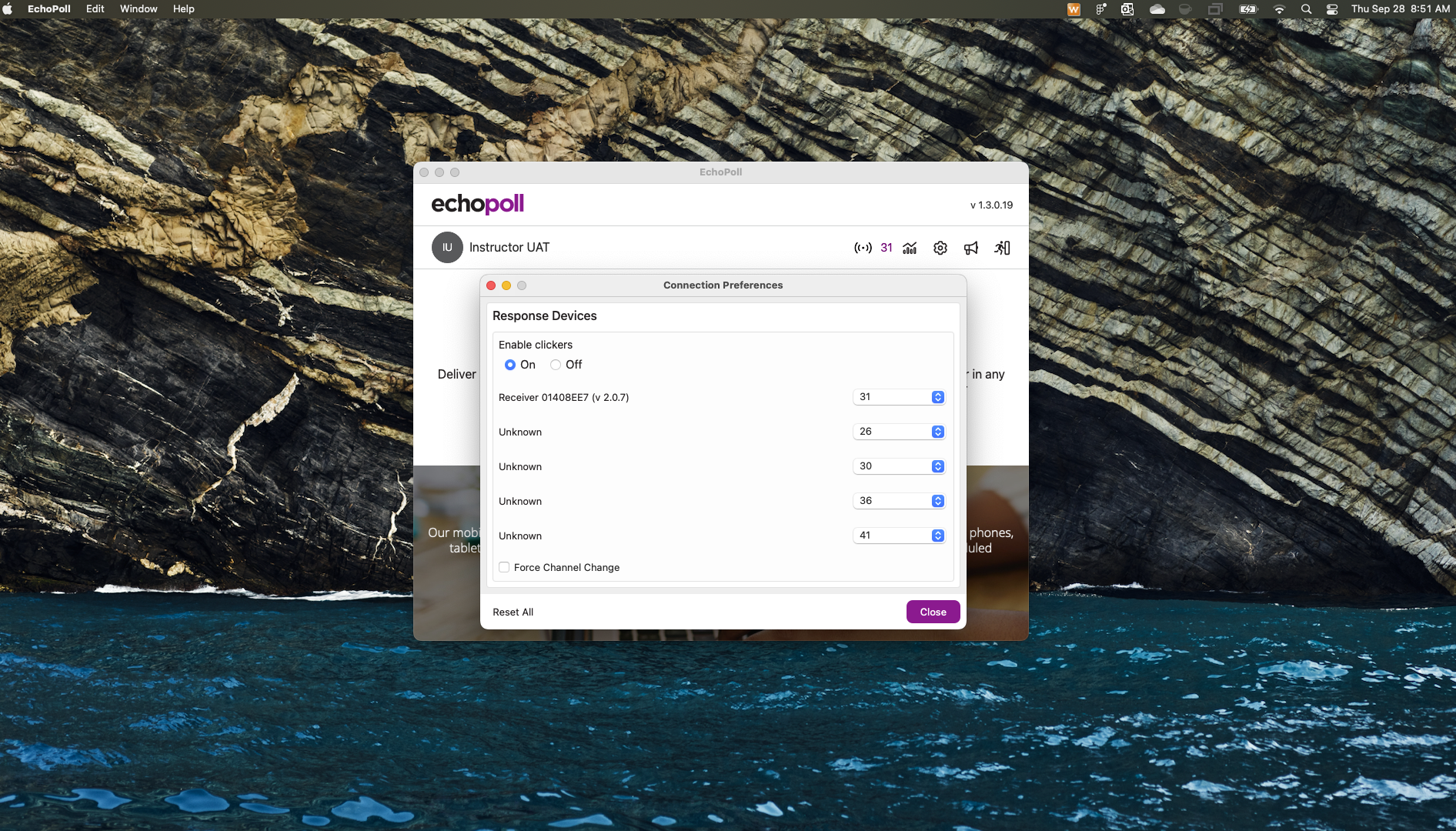 Capture responses from participants using Echo360 clickers when delivering a live session with the PowerPoint add-in or Anywhere Polling in the EchoPoll+. Use our existing receivers to capture RF-LCD or QT2 clicker responses from your learners. Choose exactly how you want your learners to join a live session—with clickers, by QR code, by join code, or any combination!
EchoPoll: Manage Clickers for Organization Users
EchoPoll: Add or Remove a Clicker from Your Account
EchoPoll: Assigning Unknown Clicker Responses to a Learner
EchoPoll+: Configure Receivers
EchoPoll+: Run a PowerPoint Add-In Session with Clickers
EchoPoll+: Run an Anywhere Polling Session with Clickers
Use Echo.ai Assist to Create Poll Deck Interactive Slides (beta)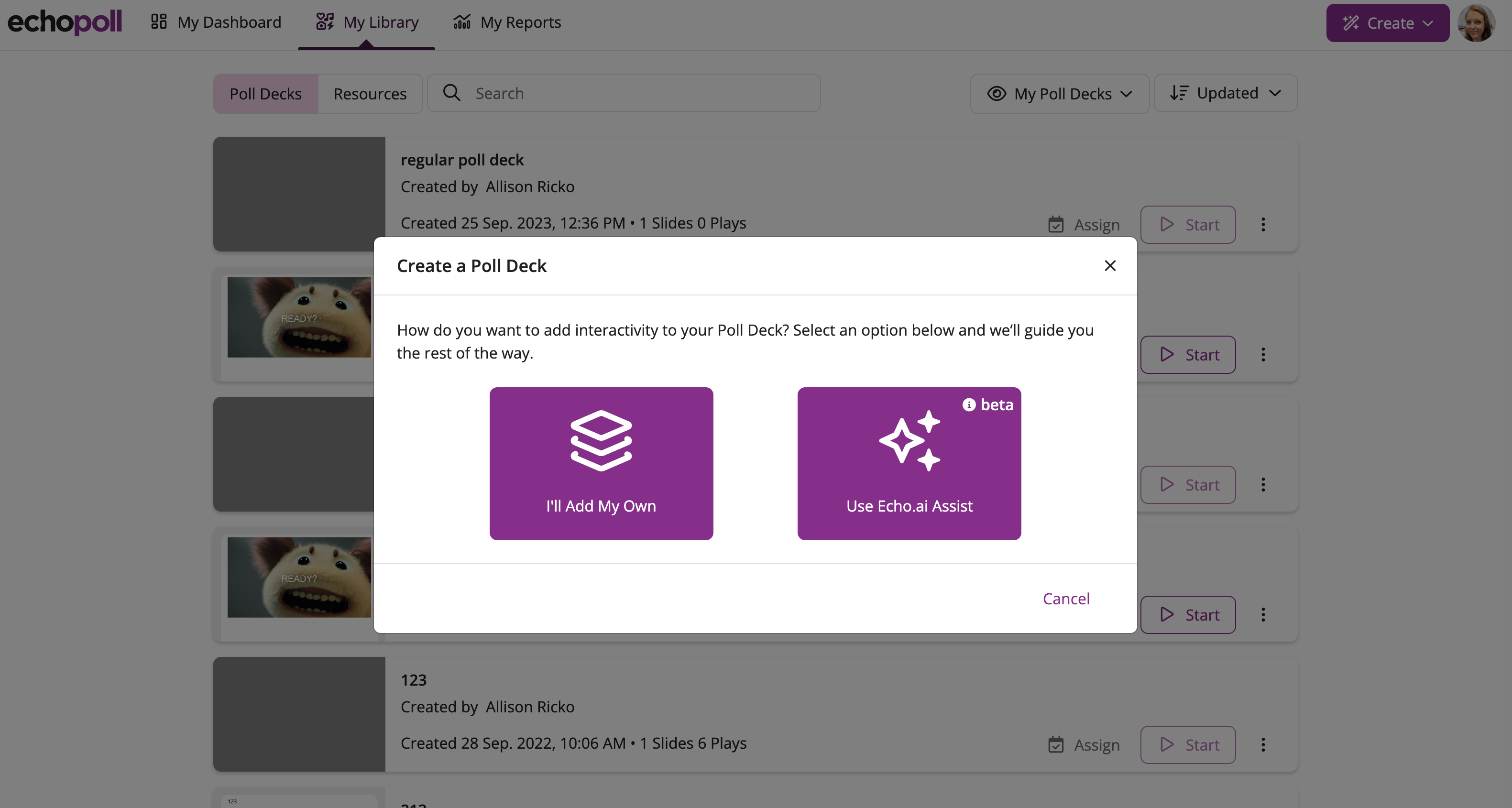 Let Echo360's powerful Echo.ai Assist help you create your Poll Decks. Upload a PowerPoint presentation to create your content slides, then generate questions based on your content anywhere in your Poll Deck. Choose from four question types to automatically generate question slides.
EchoPoll: Creating a Poll Deck With Echo.ai Assist
Case-Sensitivity Setting for Short Answer and Word Cloud

Toggle "Case Sensitive" on for any Short Answer or Word Cloud slide in your Poll Deck. With Case Sensitive keywords, learner responses with different capitalization will be treated as different answers. For scored questions, responses from your learners will only be marked correct if they match the exact capitalization in the keywords.
EchoPoll: Short Answer Questions
EchoPoll: Word Cloud Questions
Improvements
Customers using Single Sign On (SSO), whose organization has accepted Echo360's Terms & Conditions and Privacy Policy on behalf of their users, can choose to bypass user registration so that users can quickly create their accounts for EchoPoll.

Additional Label option for "0, 1, 2" when adding a multiple choice, multiple select, or true / false slide in EchoPoll or EchoPoll+. With this option selected, the first answer option will display as 0 instead of 1.
Fixes
Resolved issue where some EchoPoll users were unable to log into EchoPoll+ on Mac devices.

Fixed incorrect QR code URL on EchoPoll+ before session has been started yet.

Corrected issue where learners using a mobile device were unable to see all answer option for Multiple Choice and Multiple Select poll questions.