Ad hoc captures are impromptu recordings, typically generated by telling a capture appliance or a Universal Capture installation to begin recording immediately.
There are several ways to launch an ad hoc capture. The Create button located in the main menu bar at the top of the EchoVideo interface provides access to some of them.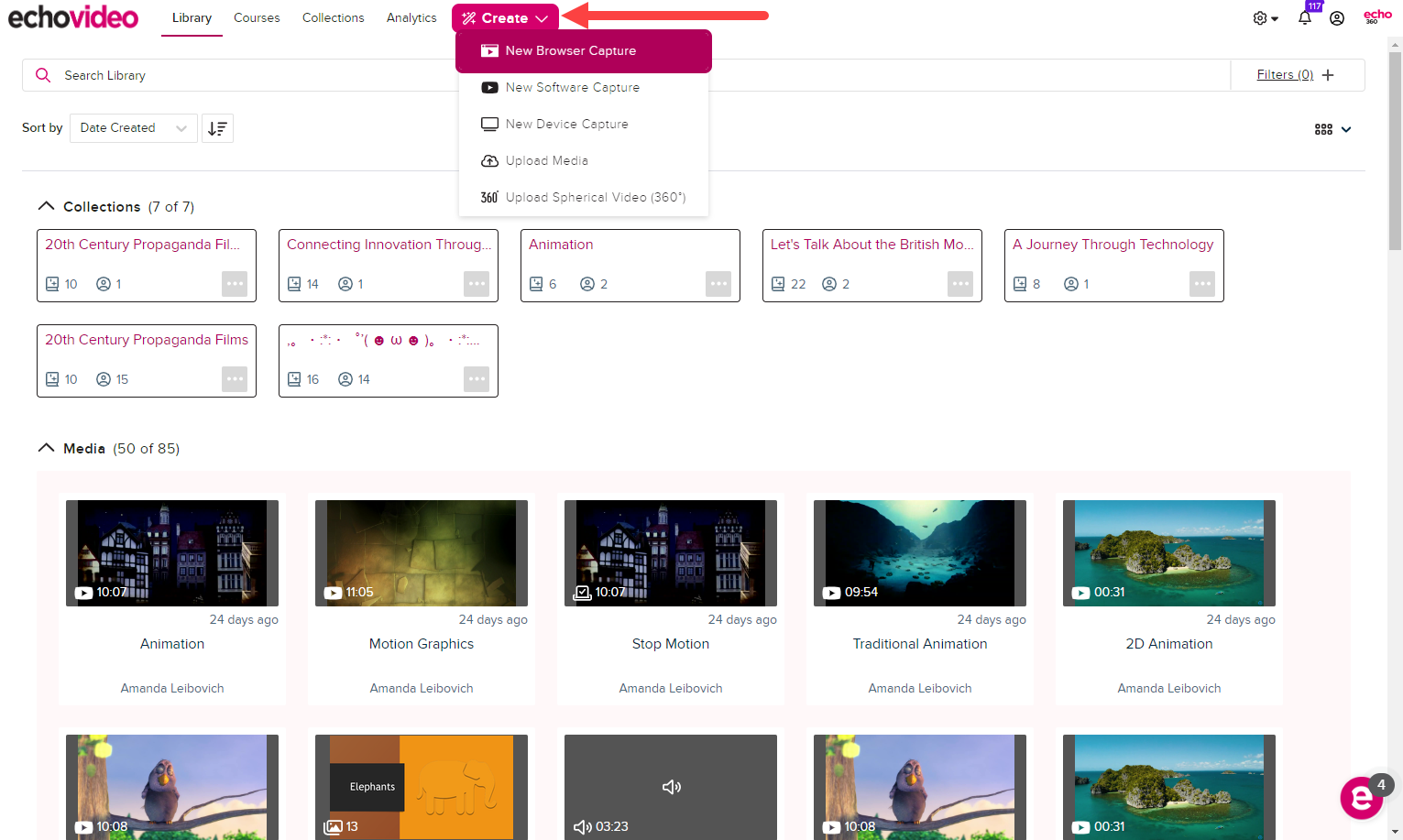 The options you see in this menu are determined by the integrations and features currently enabled by your institution. These options, as well as other options for creating ad hoc captures, are briefly described below with links to further instructions.
Ad Hoc Capture Methods
New Device Capture
If enabled by your system administrator, Instructors will see a New Device Capture option in the Create menu. This allows you to initiate an ad hoc capture using the managed capture device (Pro, Pod, or UC: Classroom) installed in the room. Teaching Assistants and Students do not have access to this option.
This option opens a dialog box allowing you to select the room/device to record from, duration, quality, publishing location, and Live stream option if publishing to a course. This option will also provide you with a link to open the Universal Capture interface for the device (does not apply to legacy SCHD appliances) so you can control and monitor your ongoing recording.
See Creating a New Device Ad Hoc Capture for further instructions.
New Capture or New Software Capture
If Universal Capture is installed on the computer you're working with, either your personal laptop or the classroom's computer, use the New Capture or New Software Capture selection to launch the local installation of Universal Capture and start a recording. This method uses any cameras attached to the computer (including the built-in camera) and/or the computer's monitor display, depending on your selections. It also provides you with the option to install Universal Capture if you do not already have it installed.
See Creating an Ad Hoc Capture using Universal Capture Software. See also Start a Recording with Universal Capture.
Which Selection Do You See? This option is called New Capture if there is not a New Device Capture option in the Create button menu. If the Create button menu contains a New Device Capture option, this selection is called New Software Capture to delineate the two. Teaching Assistants and Students will always see New Capture, as those users can have Universal Capture: Personal installed, and also do not have access to the device ad hoc capture feature.
Zoom Meeting
If your institution has a Zoom integration and you have opted in to the automatic copy of your Zoom meetings to your EchoVideo library, you will see a Zoom Meeting option in the Create button menu. Use this to launch an "instant Zoom meeting" that provides a link to send or post for students for the ad hoc meeting.
See Launching a Zoom Meeting from EchoVideo for further instructions.
Using a URL to the Device
If your administrator has provided you with the URL, you can use the Universal Capture: Online interface on a room's capture device (Pro, Pod, or UC: Classroom). This allows you to log in to Universal Capture on the device itself, and launch an ad hoc capture using the UC interface.
See Creating an Ad Hoc Capture using Universal Capture for further instructions.
If you have the IP address/URL of a managed capture device, you can still use the legacy device Web UI to log into the device and launch an ad hoc capture. Since the legacy SafeCapture HD (SCHD) does not support Universal Capture, this is the only method for launching an ad hoc capture for these appliances IF the New Device Capture option is not available.
If your Institution has configured Device SSO, navigating to the IP address/URL of a managed capture device will launch the Universal Capture interface if available.
Using the Device Front Panel or Touchscreen
If you are in a classroom where a Pro or Pod capture appliance is installed and physically available, you can press the Record button on the front panel/touchscreen of the device. This launches a recording using the One-Touch Recording Profile settings configured by your administrator.
See Using the Front Panel of the Pro and/or Using the Touchscreen of the Pod as needed.
Using the Device Monitor Light
Some institutions have classrooms that are equipped with a small light, attached to the classroom PC. Some refer to this as a Device Monitor, some refer to it as a Capture Monitor, and some refer to it as a "puck light". Regardless of what you call it, the light has two functions: to provide status information about any capture currently happening in the class, and to start, pause, or stop an ad hoc capture.
For more information, see Device Monitor/Capture Control Light.
Additional things to know about ad hoc captures
Generating an ad hoc capture through the Create button or a Universal Capture URL is quite easy, but there are additional options and tricks you should know, to take full advantage of the functionality.
Ad hoc captures can be streamed Live
While you can livestream your ad hoc capture, keep in mind that live-streamed captures are designed for students not currently present in the room. You will need to somehow notify remote students that there is an ad hoc live stream to watch. For this reason, we expect instructors to more typically generate non-live ad hoc captures.
In addition, (and somewhat logically) students in the classroom where you are running the capture should not try to connect to the Live stream, as network and bandwidth limitations may interfere with viewing performance. They can, however, open the classroom without showing the live stream to participate in Q&A discussions, or to take notes.
Otherwise, the same limitations apply to instructor-generated live captures as they do to admin-generated live captures. Those are:
You MUST select a course for the capture; the Live stream checkbox will not work until a course is selected.
You will need to allow 5 minutes for the Live stream to begin. This is to accommodate the necessary server configuration and allocation of the ports required to stream the capture live to students.
Ad hoc Live streams created from a Universal Capture: Personal installations are limited to a maximum of 4 hours rather than the usual 8 hours.
You own any ad hoc captures you launch
Regardless of whether you select a course to publish the capture to or not, the capture, once completed, will appear in your Library because you own it. From there you can publish the capture to one or more courses, or if enabled for your institution, generate a public link to post for viewing.
Because you generated the capture, you are the owner of the capture and can control it as you can any other kind of owned content. The only limitation may be that you cannot delete the capture if your system administrator has restricted the ability for instructors to delete appliance-generated captures.
Selecting a course will auto-publish the capture to the course
If you select a course for your ad hoc capture, you can choose to either publish into a pre-existing class without video/audio media or create a new one. When creating a new class, it is created using the name you enter, to hold the capture, and will contain the capture for student viewing once completed. You can set the availability for captures if you need to limit when it can be viewed, but the capture is auto-published when complete.
Note that if your institution provides closed captions for captures, AND captures are not made available until they have captions applied, your ad hoc capture will not be available to students until closed captioning is complete.
Ad hoc captures cannot interfere with scheduled captures
Ad hoc captures, regardless of how they are initiated, cannot interfere with a scheduled capture currently slated for the same room/device. If you attempt to run an ad hoc capture whose duration will conflict with a scheduled capture, you will receive a warning message. You will be given the opportunity to run the ad hoc capture for the available time, however, if this meets your needs. Otherwise, you will need to run the ad hoc capture in a different room or use a different capture appliance/method.
When using Universal Capture with a managed device (Pro, Pod, or UC: Classroom), you cannot start an ad hoc capture within five minutes of the next scheduled recording. The scheduled capture requires a "preroll" period before it can begin, and clicking Record will start the upcoming scheduled recording early.
Ad hoc captures cannot have a duration beyond the allowed maximum
The maximum duration of capture, scheduled or ad hoc is enforced by the system and is dependent on the device being used.
| Current Devices | Maximum allowed Duration |
| --- | --- |
| Universal Capture | 8 hours |
| EchoVideo Pro | 8 hours |
| EchoVideo Pod | 8 hours |
| Legacy Devices | Maximum allowed Duration |
| SafeCapture HD | 4 hours |