ALL of the links on this page are set to open in a new browser tab. This means you can click on them and know that this article will remain open for you to return to when you are ready.

BEFORE YOU BEGIN: Click this link into the EchoVideo Course; this will ensure that all of the below links to the specific class videos will work correctly.
Our training and development staff has created a video library designed to help instructors understand the features offered by EchoVideo and to learn how to use EchoVideo to enhance their students' educational experience.
You can read the article sections below to pick and choose the topics and videos you want, or you can visit the EchoVideo Instructor Online Help Videos Course. Feel free to poke around and watch any of the videos or presentations posted there.
The Classes/Videos in the course are grouped into Collections of related videos. Click the chevron to the left of a collection, shown in the below figure, to expand each of them and display the classes available.
Click on a class row to enter the class and view the video and presentation (if one is available).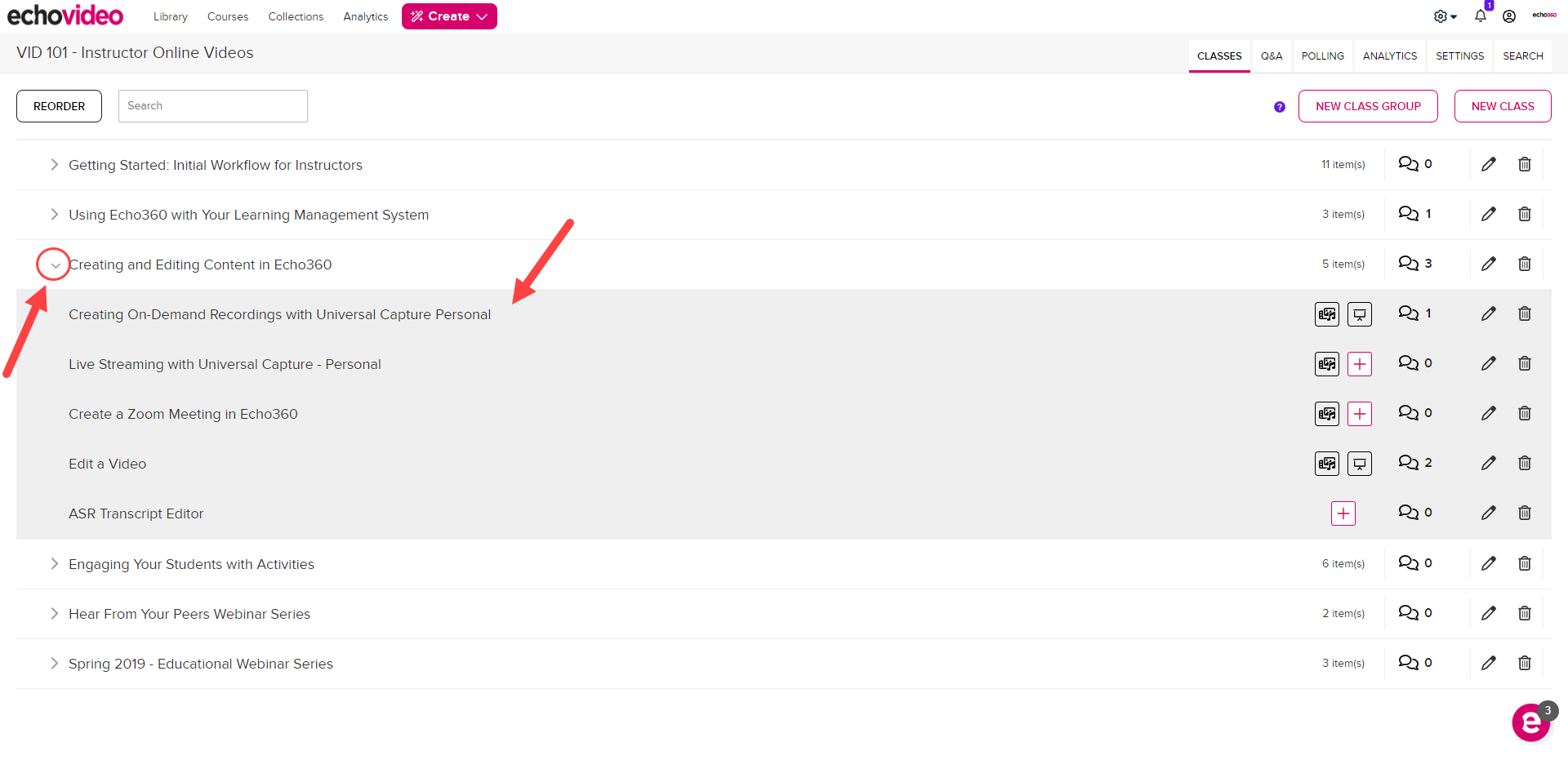 When you are finished viewing the class media, click the course title in the top right corner to return to the class/collection list.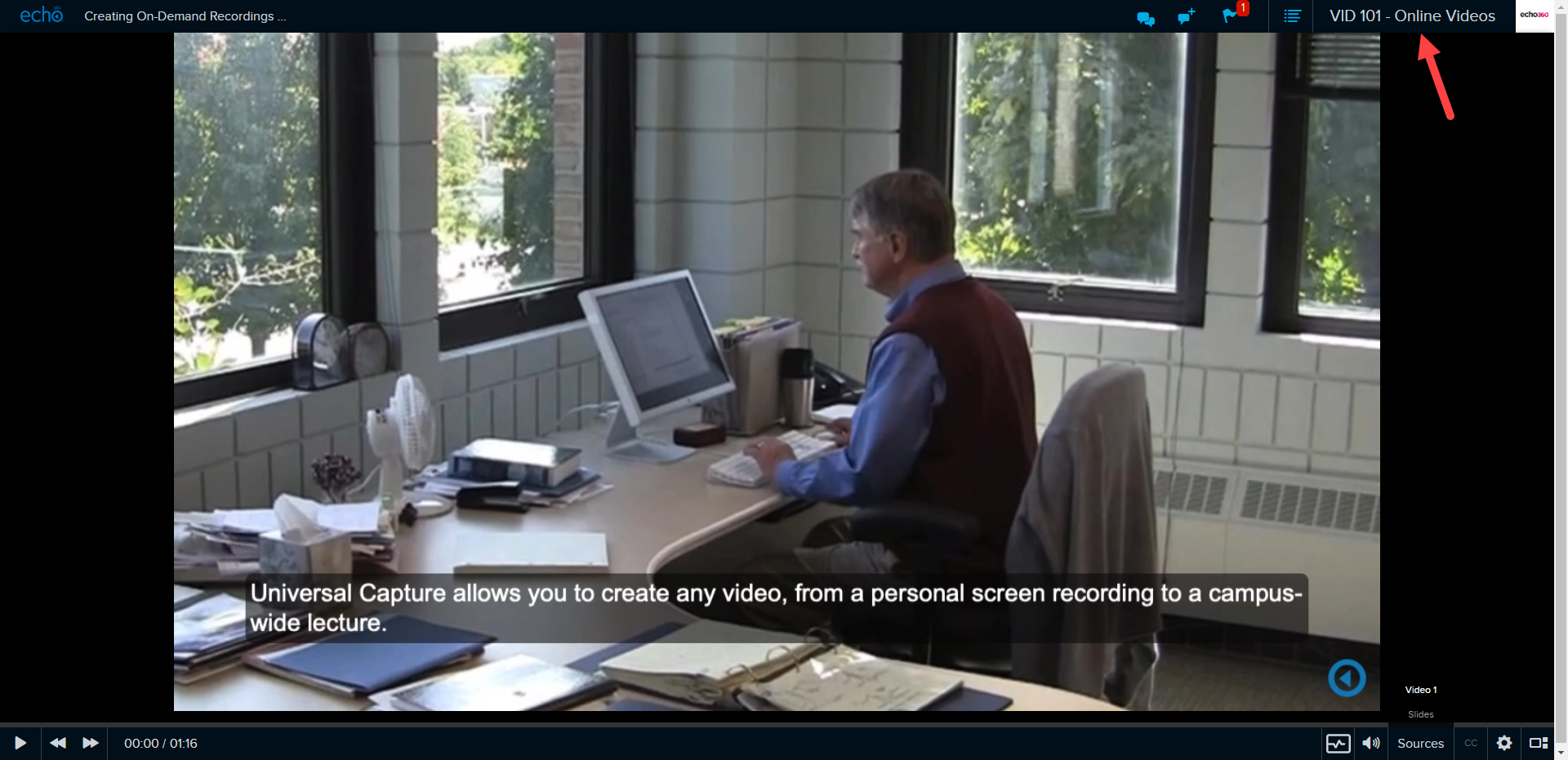 Many of the below video links take you directly into the classroom. Click the Course name as shown above to see other classes and videos in the Online Help Videos course, or simply close the browser tab to return here to find another video/class link. Remember, all links on this page, whether to another help article or to a class, open in a new tab.
Initial Workflow for Instructors
If you are using the EchoVideo Platform for the first time, take things step by step. Enter the course and expand the Getting Started collection as shown below. The Instructor Overview class might be just the thing to get you oriented.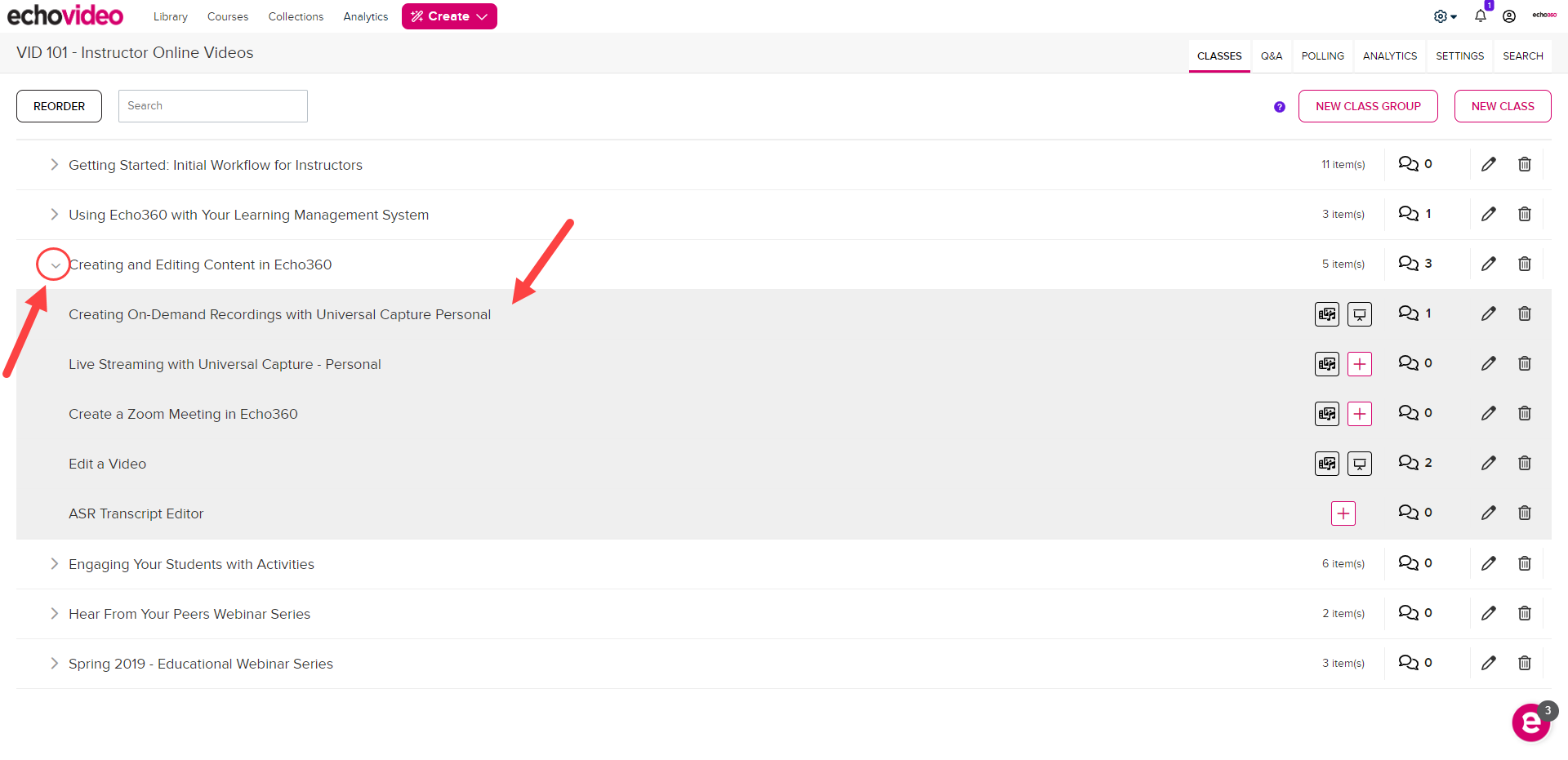 Working with Video
If you are generating your own videos to use in class, you can create your own video and then upload it to EchoVideo. Or you can download EchoVideo's Universal Capture program and use that to record and publish your lecture from your laptop/computer. 
You may also be interested in editing your video after you have uploaded it to EchoVideo. 
The EchoVideo class videos on these topics reside in the Creating Content with Universal Capture collection, shown in the image at the top of this page. Those classes are:
Working with Presentation Slide Decks
In addition to a video or lecture recording, you can add a presentation slide deck to each class, to support the video or lecture materials. Upload the slide deck (or PDF) to EchoVideo, then present it in class or add media slides or polling slides to it.
Check out the following classes on working with class presentations:
Engaging Your Students with Polling Activities
Are you ready to have students take a more active role in your class? Learn how to get them involved in by using polling slides in your presentations or by adding polling questions to your videos.
Check out the following classes on working with polling activities in your media:
The above classes are all contained in the Engaging Your Students with Activities collection. Expand the collection as shown below to find these classes at any time.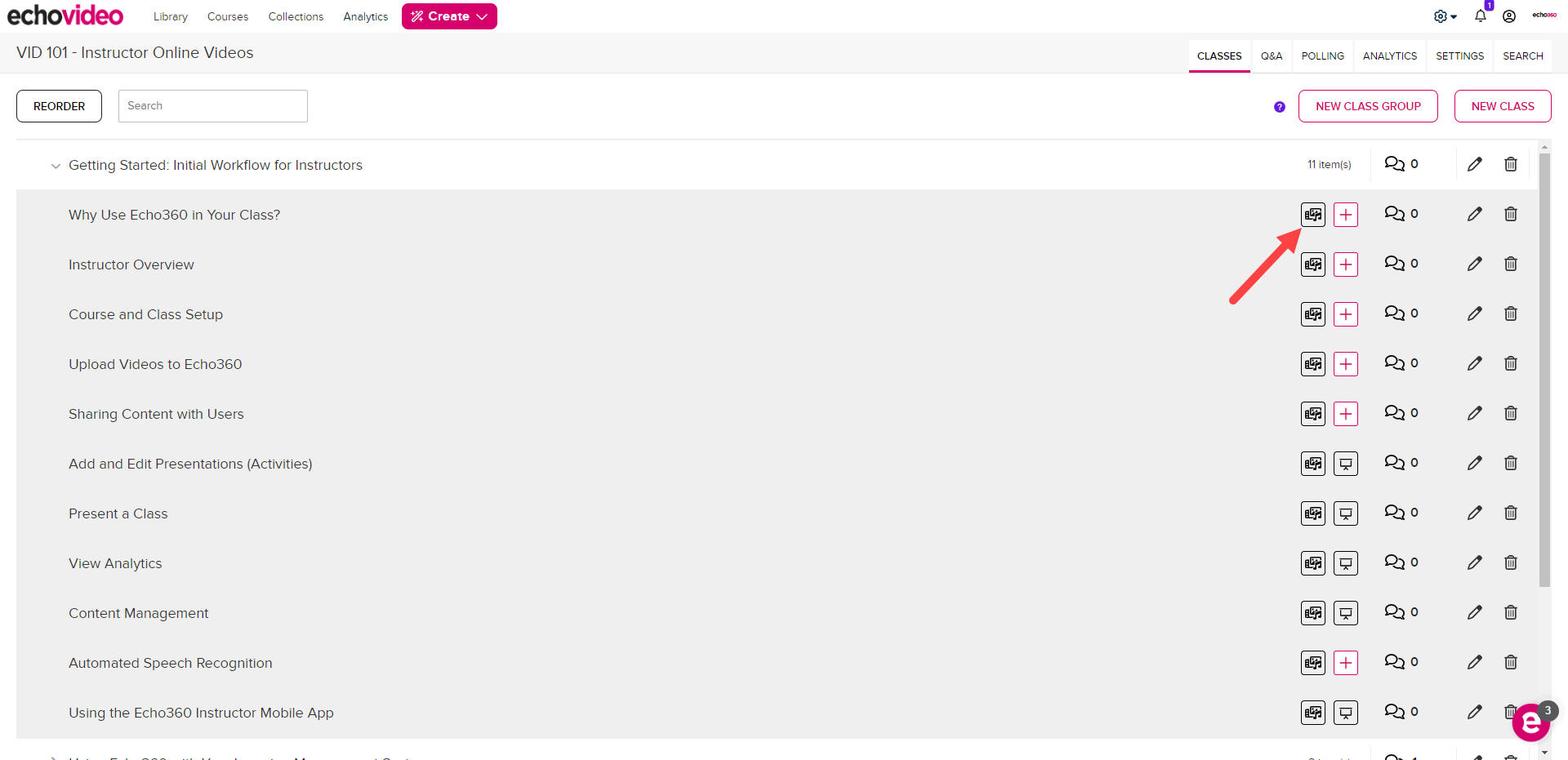 Using EchoVideo with Your LMS/VLE
Many institutions use EchoVideo in conjunction with a learning management system (LMS) or virtual learning environment (VLE) such as Blackboard, Canvas or Moodle. EchoVideo provides integrations and tools for those three, plus Desire2Learn/Brightspace and Sakai. 
The above links will take you to lists of articles that pertain to each LMS/VLE system. Different institutions require (or allow) instructors different tasks with respect to using EchoVideo, so it's difficult to know which of the articles for each LMS/VLE you will need most.
The Using EchoVideo with your Learning Management System collection has a few videos for working with an LMS. We hope to add more in the future. In the meantime, take a look if you use any of these systems:
Download the Media From Our Course
Want to share our training materials or review them outside of EchoVideo? Click on the video or presentation icon in the video course, and select Download from the options. You can download the videos (MP4) or presentations (PDFs/PPTs) from the class list for sharing or use from your local computer.
Note that many of the presentations contains in the classes are Quick Reference Cards for the functionality described. Download them and keep them handy!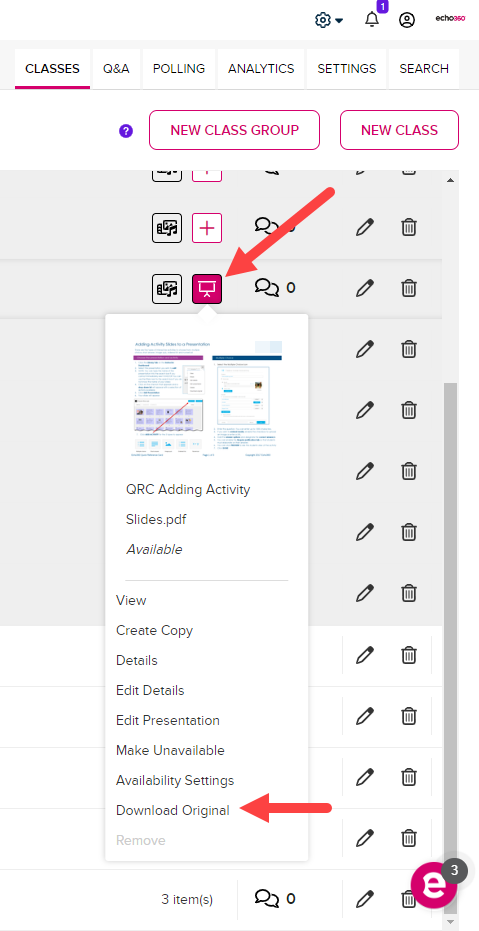 You can also send fellow instructors this link to the EchoVideo Online Help Videos Course so they can view these materials as well: https://echo360.org/section/5e1d12d0-7476-404f-a839-d0f9d1c62f8e/public