End of Support for SafeCapture HD April 1st, 2020: End of Software Support. Echo360 will no longer provide software updates for the SCHD appliance. This policy applies to enhancements, bug fixes, and security patches. Echo360 will continue to test SCHD appliances with improving versions of the Echo360 cloud platform until the End of Life date. In addition, the Echo360 Support Team will continue to assist customers with configuring and managing SCHD appliances until the End of Life date. 
December 30th, 2020: End of Life. Echo360 will no longer ensure the functionality of the SCHD appliance in any way. Echo360 will no longer test the SCHD on new cloud service releases and the Echo360 Support Team will no longer continue to diagnose or solve issues impacting SCHD units still in the field at that time.
The legacy Echo360 SafeCapture HD (SCHD) is a dedicated, all-in-one capture appliance, capable of capturing either standard or high-definition video input, along with display and audio. The legacy SCHD is no longer in active production.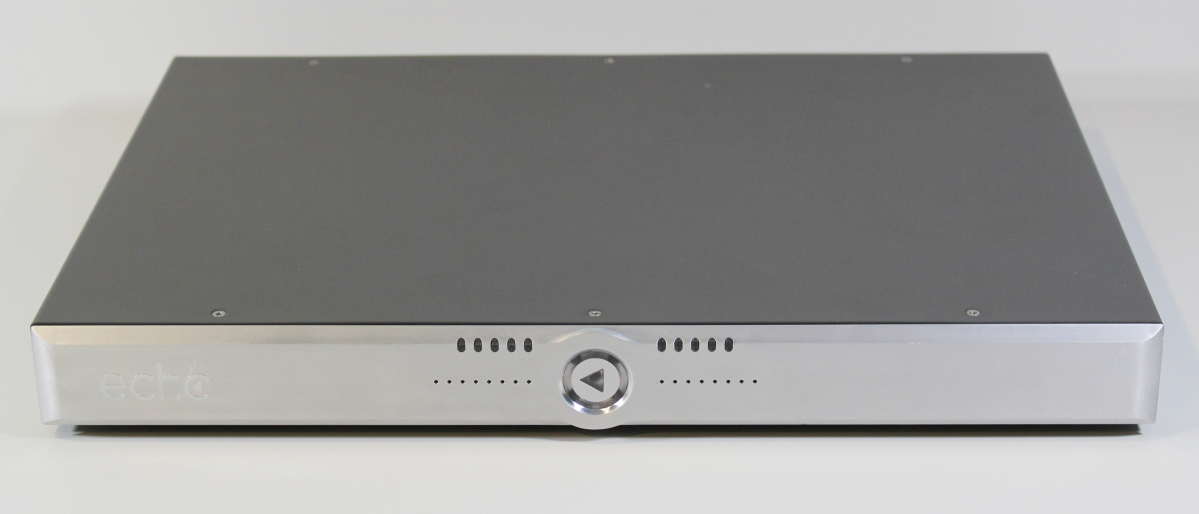 The appliance is used to capture video, computer display, and audio inputs from connected capture devices, synchronizing the media feeds, then sends them to the Echo360 active learning platform. Students and Instructors then access Echo360 to view the resulting media.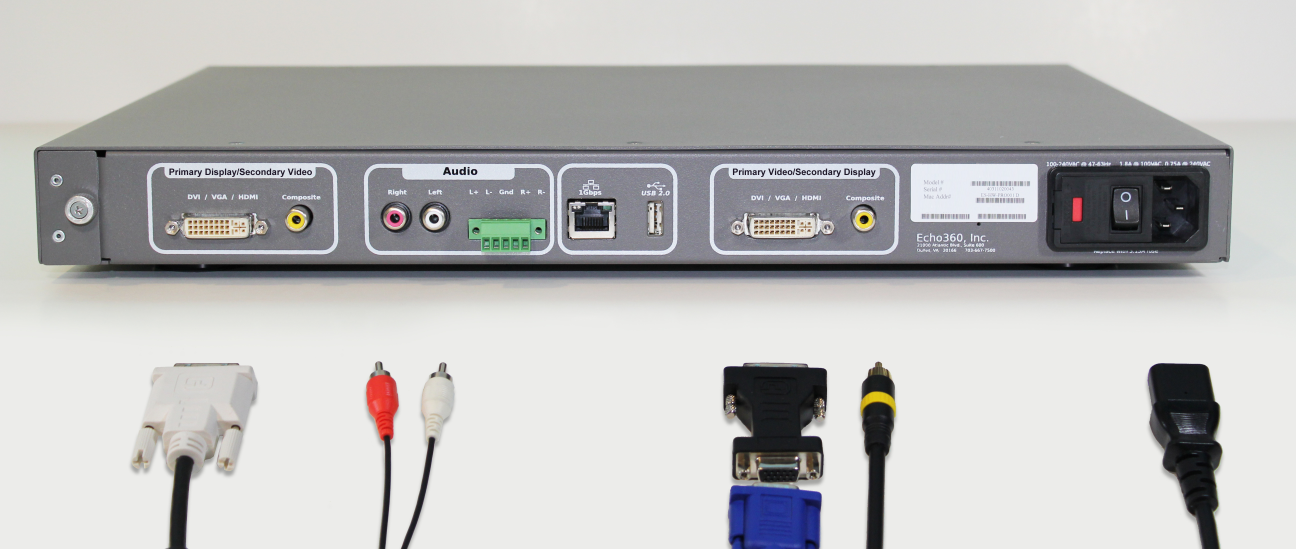 General specifications
Dimensions: 431mm wide x 317mm deep x 44mm/1RU tall (without mounting options).
Meets global standards for ROHS 6/6 compliance.
Multiple internal temperature sensors with temperature-dependent variable speed forced-air cooling.
Removable, cleanable air filtration.

Echo360 STRONGLY recommends you clean the air filter at least once a year. Device failure is most commonly due to overheating; overheating is frequently due to constricted airflow caused by a dirty filter. To clean the filter, turn off the appliance, then remove the thumb screw located on the back of the appliance, opposite the power button, as shown in the below figure. Pull out the filter cartridge and clean the filter. Replace the cleaned filter and cartridge and turn the appliance back on.


World-compatible direct AC connection. Input voltage: 90-240vAC 50/60Hz, using an IEC320-C13 cable.
Power and heat: 62 watts (212 BTU/hr) max, 50 watts (171 BTU/hr) during capture.
Agency Certifications
UL 60065, 7th Edition, 2006-11-20
FCC CFR47 Parts 15:107/15:109
Deployment options
Mount in a standard 19" A/V rack.
Set on a tabletop or shelf.
Mount directly to a surface within a podium.
NOTE: The maximum allowable operating temperature of the SafeCapture HD device is 50°C/122°F. Be sure to install the device in a location where the temperature around the unit does not exceed this limit. If operated in an environment where temperatures exceed this limit, the unit may overheat and malfunction permanently.
Display input
Capture full-motion output from any VGA, DVI or HDMI-enabled device, including document cameras, electronic whiteboards, and computers.
Full-motion encoding records applications, annotations, embedded video, and animations.
Capture input resolutions from 640x480 to 1920x1080. See Appliance Display Resolutions.
High-performance encoding engine provides an H.264-encoded output at 30fps at any resolution and bitrates from 240 kbps to 3.2 Mbps.
All input aspect ratios supported, encoded to either Normal (4:3) or Wide (16:9/16:10) output.
Digital or analog input via DVI-I connector, passively adaptable to VGA or HDMI input.
Primary display input can alternatively be used as a secondary video input and will thus support the same video characteristics shown below.
Appliance display resolutions
The attached spreadsheet (SCHD_Display_Resolutions.xlsx) lists all of the available appliance display resolutions. The abbreviations in the spreadsheet are as follows:
DMT: Display Monitor Timing lists standard display timings for various resolutions and screen sizes.
GTF: Generalized Timing Formula is a video timings standard.
CVT: Coordinated Video Timings (CVT) is a replacement for GTF.
CVTRB: Video Timings-Reduced Blanking is a VESA standard which offers reduced horizontal and vertical blanking for non-CRT based displays.
Video input
Digital (HDMI, DVI) or Analog (composite) video input.
NTSC or PAL support.
Capture input resolutions from QCIF to Full D1 and to HD-1080p.
Provides H.264-encoded output with configurable frame rates from 1fps to 30fps, and bit rates from 120kbps to 3.2Mbps.
Primary video input can alternatively be used as a secondary display input and will thus support the same display characteristics listed under Display input above.
Recommendation for Composite Sources: It is recommended to configure your composite source to provide 4:3 input.
Audio input
Audio encoding in stereo, mixed-mono, or mono.
Audio capture in AAC, sampled at 22kHz or 44kHz, encoded at bit rates from 32kbps to 128kbps CBR.
Options for Pro-level (+4dBu/1.228Vrms/1.737Vpk) or Consumer-level (-10dBv/0.316Vrms/0.447Vpk) signals.
Pro Line-level audio input with bare wire termination for direct wiring of stereo Balanced (non-powered) or Unbalanced audio.
Consumer Line-level audio input with stereo RCA connector.
Digital audio via in-band HDMI or DVI sources supported.