Capture, process, store, and play media from multiple channels (up to 4) with EchoVideo QuadraVision. By enrolling in the QuadraVision beta, instructors will be invited to user test all the features and functionality of our latest QuadraVision capture technology and provide real-time feedback for improvements. Experience a robust yet easy-to-use capture interface that features the most reliable video capture technology on the market then publish your videos easily to one or more test courses within the secure EchoVideo beta environment without any impact on your current institution.
There are two different types of EchoVideo QuadraVision software, both of which are available for Mac and Windows PC:
QuadraVision Personal is a standalone desktop application that allows you to record your desktop screen and is only accessible through the installed desktop application.
QuadraVision Classroom is a desktop application that is installed on your computer, but the installation is considered a managed capture device because it must be assigned to a Room and be in contact with the EchoVideo server. This allows for remote monitoring of the computer, remote control of recordings and, if enabled, allows EchoVideo QuadraVision to be accessed from anywhere.
Hardware appliances are not included in the QuadraVision beta.
Beta Details
Joining the Beta
QuadraVision is currently in closed Beta. Contact your Institution's Admin team and have them contact product@echo360.com to be added to our standalone beta testing Institution.
Getting Started with the Beta
Once you have been added to the beta Institution, you will also be added to an Organization, Course, and Section specific to your University. You first need to uninstall any Universal Capture software on the computer you intend to use for testing. Then download and install the standalone build of the QuadraVision software from https://<base-url-for-your-region>/downloads-uc-beta.
The Beta version of the software does not automatically update. You will need to download and re-install the software any time there is a fix or update.
Once you have QuadraVision up and running, please test away!
System Requirements for Desktop Applications
Anything not specifically listed on this page still falls under our general Universal Capture Specifications.
The following are the additional minimum specifications for a QuadraVision Personal or QuadraVision Classroom installation:
1 GB network interface
16+ GB RAM
Windows requirements
Intel i9 (13th generation) or equivalent
Mac requirements
Mac with an Apple Silicon (M1) processor
How Is the Software Different?
Once downloaded and installed, when you open QuadraVision Personal or Classroom, you will have the option to control and configure up to 4 channels of video inputs. Each channel has its own input configuration as it does with the current Universal Capture client.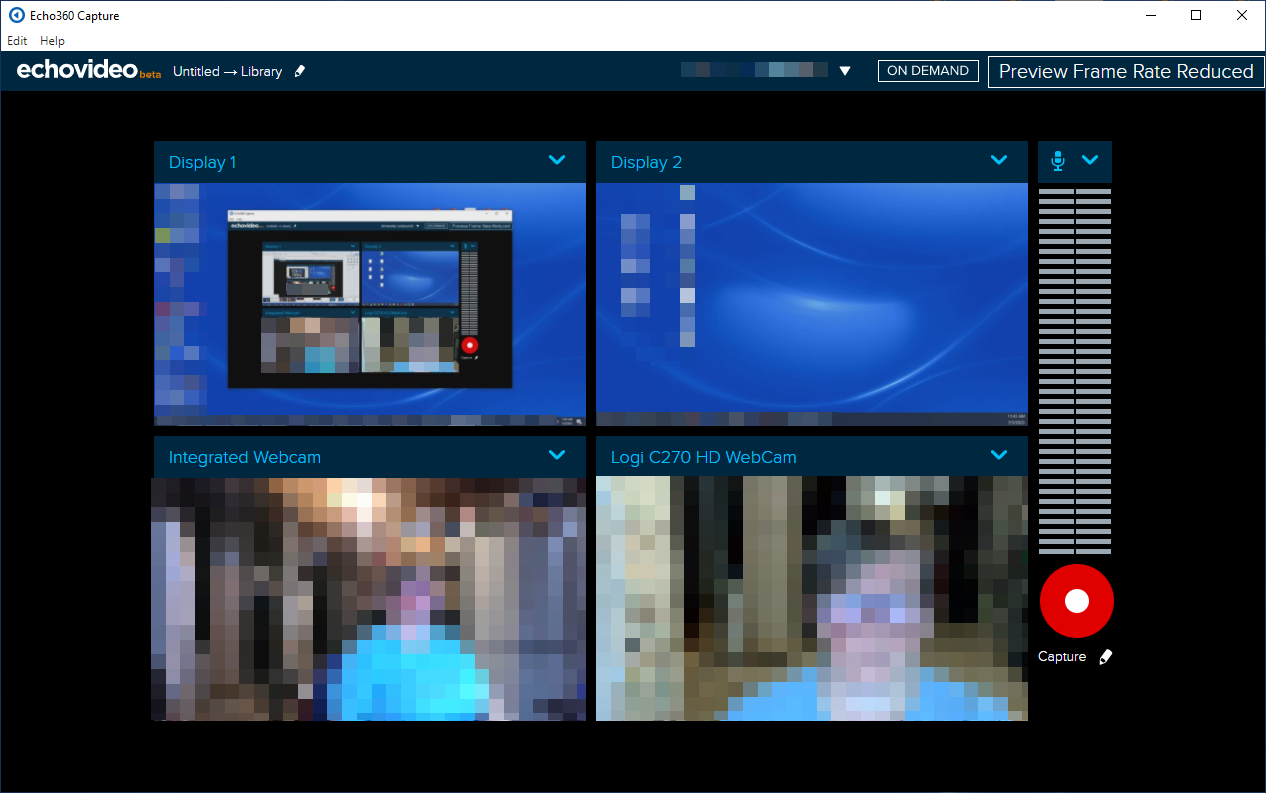 All recording options will not be available for all 4 Channels; the first two Channels, the top 2, will continue to work as they have in the past. With the first 2 Channels, you can see and select any available devices.

You must capture something in Channels 1 and 2 to use Channels 3 and 4.
You cannot select your display inputs with Channels 3 and 4.
There is no live streaming when capturing more than 2 Channels.

If channel 1 or 2 is switched to No Input when more than 2 channels are selected, the rest of the channels will downshift to fill the first channels to avoid gaps in the capture. When only capturing 2 channels, you can turn channel 1 off and only capture channel 2 since the system is already set up for that.
What Other Changes Should I Expect?
The Player
The EchoVideo player has been enhanced to provide 4 channel support within the following areas:
Media Details Page (MDP)
The media details page is where media ownership, enhancement, sharing, and other activities take place in EchoVideo. This player now adds additional support for 3 and 4-channel captures.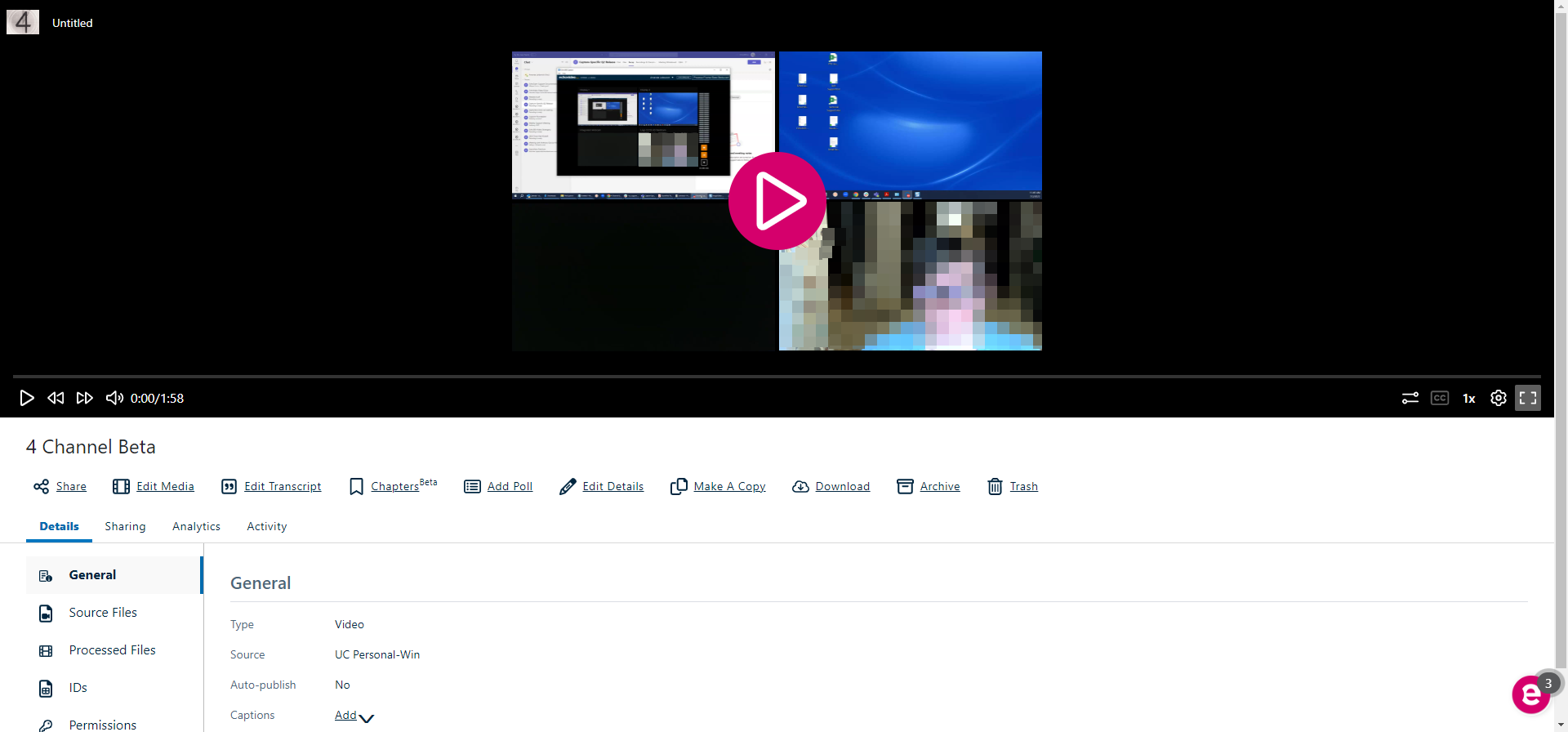 The Classroom and Embedded Media Players
The classroom player, used for captures that are published to an EchoVideo course, and the embedded media player, used for media embedded in web pages and the LMS/VLE, now support 4 channels of video. Each channel can be toggled on and off as it can in the 2 channel classroom player.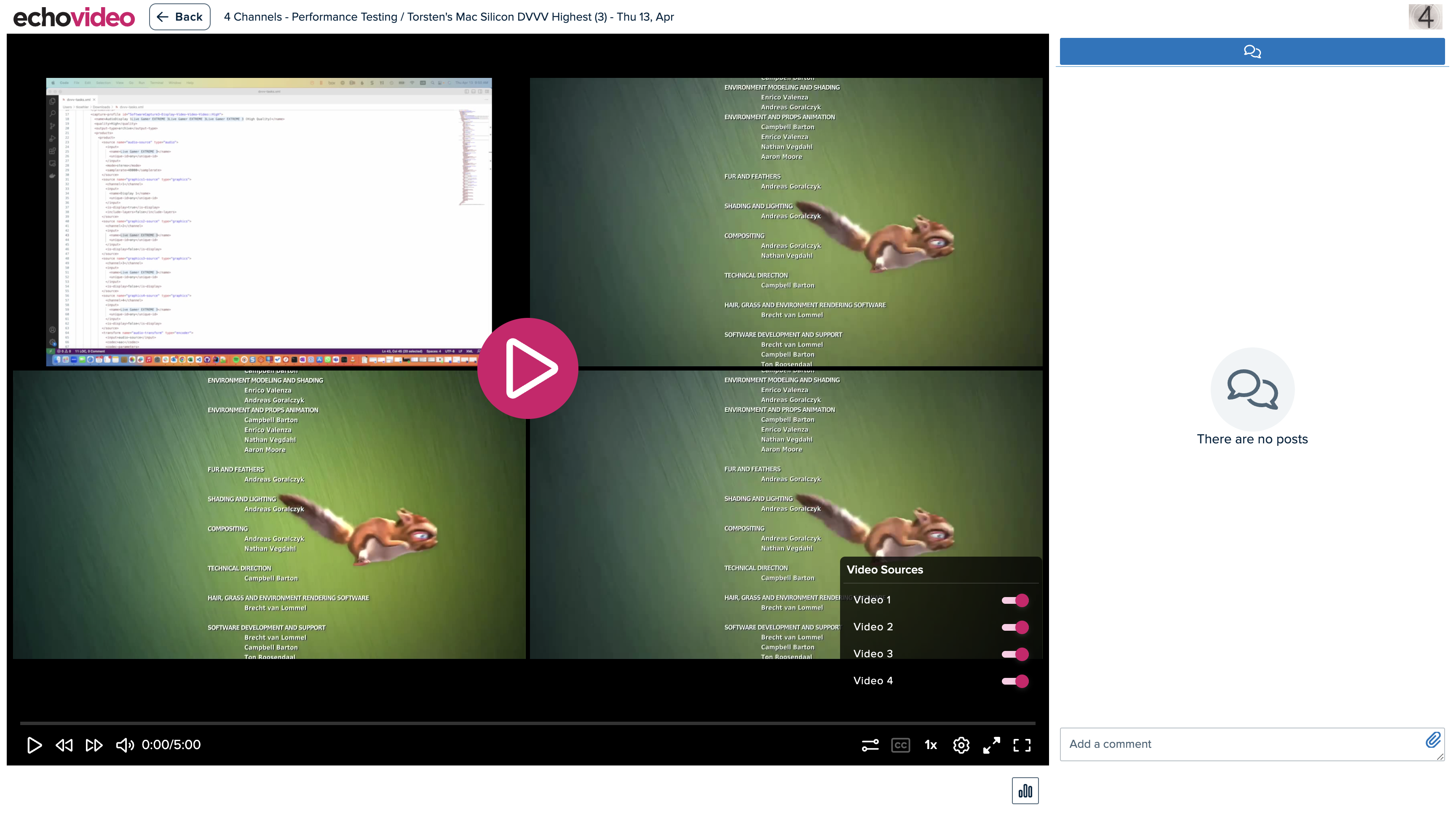 The Media Editor
The media editor has been updated for editing all 4 Channels of video. The enhanced media editor allows you to Add/Remove tracks, Trim/Cut tracks, and Replace or Remove the Audio track.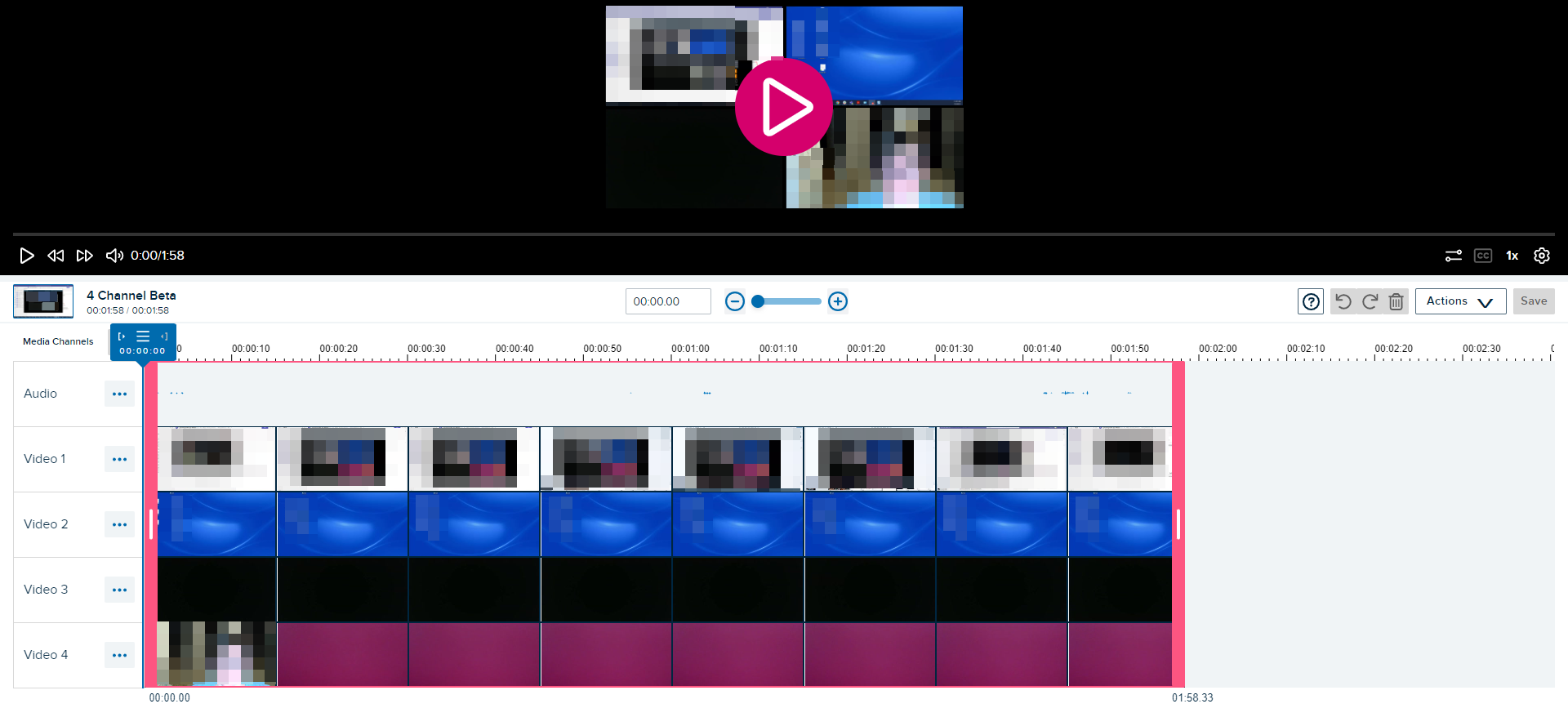 Splicing/Inserting content and selecting a thumbnail from tracks 3+4 are not yet available.
QuadraVision Classroom Configuration and Scheduling
In support of the 4-channel beta new capture profiles have been added to the room configuration and capture scheduling modals. This flexibility allows you to control each room and its capture configuration separately based on the pedagogical need or based on the room configuration.
Room Configurations
Before captures can be scheduled with 4 channels, you will need to update the configuration of any installed devices that are assigned to a room. Navigate to the Rooms page and click Configure on the room card that you want to alter to enable the additional channels along with the proper input.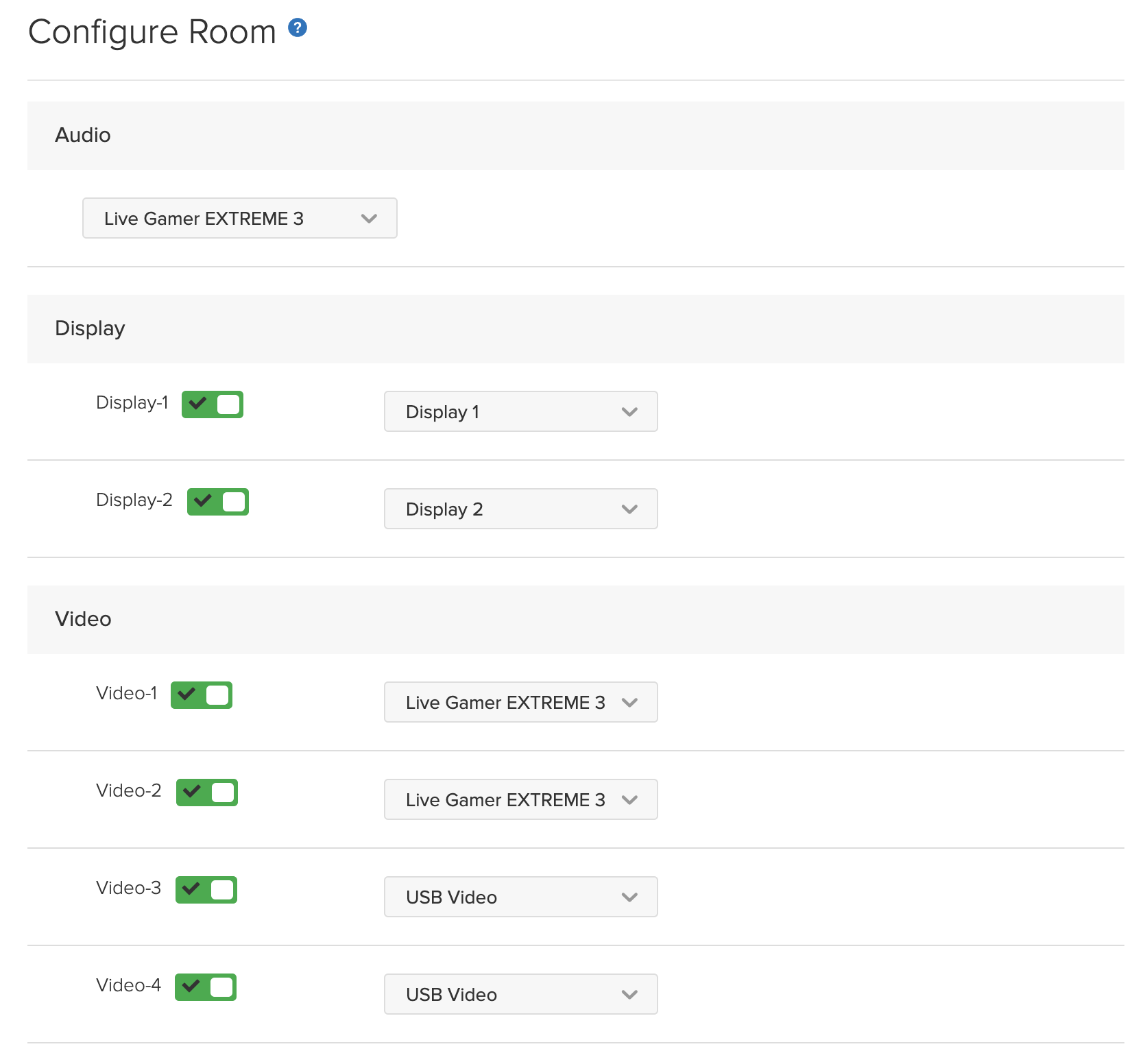 Scheduling
The scheduling workflow has been updated to include new combinations of capture profiles that will show based on the room configuration completed in the above step.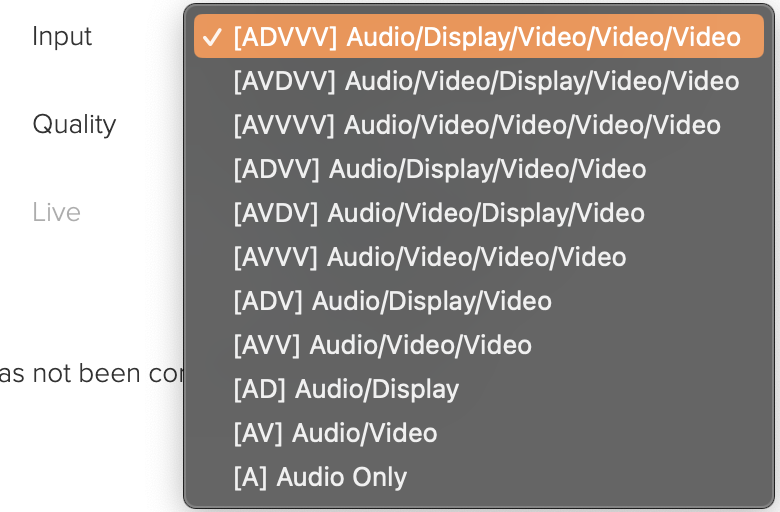 Classroom Engagement Tools
We are very excited to announce that we have overhauled all of the engagement tools in the classroom and embedded media players providing an inline experience based on your feedback. This streamlined look incorporates the discussions, notes, and flagging areas of confusion.
The Discussions Panel
Q&A
The Q&A panel allows users to see all 4 channels of content while engaging in discussion with other learners, their instructor, or the teaching assistant. Instructors can easily moderate the discussion and post questions to facilitate discussion with their learners.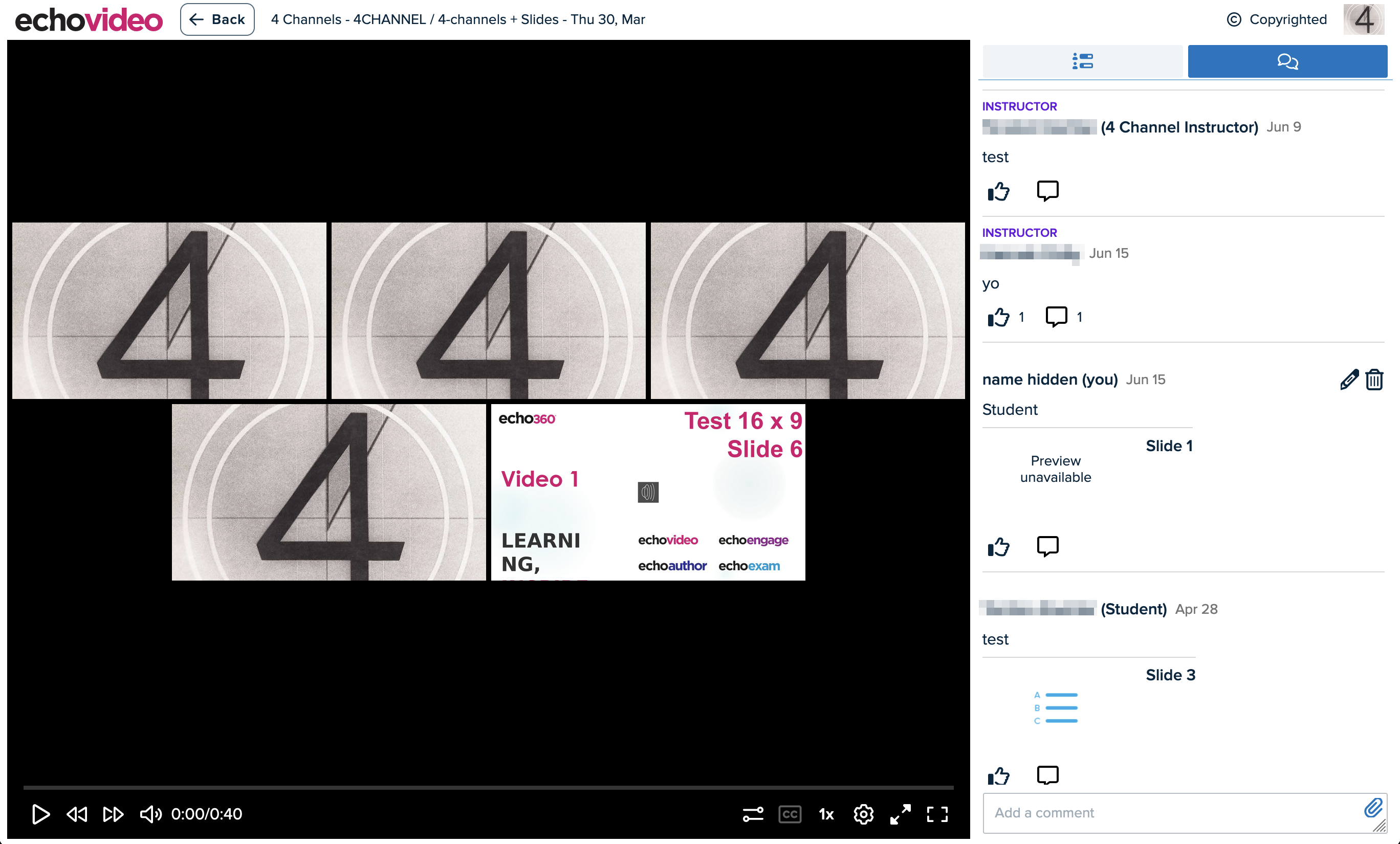 The Notes Panel
There is now a new notes panel in the player that will allow you to add a new note, add a bookmark, or mark confusion for content being reviewed.  These are all personal to the learner and provide a great way to come back and review content marked as important to a learner.