Overview
When your learners access your EchoPoll Course, there are two types of content they can interact with:
Sessions are live events that you or another instructor lead while your learners follow along.
Assignments are asynchronous events that you schedule for your learners and they complete at the own pace at their own time.
Both Sessions and Assignments are created from Poll Decks in your Library. Your Poll Decks are, in turn, made up of assets and Resources in your Library.
Adding Assignments to EchoPoll Courses
You can add Assignments to your Course from:
From Poll Deck in your Library
From the Create button in your Library
From Assignments tab on your Course Page
We'll go over each option here.
Adding an Assignment from a Poll Deck to your Course
The easiest way to start a Session and add it to your Course is from your Library via an existing Poll Deck.
Log into EchoPoll on your Instructor account.
From the My Library tab, pick the Poll Deck you want to use and click the Assign button.
This will open the New Assignment window. Click the Show Settings link to bring up the Course settings.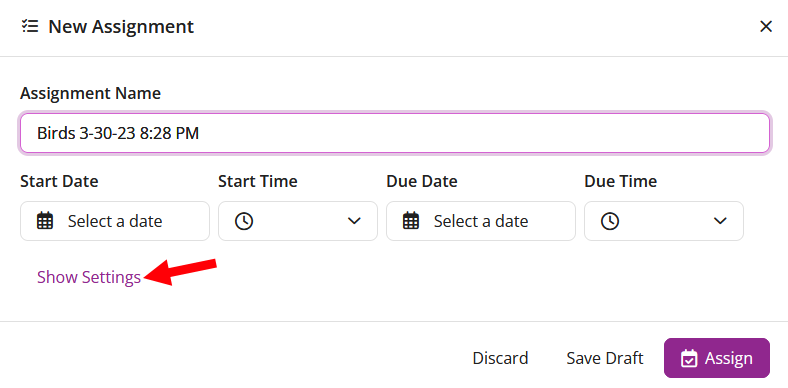 Here you can select a Course Record and hit Assign to schedule your Assignment.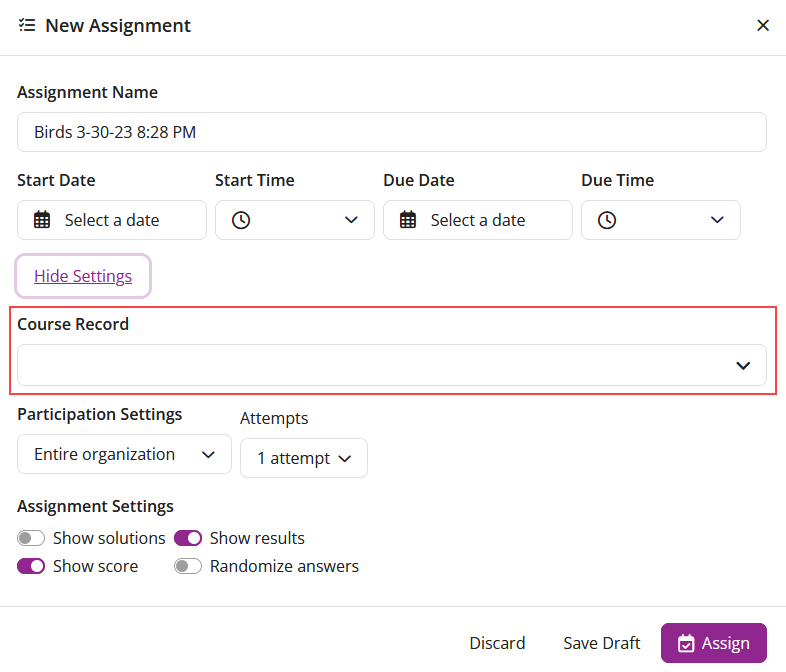 Once you've chosen a Course record, you're also able to set your Participation Settings to Rostered Only, if you only want your rostered Course learners to have access to your new Assignment.
Adding an Assignment to your Course from the Create Button in your Library
You can add an Assignment to a Course from the Create button in your Library as well. This can be useful if you haven't already created your Poll Deck, so that's the workflow we'll show here.
Log into your EchoPoll instructor account.
From the My Library tab, click the Create button and select Assignment.
This brings up the New Assignment window with the same options as above in a slightly different layout. Be sure to pick your Course Record before scheduling your Assignment. Of note, there's a "New Poll Deck" option which doesn't exist if you are creating the Assignment form an existing Poll Deck in your library.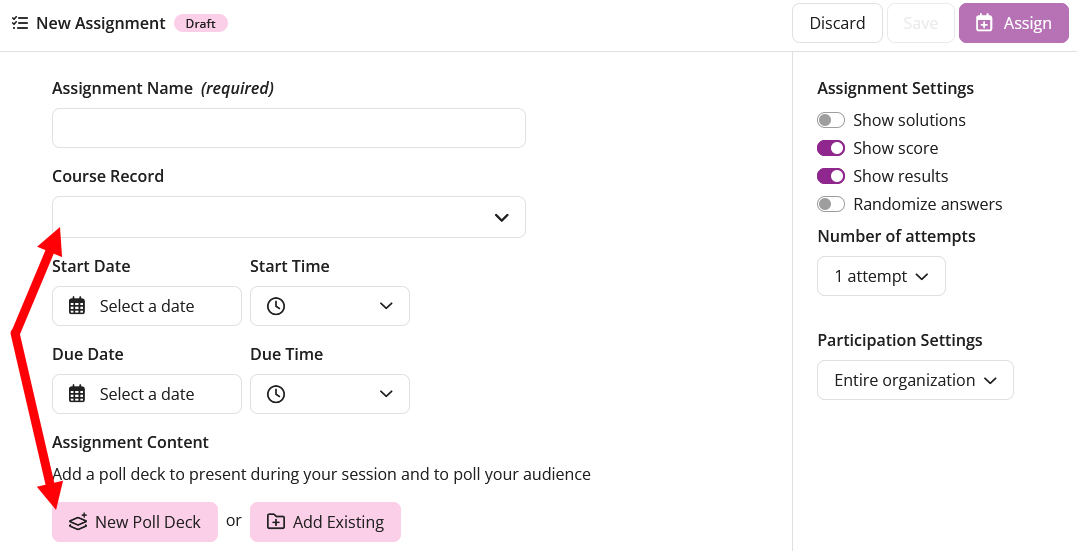 Adding an Assignment to your Course from the Sessions Tab
This option has the benefit of automatically selecting your Course at the time of Assignment creation.
Log into EchoPoll with your instructor account.
Select your desired Course from the My Courses tab.
From your Course's Sessions tab, click the New Assignment button.
This brings up the New Assignment window and your Course is already selected.