Overview
With PointSolutions, you are able to export a full record of a class session including all of your data for that session. This provides more information than export in a report and allows you to transfer your session from one computer to another or make a back-up for you session.
How to Export
To export your session:
Open the PointSolutions desktop application and sign in to your account.
From the

Manage

tab, click the

Session

drop-down menu and select

Export

.

Place a checkmark next to the session or sessions to be exported and click the three dots next to the Export to Directory field to choose where to save your file(s).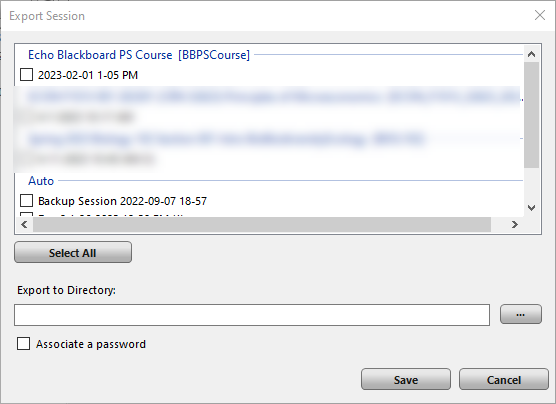 Click Select All to select all session files for export. Sessions will be saved in a folder with the same name as the course.
Select Associate a password if desired.
In order for another individual to import a password-protected session, you must provide this individual with the password.
Click Save.