EchoPoll has a plethora of features to help you prepare your organization for success.
Here we will begin to build our team and add learners. If you have been assigned the role of Administrator, you can access many administrative features by clicking on the your user icon on the top right and opening the menu there. 
To learn about managing your EchoPoll subscriptions, please refer to our article on the topic:
Managing Subscriptions in EchoPoll
Administration Options
In this menu, you will find options to Manage Users to invite instructors and learners to your organization, view your Organization Settings, and view your Subscription information. You can also access your own Account Settings, change your role, access help resources, provide product Feedback, change applications (if you have access to more than on EchoEngage product), and Sign Out.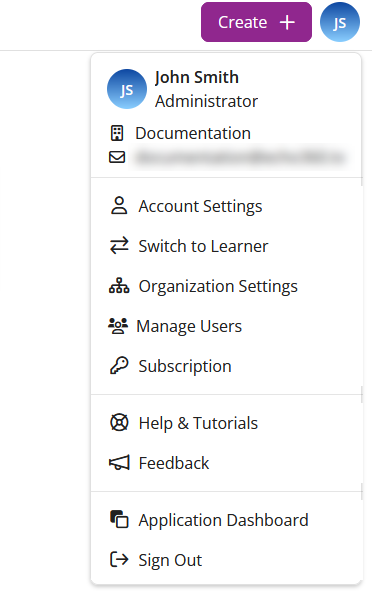 Let's start by adding users to your organization by clicking on "Manage Users".

Inviting Users
We are now going to invite our first group of users to our team so be sure you have the Team tab selected. 
Select the New User button in the top left. 

This brings up the New User window.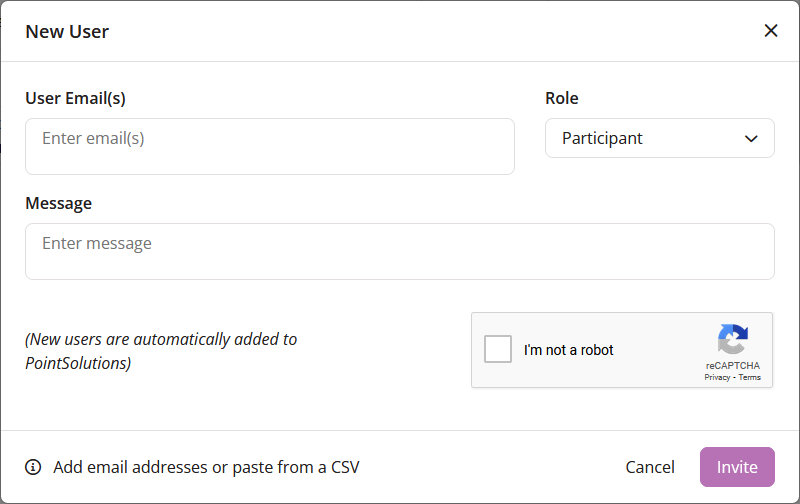 Enter the user's email address or paste from a CSV file. You must designate their role by selecting either Administrator or Instructor from the Role drop down menu. You may invite several new users at once by separating multiple emails with commas or spaces. 
It is important to note that if you are inviting several users at once, they must all have the same role type. 
Next, enter a message that will appear in the welcome email that they receive. 
Then select Invite. The users will receive an email invitation within a few minutes informing them that they have been added to your organization. 
Managing Users
The user's name, email, role, and login status will now appear on the Users page. If the user has not yet accepted the invite, you will see a Pending status and the date their invitation was last sent. Once they have accepted the invite, you will be able to see the date/time they last logged in.

In the top right, you can filter users by Status and Role, as well as export a user file in CSV format.

Use the search field at the top to easily find specific users. 

Individual Users
You can edit a user's settings, change a user's role, re-send their invite, or remove the user from your organization by clicking the 3 dots to the right of the user:

Note that only the organization owner may assign another owner.
Suspending a user removes their access to your organization until they are un-suspended, but does not remove them from your organization. 
The Remove User button has two functions depending on the user's login status: 
If the user has a pending invitation, selecting the Remove User button will delete their invitation. 

If the user has already logged in, selecting Remove User will remove the user from your organization.
Editing a user's settings allows you to review and change their:
Name
Course Enrollments
Associated Devices 
LMS Connections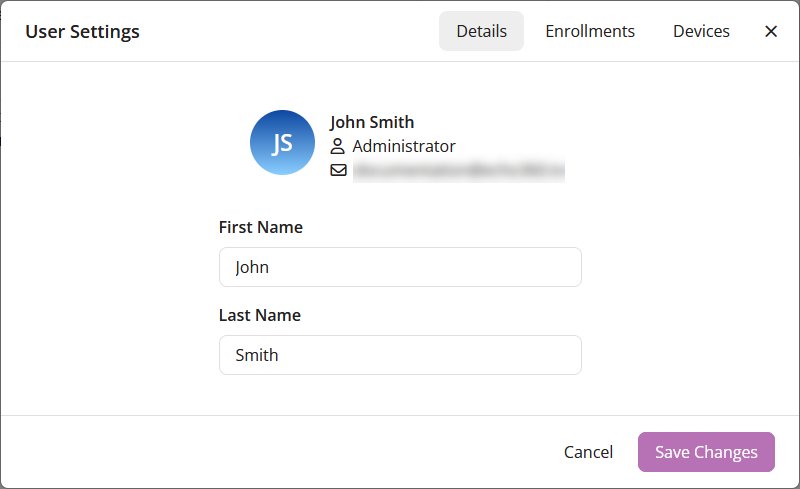 The LMS Settings tab displays information about any LMS they are connected to. Selecting the X next to an LMS name will disconnect that user with that LMS.
When finished, select the Save Changes button. 
Multiple Users
You can also manage multiple users at once by selecting multiple users' checkboxes on the Users page.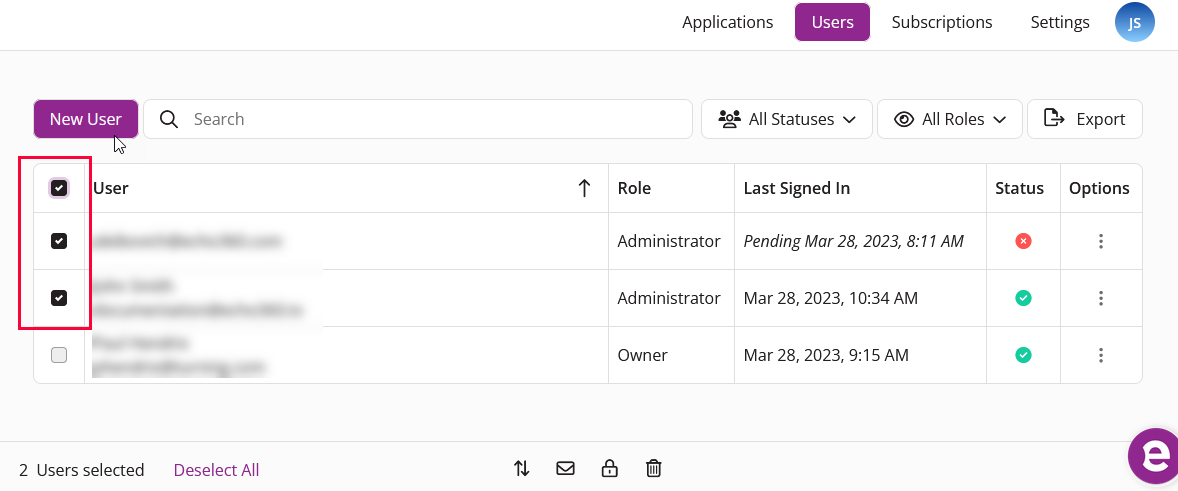 This brings up multiple user management options at the bottom of the screen:

The Change Role button lets you change all the selected user's roles:

The Resend invite button lets you re-invite any users who have not yet registered their accounts. 

The Suspend Users button lets you prevent users for accessing your organization but does not remove them from your organization.

The Remove Users button lets you remove users from your organization.