Bookmarks allow you to identify classroom material you want to return to later, to re-review or take notes on. Bookmarks appear in your Study Guide, to include a viewing panel for the slide or video location you have bookmarked.
Confusion Flags allow you to identify classroom material that you find confusing or for which you need more explanation. Your instructor will see that someone has flagged that location or slide and may ask the class what they find confusing.
Bookmarking a video location or slide
Bookmarks let you mark locations in presentations or videos so you can find them quickly and easily, without having to page or scrub through the presentation/video.
To bookmark content
Click the Bookmark icon in the toolbar on the top.

If the classroom has both a video and a presentation, select whether you are bookmarking the scene or the slide.
Did anything happen? If your Notes panel isn't open when you click to bookmark a location, it will look like nothing happened. Don't worry, the bookmark is there, in your notes. Re-clicking the bookmark within 30 seconds will un-bookmark the item, however, so try not to be too click-happy.
Once your content is bookmarked, the Bookmark appears with your Notes. This allows you to click the bookmark and go to that location in the presentation/video (whichever you selected to bookmark).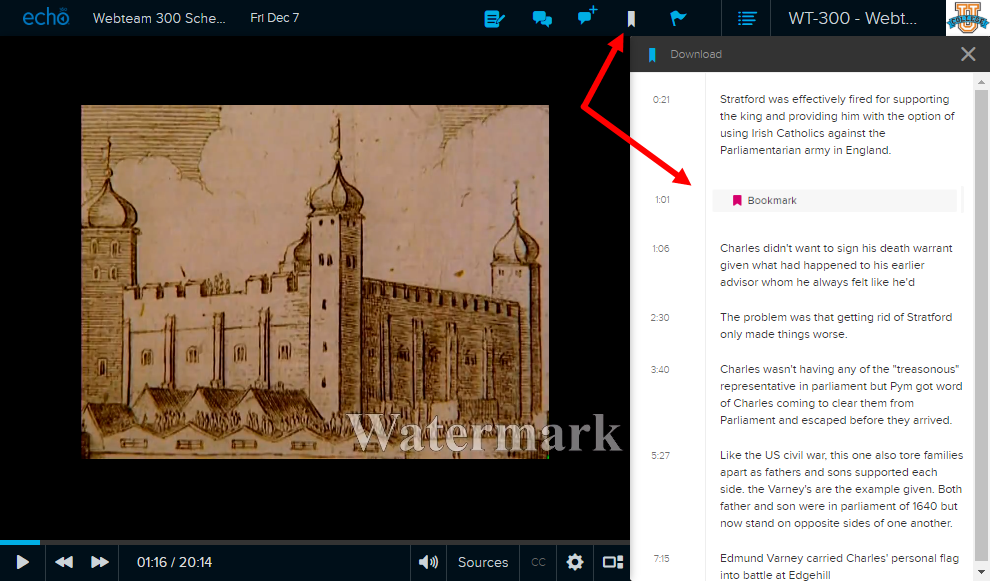 Flagging content as confusing
Flags let you mark locations and material that you find confusing or items you feel the instructor may need to explain further to you or the class. Flagging content sends a notification to the instructor, letting them know that a student had some problem with the material. The notification flag includes the location of the presentation at the time it was flagged.
To flag content for clarification
Click the Flag as confused icon in the classroom toolbar.

If the classroom contains both a video and a presentation, you will be asked to select whether the scene is confusing or the slide is confusing. If you want to flag both items of content, click the flag a second time to make a second confusion flag for the other content type.