NOTE: Some institutions disable the Q&A functionality; if you do not see the Questions button or panel as described below, check with your school's help desk to see if this is the case with your institution.
If you have a question while viewing a classroom presentation or want to respond to a question someone else asked about the class, select the Discussions icon from the toolbar. This is a toggle button which also closes the Questions panel when not needed.


To respond to a posted question, click ON the question in the discussion panel. The question expands to provide a Respond to this Question button as shown below.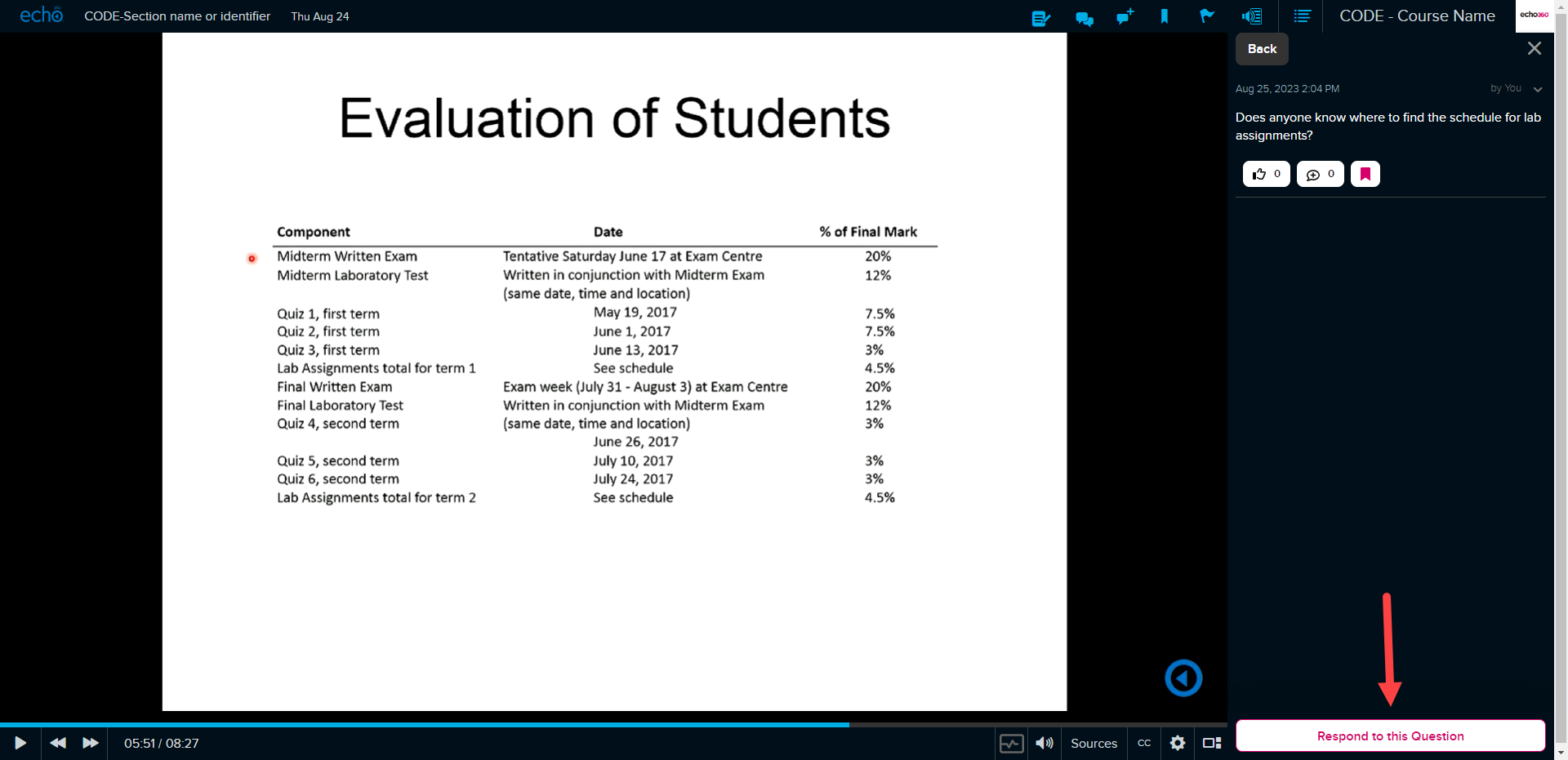 Any posted question can generate multiple responses, generating discussions about the class material.
To "bookmark" a question, click the bookmark icon (this is shown in blue in the above figure). Your own posts are bookmarked automatically; bookmarking someone else's post adds it to your Study Guide notes for the class (if you are a student).
To endorse a particular post, click the "thumbs up" icon.
For Live streaming classes, the Questions panel appears by default, allowing viewers to chat about the class in real-time.
All posts (and responses) entered through the classroom questions panel also appear in the Q&A tab for the course. If a post references a point in the classroom video or a particular slide, that visual cue also appears with the question in the Q&A tab.
Question and response fields will accept several thousand characters, and while you can enter line breaks into the field, they are not retained. Meaning readability of the post provides a practical limit to how much you can enter. Attachments are limited to 10MB.
Click the menu arrow (also called a "chevron") located to the right of a question/response to display the Edit and Delete commands. All users can edit their own (and only their own) questions or responses. Users can also delete their posts, and instructors can delete any post.
To post a question from the classroom
In the classroom toolbar, click the New Question icon.


The Discussions panel opens to show a New Question text box, the same as if you had clicked New Question from the Discussions panel.

Enter text into the New question textbox
Click the paperclip icon to include an attachment with your question.
Select whether to Reference class content with the question. This simply means that the classroom presentation will synch to the question when another user selects it.
Enable the Post anonymously slider to post the question without your name. Instructors can see the authors of all posts; students cannot.
Click POST QUESTION.
The question can now be viewed and responded to by students or instructors of the section.