Who can do this?
All users can apply transcripts as Closed Captions for media they own.
Instructors and Teaching Assistants can do this if they can edit the transcripts.
Students may be able to do this from the transcript editor if Students Push Transcripts to Closed Captions is enabled for the institution.
Once a Transcript has been reviewed and/or edited for accuracy, it can be applied to a video as the closed captions file.
Only the newest version of the Transcript can be applied to CC through the editor. If you have to revert to a previous version then apply it as the captions file, you will need to edit the transcript and save as a new version before doing so.
Understand that the transcript-based captions will not have non-speaking elements such as "music" or "paper shuffling" as visual indications of non-spoken sounds (like closed captions may have), but it will provide visual indications of the spoken sounds of the speaker for users (as text).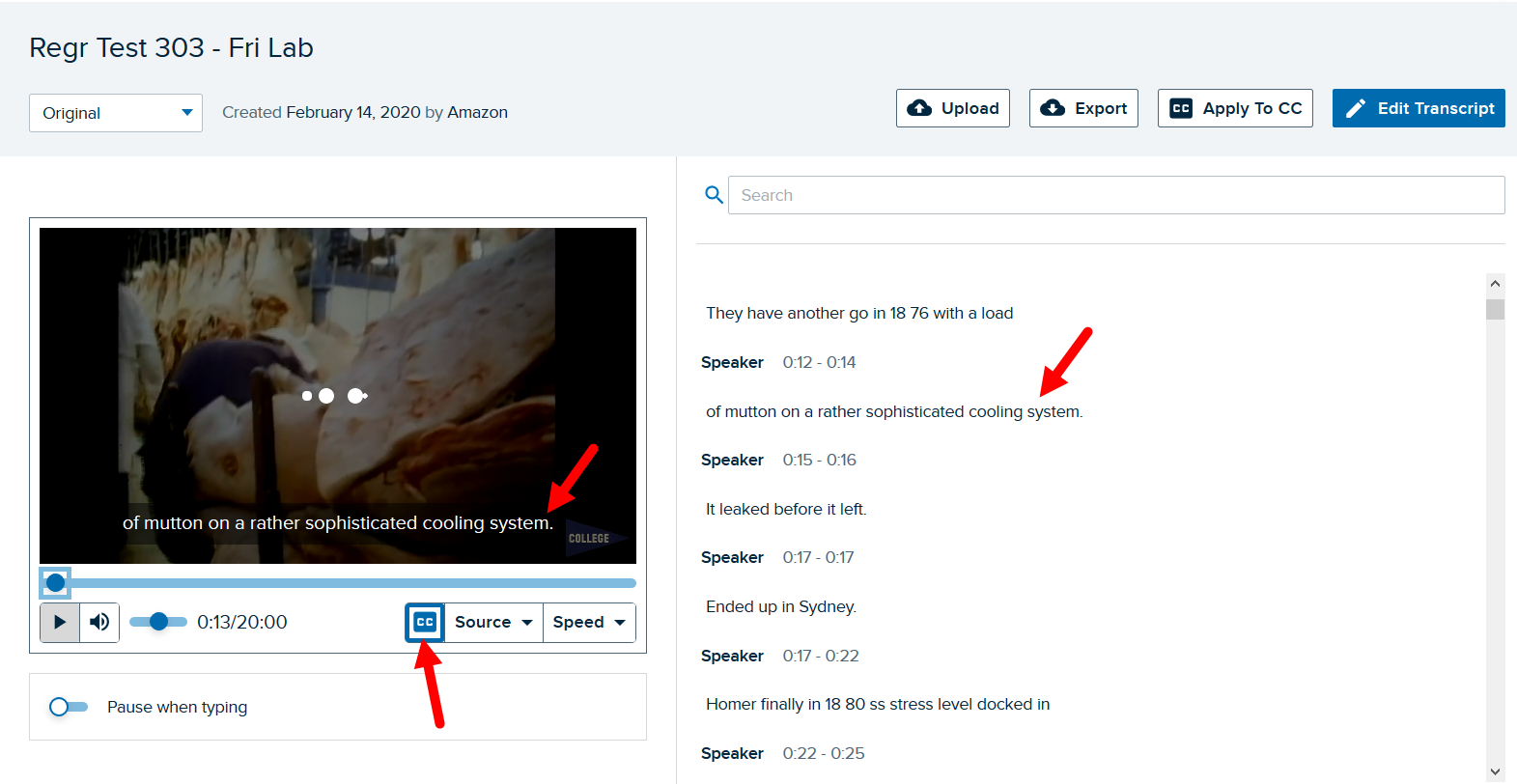 To apply an edited transcription as a closed caption file
Open the transcript editor.
Click Edit Transcript to open edit mode.
Make any changes necessary and save the changes to the transcript.

Click the Apply to CC button. This applies the current version of the transcript to the closed captioning file for the video.

Review the confirmation message that appears, and click Apply to apply the transcript as closed captions for the media.
To see the applied transcript in action, play the video in the playback panel, with the CC button turned on. This is shown in the figure earlier on this page.
Known Issue with Firefox: In some instances the newly applied Closed Captions will NOT appear in the Transcript Editor until you refresh the page. The captions are applied however, and refreshing the page resolves the issue and makes the captions visible in the editor. This only occurs in the Firefox browser.