If you are using Zoom for class recordings AND Zoom is providing transcripts for those recordings, those will not be sent for ASR transcription, regardless of the course toggle setting described below. However, Zoom transcriptions may take some time to appear. Other recordings will be sent for ASR transcription when they are published to the course. If you are using Zoom but are not sure if Zoom transcriptions should be appearing, check with your Administrator.
If it has been enabled by your administrator, Instructors may be able to turn on or off the ASR Course Media toggle for each of their sections. ASR stands for Automatic Speech Recognition and refers to the automated transcription service provided for EchoVideo media.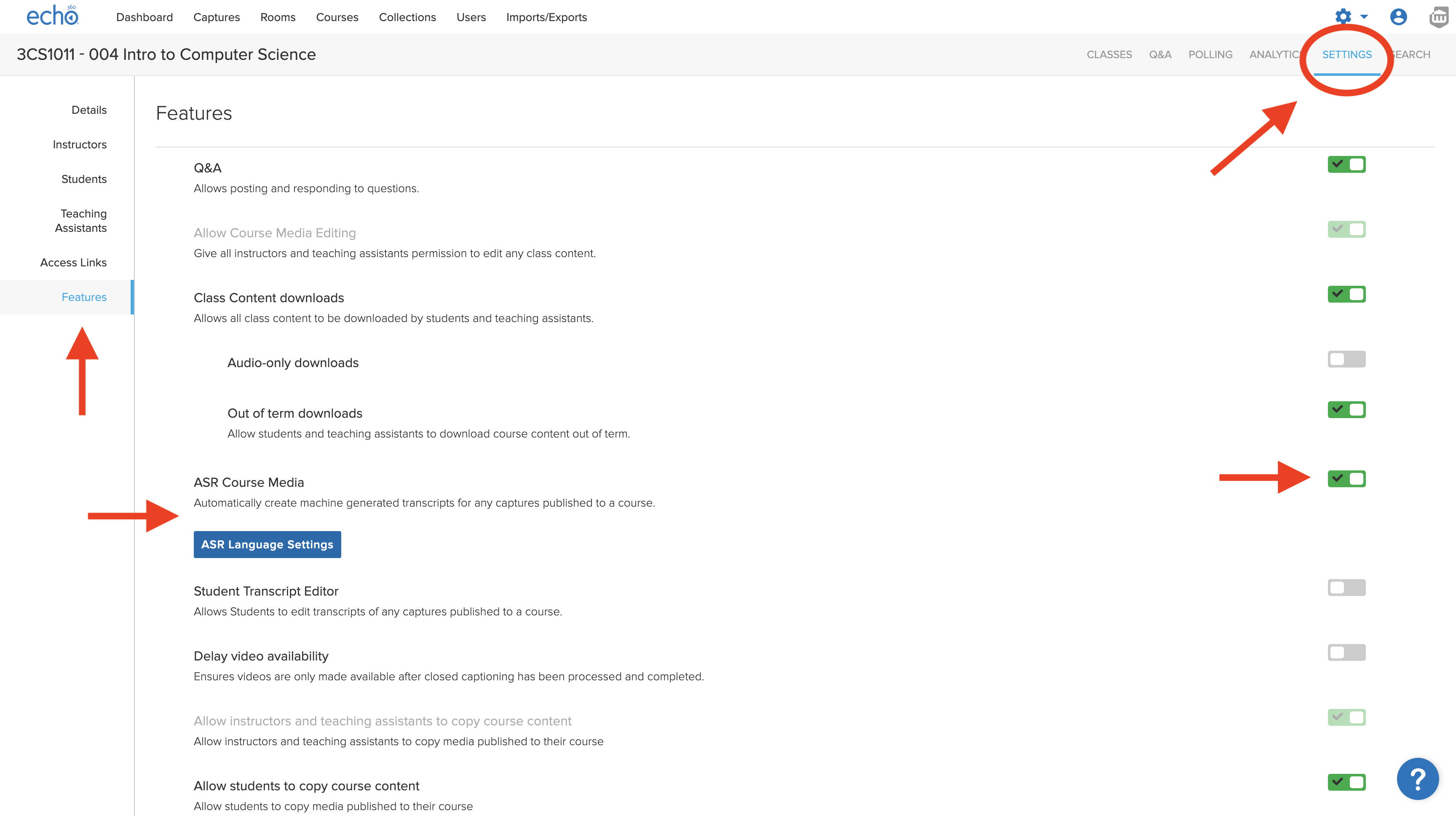 Suppose this option is dimmed and you cannot change it. In that case, it means your administrator has it set at a higher level (organization, department, or institution) and does not allow overrides at lower levels. If you think you should be able to change the setting for your section, contact your administrator. Understand also that your administrator may have turned on ASR for ALL media added to the system so having this enabled for publishing is no longer necessary.
When ASR Course Media is turned on, all audio/video media published to this section after the toggle is enabled are sent to have machine-generated transcriptions added to them. The trigger for sending an item for transcriptions is the act of publishing. This means that newly published media will be sent for transcriptions, but existing media will not be transcribed until they are re-published to this or another section where ASR is turned on. See also the note below for best practices to add transcriptions to existing section media.
The ASR Language Settings button allows you to select an alternate language (other than the global Institution default) to be used for transcription. This allows different courses taught in different languages to be transcribed accurately.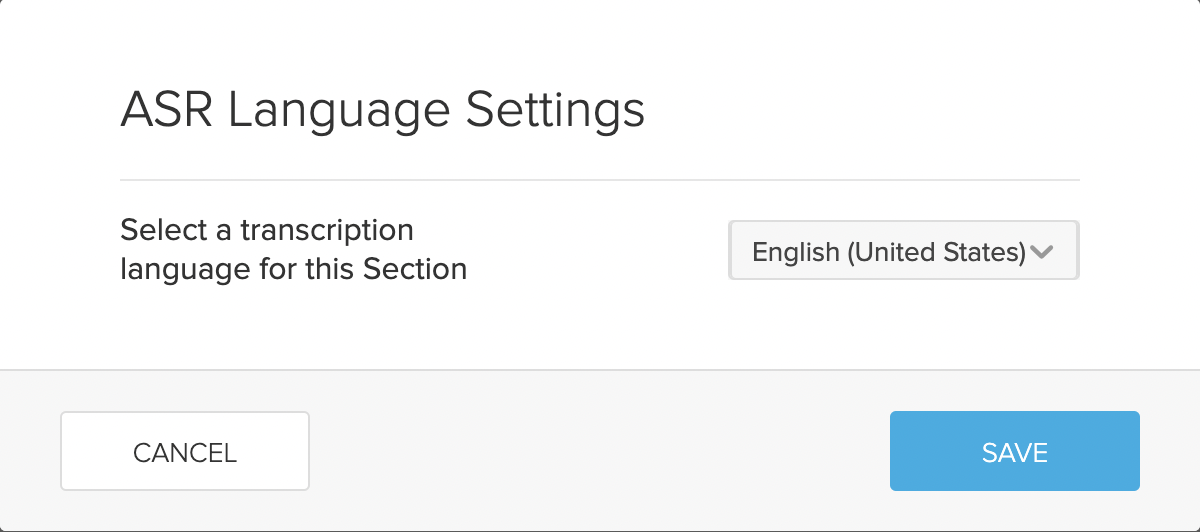 Transcriptions take at least 30 minutes to complete but may take longer, depending on the length of the video and the overall number of transcription requests being processed at the same time.
NOTE: If you remove then re-publish a capture to a class to obtain transcriptions, you will remove student video view data from the section analytics for that class/video. BETTER OPTION is to create a "holding class" solely for temporarily publishing videos (or use an expired section), publish the older, non-transcribed videos to the class then remove them. The act of publishing will trigger the automatic transcription; the video does not need to be left in the class for more than several seconds. Once applied, the transcriptions appear for the video in all locations it is published.
For more information on the ASR service, see Automatic Transcriptioning Service or ASR. We strongly encourage you to review this help article, so you understand the features and limitations of the ASR service.
Once a capture has a transcription, the classroom toolbar displays a transcription button. This button opens the transcription panel. The text in the transcription panel is synced with the video. For more information on the classroom capabilities of transcriptions, see Viewing Video Transcriptions in the Classroom.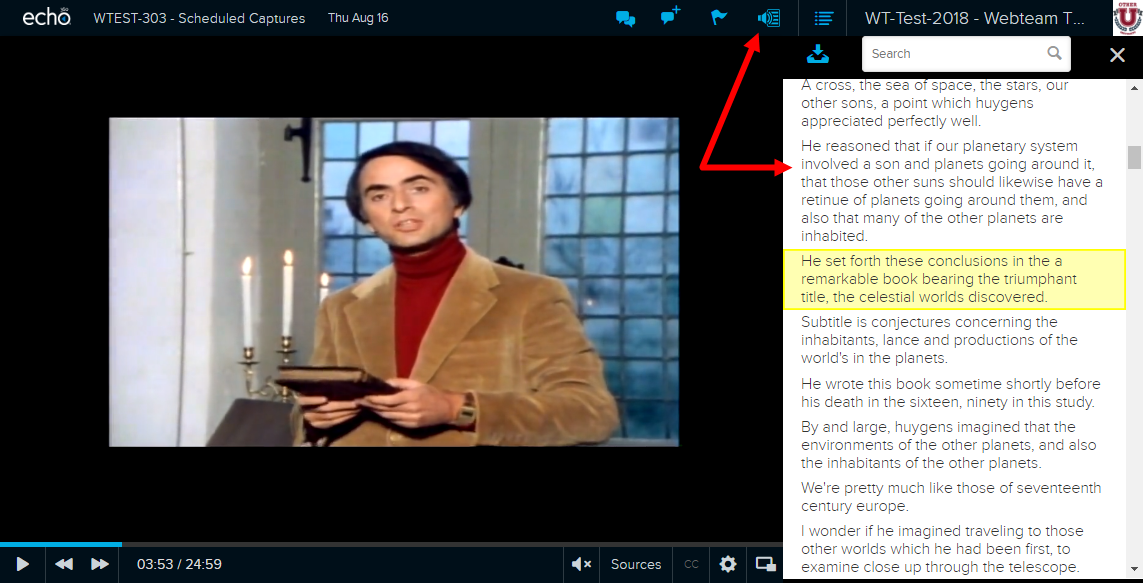 To enable/disable automatic transcription of captures/videos on publish
Log in as an instructor.
Navigate to the SETTINGS tab for the course.
Select Features from the left side of the tab, identified in the above figure.
Toggle on or off the ASR Course Media option.
Click OK on the confirmation message that appears.
If you turn ASR OFF, any existing transcriptions will remain with their media, but transcriptions will not be requested for newly published content.