NOTE: Some institutions disable the Q&A functionality; if you do not see the Questions button or Q&A tab described below, check with your school's help desk to see if this is the case with your institution.
Questions or comments you post to the class at large can be synced to the video location or presentation slide you're viewing at the time, but do not have to be. Referencing content with your question may provide useful context for the question or comment, however.
TIP: Questions YOU post automatically appear in your Study Guide for the section. But if you find someone else's question interesting, BOOKMARK IT (click the little flag below the question; it turns blue!). Bookmarking a question makes it show up in your Study Guide.
Viewing Class Discussions
While viewing the class media, click the Discussions icon to open the Discussions panel.
Click a question to see any responses to it, or if you want to, enter a response of your own.
You can also endorse (thumbs up) questions or responses in the Discussion panel, and Bookmark a question or response so that it shows up in your Study Guide.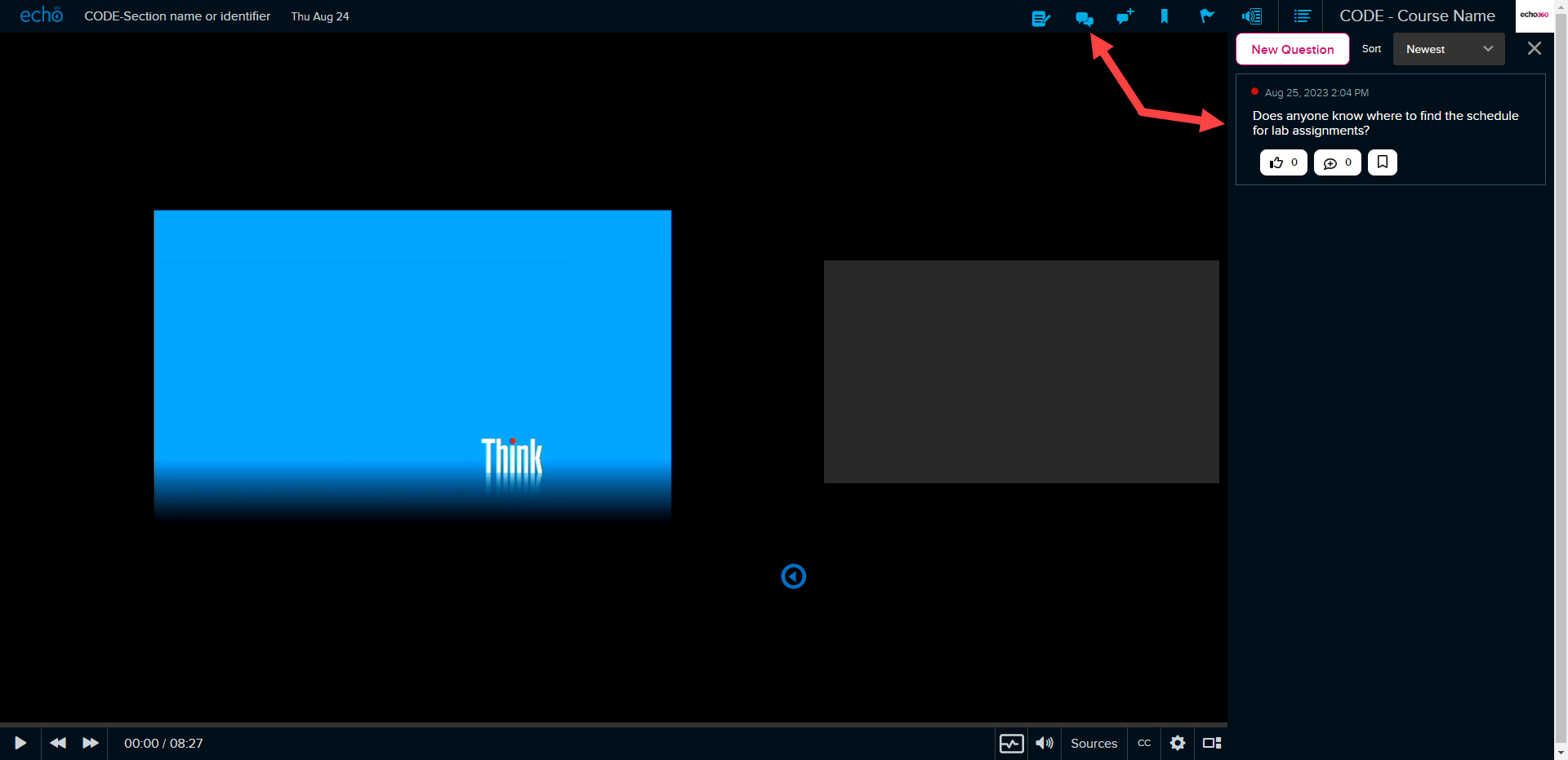 Posting a Question to the Class
While viewing the class video or presentation, click the New Question icon to open the Questions panel with the new question entry box open and ready for input.
You can reference the class content or not, and you can post anonymously if you want (note, however, that Instructors can always see who posted; other students will simply see "Anonymous").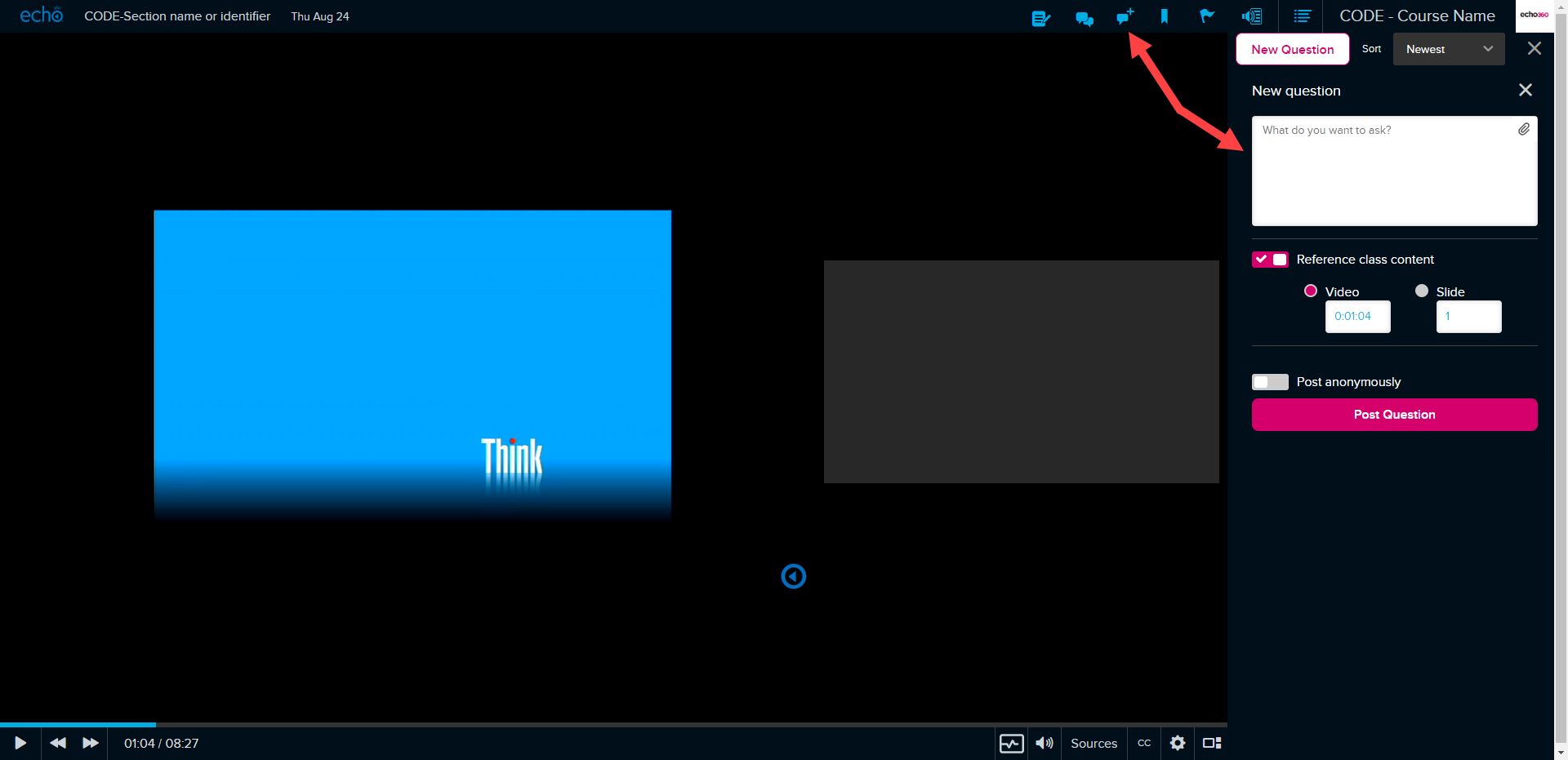 Responding to a Question in the Class
Click the Discussions icon, then click the question or post you want to respond to.
The Discussions panel changes to show only that post and any existing responses. Click Respond to this Question to open a text box for your response.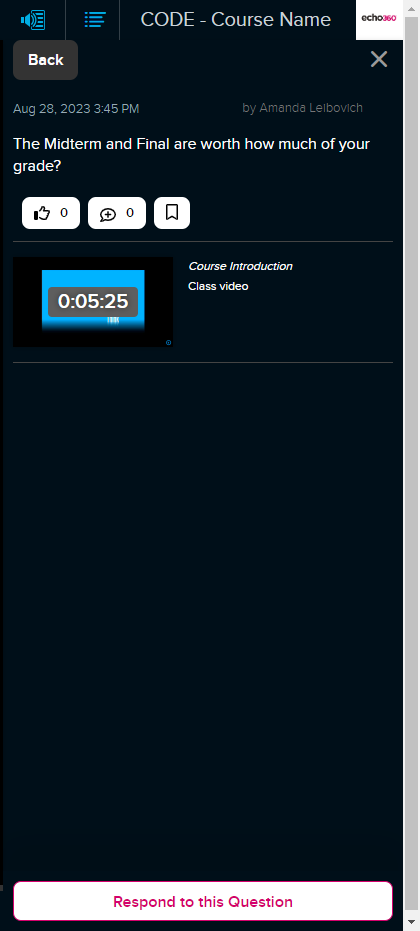 Using the Q&A Tab
From the Class List page, click the Q&A tab. This allows you to see the questions and responses posted for/in a specific class or show All Questions for all classes (use the drop-down list).
You can also post questions as well as respond to questions via the Q&A tab.