You can edit an existing presentation by adding base slides or media slides from other presentations already resident in your library. You can also import Polls from your library into your presentation as needed. This is helpful for re-use of polling slides from one media to another.
Know that any changes to imported polls have no effect on the poll in your library or any other location where the poll may have been used. Once it is put into a presentation, it is now part of the presentation and is separate from wherever it came from.
To import a slide to a presentation
Find the presentation in your Library and select Edit Media.
Alternately, select Edit Presentation from the media icon in the class list.
From the presentation editing page, click Add Slides.
Select Import from Library from the Add Slides options, as shown in the below figure.



The library content selection window appears, listing all of the presentations AND polls in your library. By default, the list is shown in alphabetical order by name, with poll question text used as the poll name.

Use the Sort by drop-down list to sort the list using different criteria; use the arrow button to change the sort from ascending to descending and back as needed.
Use the Search text box to search the list by Name/Question text, based on the text you enter.
Click Filters located to the right of the Search box to filter the list for only Presentations, or only Polls.

If filtering for Polls, you are given the option to filter further by Poll Type, as shown in the below figure.

Select the Library item you want to use from the content list, then click Import.

If you selected a Poll, the poll is added to the presentation (to the right of the currently selected slide). Repeat these steps to add another Poll from your library to this presentation.
If you selected a Presentation, the contents of the presentation (including any media or polling slides resident in it) appear in a panel located below the main editing panel, as shown in the below figure.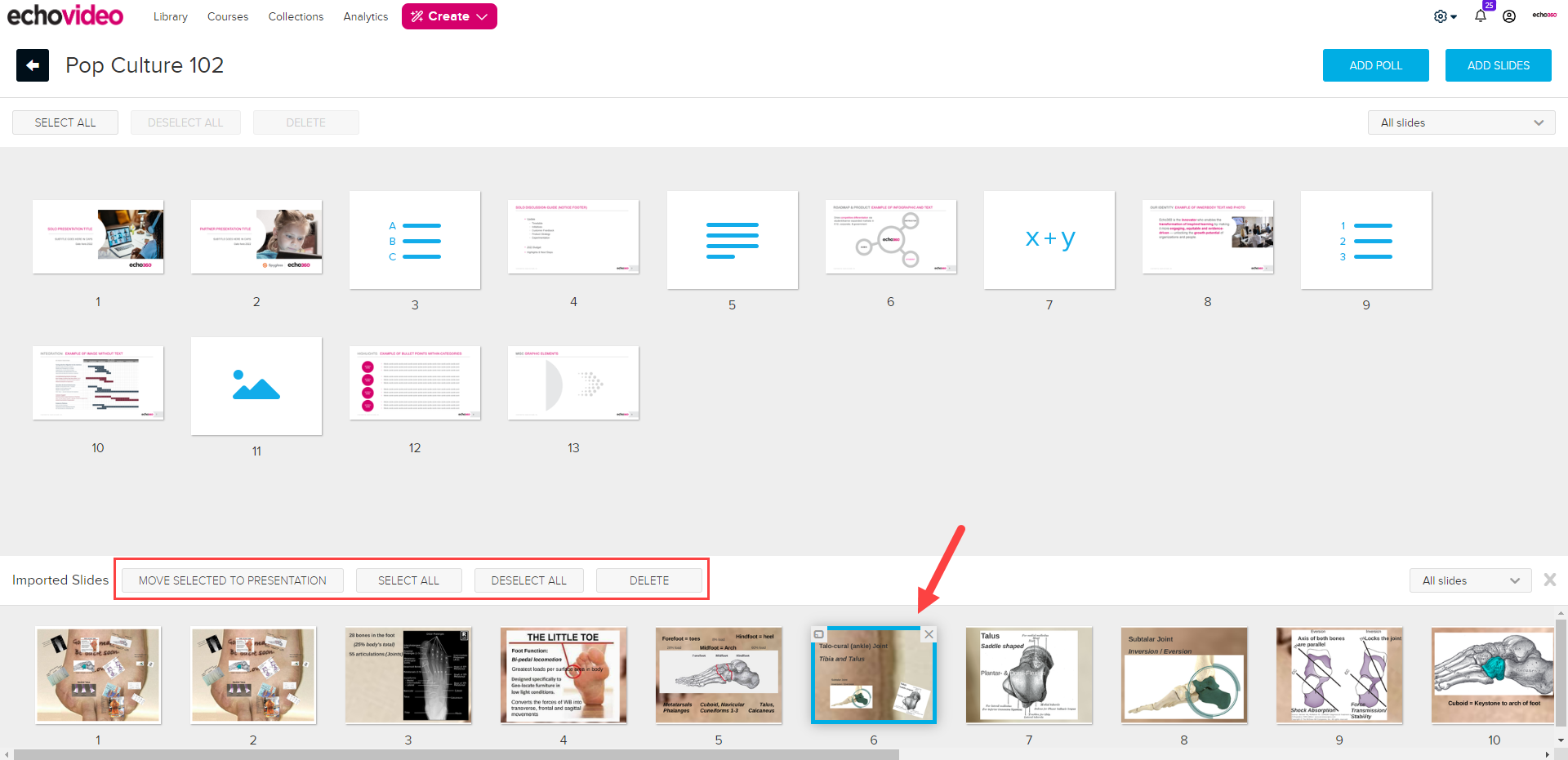 Click on any of the slides from the lower panel to activate the options buttons.
Select Move Selected to Presentation to add the selected slide to the presentation open for editing. Hold the Ctrl/Command key to select multiple slides at once.
When finished, click the X located to the right of the Imported Slides bar to close the view of the imported presentation slides.