Who can do this?
Instructors and Teaching Assistants where the institution has a Zoom Integration configured. If you do not see a Zoom Settings option on the left side of the Account Settings screen as described below, this page does not apply to you.
ALSO: If your institution is using Zoom's LTI Pro integration for your LMS/VLE (you create and schedule Zoom class meetings from within each LMS/VLE course), the mapping to Echo360 is done automatically and cannot be done using the below instructions.
Echo360 allows you to map your existing scheduled Zoom meetings into existing Echo360 sections.  Once mapped, Echo360 automatically creates new classes in the selected Echo360 section and automatically publishes the completed Zoom recordings there. If mapped to a section, your recordings will reside in BOTH your Echo360 library as well as the targeted section.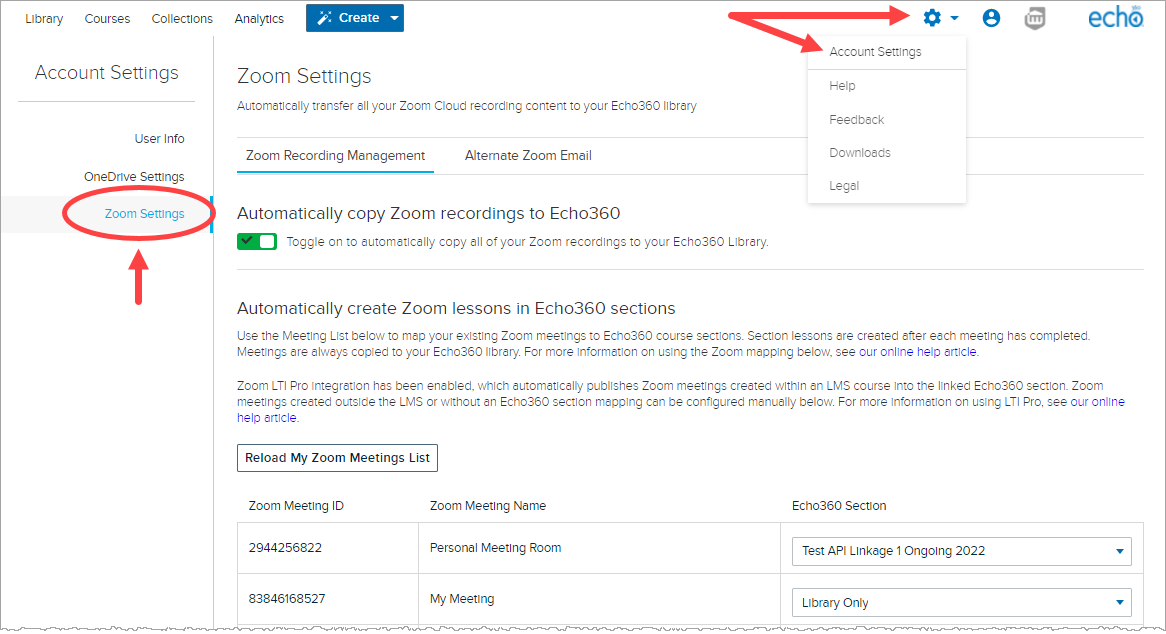 Mapping your regularly scheduled Zoom meetings to Echo360 sections allows your students to follow your existing process of entering their Zoom classes as scheduled. Since the completed recordings are automatically published to the section, students can then access and review those recordings again later as needed, without further action from you.
A few notes to be aware of regarding the Zoom to Echo mapping:
Each Zoom meeting can be mapped to one Echo360 section at a time. This process assumes you are using different Zoom meeting IDs for each of your course sections.
You can select sections that reside in the current term or in a future term only; you cannot pick a section whose term has expired (the end date of the term is in the past).
The section classes are not created until the Zoom recording is complete. The class is created when the recording is published to Echo360.
All recordings are copied to your Echo360 library, in addition to any mapped section.
If the meeting recording is stopped and restarted, only the LONGEST segment of the recording is published to the section. However ALL segments of the recording are copied to your library.
Your Echo360 Administrator can help you with your mapping if you have problems.
Mapping and auto-publishing of Zoom meeting recordings requires that that Automatically copy Zoom recordings to Echo360 toggle be turned ON. If this toggle is turned off, no recordings will be copied to Echo360 during that time, and logically no recordings will be published to your sections.
If your institution is integrating with Zoom's LTI Pro feature, following the provided instructions will automatically map your LMS/VLE course to the Echo360 section. THIS list, however, will indicate that the mapping for those meetings is to your Library. You can still use this list for non-automated-mappings, and direct those recordings as appropriate.
NOTE that this process is DIFFERENT than using the Zoom Meeting option in the Create menu. The Zoom Meeting option creates an ad hoc "instant Zoom meeting" with a randomized identifier and password, and a link you can distribute to students at that time. The mapping process described here uses pre-existing Zoom meetings to identify future scheduled recordings for automatic publishing to sections.
Finally, if you are not in the habit of giving your Zoom meetings meaningful names, you may want to start. The meeting number and the meeting name are shown in the list, and meaningful names will help you map them to the proper sections.
To map existing Zoom meetings to Echo360 sections
Enter Echo360 as an Instructor or Teaching Assistant.
Click the Settings icon, and then select Account Settings as shown in the figure above.
Click Zoom Settings from the left side of the page.
The lower section of the page lists all of your currently configured Zoom meetings. If there are no meetings shown or you have new ones you do not see, click Reload My Zoom Meetings List.
Use the drop-down list to the right of each meeting to map those recordings to an Echo360 section. You may also leave the default setting of Library Only.

Repeat for each meeting in the list as needed. Remember that all recordings are copied to your library in addition to being published to any selected section, if one is mapped.
When finished, scroll to the bottom and select Save All Changes. 
Do not navigate away from the page without saving.

Remember that the classes to hold these recordings are created AFTER each meeting has finished and the recording has been copied into Echo360.
These mappings can be changed as needed. Remember that any changes made on the page apply to meetings from this point forward; no changes are back-applied to meetings that have already occurred or recordings that have already been copied into Echo360.