The Echo360 PowerPoint Ribbon add-on is now in maintenance mode; it is still supported, and critical bugs or security issues may be patched, but Echo360 does not intend to add further enhancements to its capabilities.
The Echo360 PowerPoint Ribbon add-on is a Windows-only add-on available for both 32-bit and 64-bit versions of Office 2010, Office 2013, and Office 2016. It can also be used with Office 365. See Installing the PowerPoint Ribbon Add-on for information on installing the ribbon.
Once installed, the Echo360 PowerPoint add-on appears as a new tab in your PowerPoint ribbon, and provides Echo360-related functionality for your slide decks.

Click Sign In, located on the far left side of the ribbon. This establishes a link between you, your PowerPoint installation, and your sections in Echo360.
If you access Echo360 through an LMS or other authentication system you will need to establish a separate Echo360 password. Click the Settings icon and select Account Settings. Then click CREATE PASSWORD. Your Echo360 password can be the same or different from your LMS or Institution password and is used exclusively for direct login to Echo360. A direct Echo360 login is required by the PowerPoint add-on.
The Log in dialog box, shown below, allows you to select your region, and enter your Echo360 Username and Password.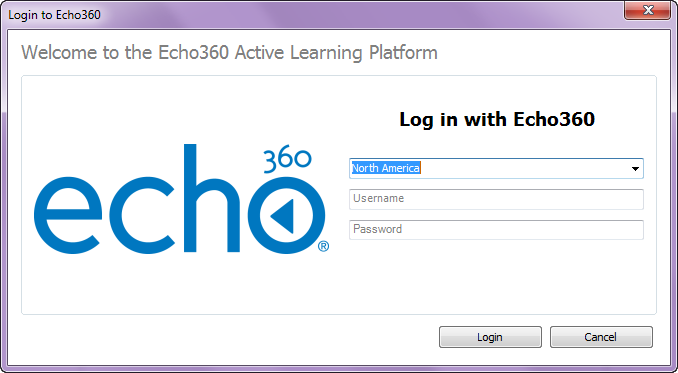 Added Benefit to the Ribbon: If you use a PowerPoint plug-in (such as ChemDraw) to generate equations, molecular drawings, or other items for your PowerPoint presentation, you may find these being stripped or otherwise altered when you upload the file through the Echo360 UI. Publishing through the PowerPoint Ribbon add-on retains plug-in content in the presentation. Alternately, you can convert the PPT to PDF and upload the PDF instead.
Once logged in, open a presentation. The features of the ribbon are now available to you. These are described in more detail below.

From left to right, the PowerPoint ribbon information and commands are:
Sign In/Sign Out - Used to sign in/out of your Echo360 account as described above, to enable the ribbon functionality. To change institutions, you must also Sign Out/Sign In; this action provides the institution selection dialog box.
Publish/Update - Used to publish the currently open presentation to a section.

Once the presentation has been published, the button changes to Update, and the Class Status section is populated. If you make edits to the presentation, Update allows you update the published version with your changes.


Class Status - Shows the section to which the currently open presentation has been most recently published.
Publish Info - Opens a dialog box that shows the class to which this presentation has been published and allows you to change the availability settings of the presentation if needed. You can also use this option to publish the presentation to a different section or class.
Add Interactivity - Provides the ability to add a new activity slide or to edit an existing activity slide in the deck.
Support - Opens an informational dialog box which also provides a link to this help page.