The procedures on this page can be performed by a D2L/Brightspace administrator for the Main navigation bar, or by an administrator or instructor for the Course navigation bar.
The instructions on this page describe how to add the External Tool Link for the Echo360 Library into either the Main navigation bar or into the Course navigation bar (or both) for easy access by users.
The Echo360 Library link allows users to access the media in their Echo360 Library from anywhere. The library page opens within the Brightspace window as shown below.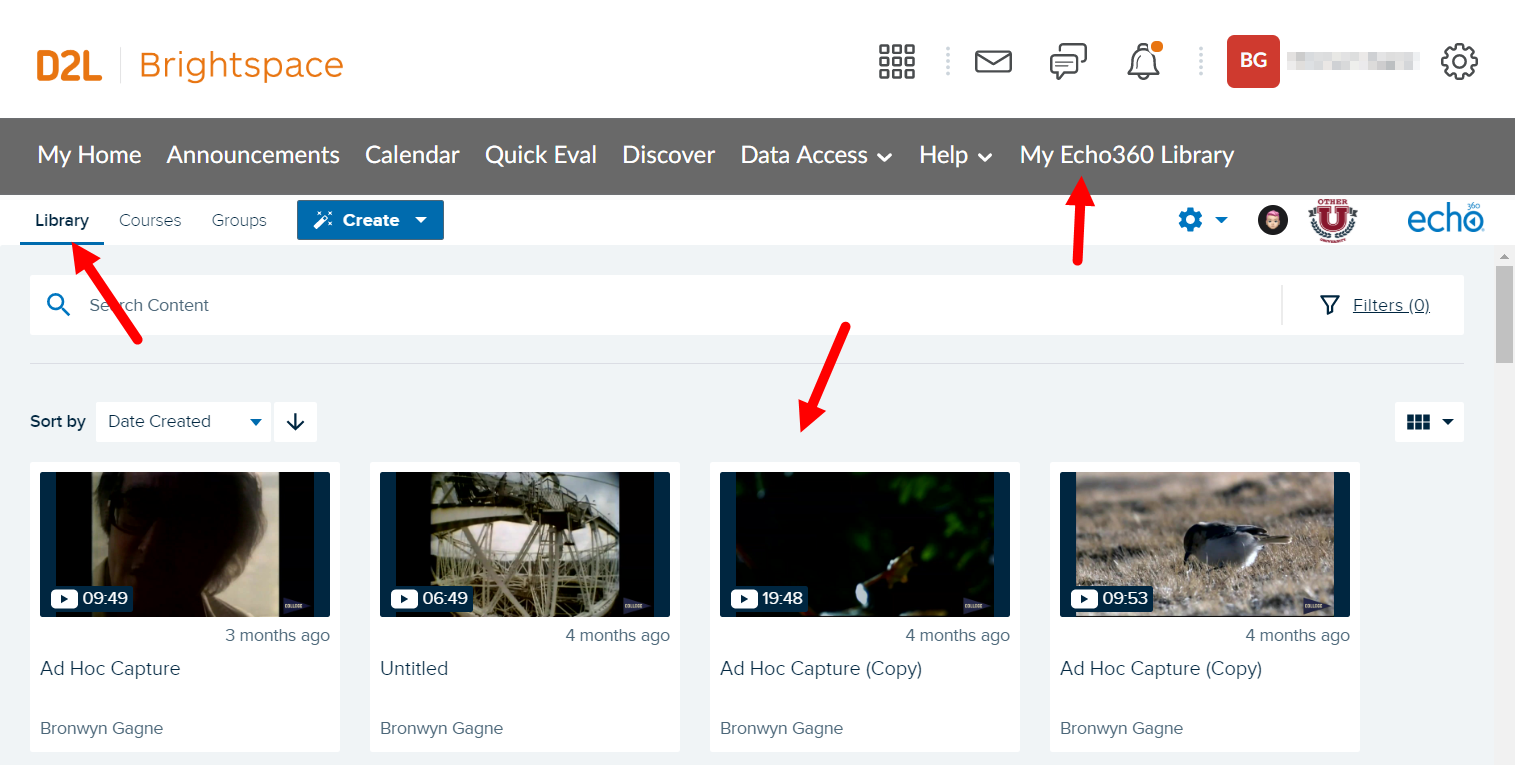 To add the Echo360 Library tool link to the Main navigation
Log into Brightspace as an Administrator and ensure you are on the main landing/home page.
Hover over the top navigation bar to expose a menu button as shown below.
Select Edit this Navbar from the menu options.

In the Edit Navbar page, click Add Links as identified in the below figure.

At the top of the Add Links dialog box that appears, click Create Custom Link.

In the Create Custom Link dialog box that appears, enter a Name that clearly identifies the link you are creating as a link to the user's Echo360 Library. Suggest My Echo360 Library or similar.
Click Insert Quicklink as shown in the below figure.

From the Insert Quicklink list, select External Learning Tool.

From the list of configured Tools that appears, select the one clearly labeled as the tool for the Echo360 Library.

When the Create Custom Link box returns select Same window or Same window no navbar from the Behavior list. This ensures the library opens within the Brightspace window.

Click Create.
In the Add Links list that returns, select the Custom Links filter from the top, then find the custom link to My Echo360 Library you just created.

Click Add.
In the Edit Navbar page that appears, notice that your link now appears with the existing links configured for the bar.

Make any changes needed, including relocating the new link if necessary.
Click Save and Close.
The Main navigation bar now contains a link to the Echo360 Library. Each user will be shown their own Echo360 media library when they click the link.
You can also add the Library link to the Course Navigation bars, by selecting Manage All Course Navbars from the main navbar menu options, as shown in the below figure.

After selecting the Course navbar currently in use in your Brightspace instance, use the steps above to select a custom link to add to the Course Navbars. YOU DO NOT have to create a custom link this time, however. The custom link created above already exists for use. Simply select it from the list of Custom Links available.
Once added, the My Echo360 Library link will appear in the Course navigation bar for users. If the bar is full, new links will appear in the More menu, as shown in the below figure.