Who can do this?
Any LMS/VLE user who has access to the Echo360 embed tool/button as described for each LMS below. If you do NOT have the option described here, you can still embed videos into your LMS content windows by pasting the Echo360-provided embed code into the HTML view of the content panel. See Embedding Videos into your LMS/VLE without an Embed Button for detailed instructions.
Echo360 allows you to embed media into your LMS/VLE course pages. This includes media you own as well as any video, audio, or interactive media located in Collections where you have the Post permission.
If your Echo360 administrator has added the capability to your LMS/VLE, you should see an Echo360 play button in the content window toolbars of your LMS/VLE. The button looks something like this (but smaller):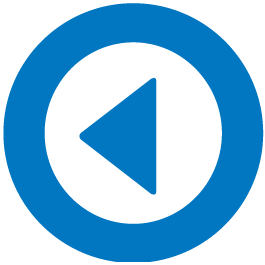 The button in a Canvas toolbar looks like this:

The button in a Moodle toolbar looks like this:

In Blackboard, you don't get an Echo360 play button; you get a plus sign, where you then select your Echo360 Video library option (in Learn)...

...or select LTI item or the Content Marketplace (in Ultra).
This first image is for embedding into a content window in Ultra.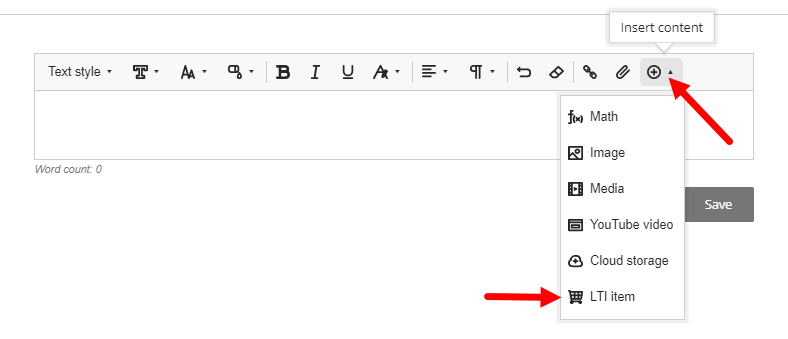 This second image below is for embedding media directly into the course content page.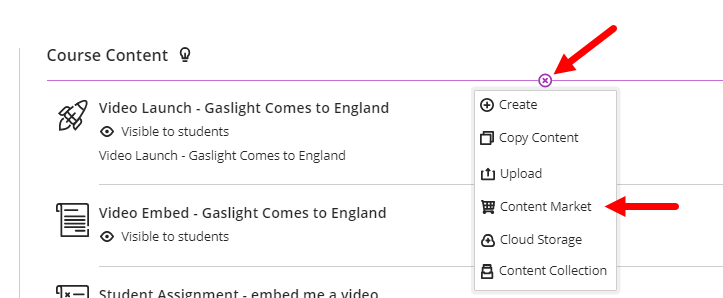 In D2L/Brightspace you use the Insert Stuff button, then select the Echo360 video option.

In ALL cases, you receive an Echo360 dialog box, similar to the one shown below, that allows you to embed media from Echo360, to upload media and embed it, or to create a new recording using Universal Capture Desktop.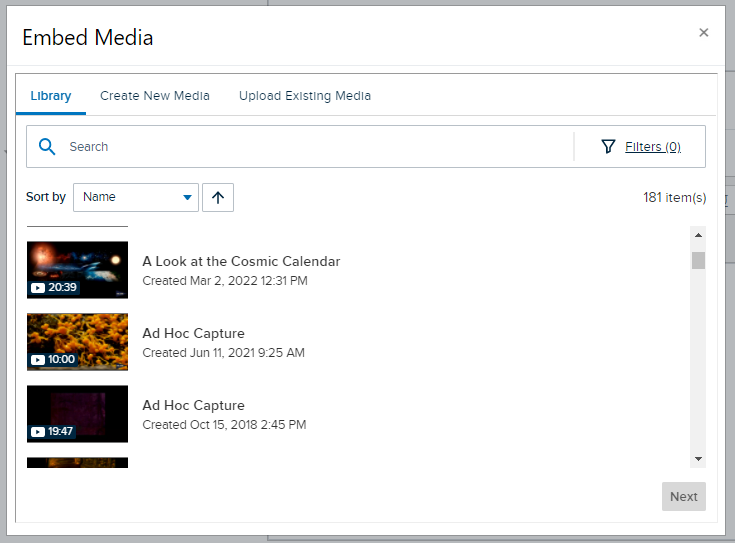 If embedding media you already have, click on the one you want from the list, then click Next.
Playback options appear at the top for you to configure for the selected media. These include the Size of the embed, Autoplay and Automute toggles, among other options.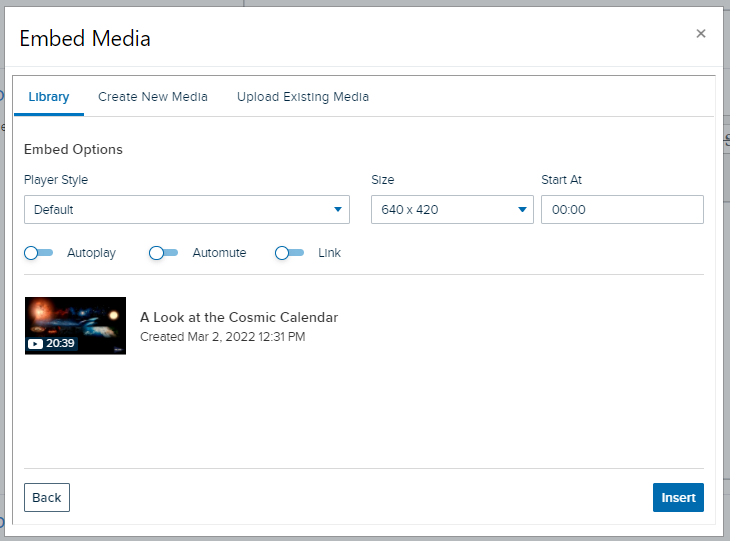 Click Insert and the media is put directly into the content window or page for easy playback through the LMS/VLE.
LMS-Specific Links for More Instructions
If the basic steps above aren't quite enough, use the below links to get detailed information and instructions for embedding Echo360 media into whichever LMS/VLE you are using. These articles also have links to more information on using the Upload and Create New Media options for embedding.