EchoVideo maintains a status page at https://status.echo360.com:


Viewing EchoVideo Status
To see the status of our platform at any time, simply go to our status page. We keep our status updated there 24/7 and will also provide an incident report for any disruptions we experience on the platform.
Subscribing to EchoVideo Status Updates
You can subscribe for updates to our status page via several methods:
Email
SMS Text Message
Webhook
RSS Feed
To subscribe, visit our status page and click the subscribe button on the top right:



From there, you can pick the method(s) to which you prefer to subscribe.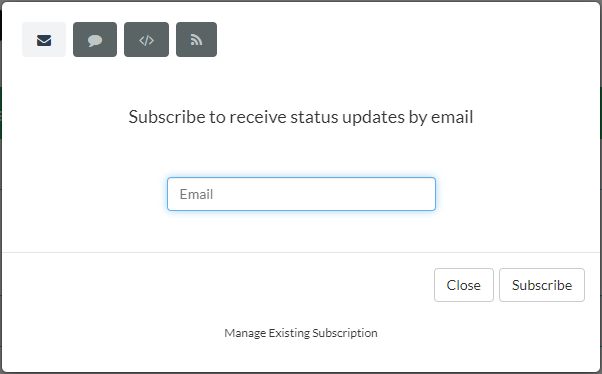 Managing Your Subscription
We provide granular status updates should any specific component or region be impacted.  At any time, you can go and manage which components and regions you wish to receive updates on: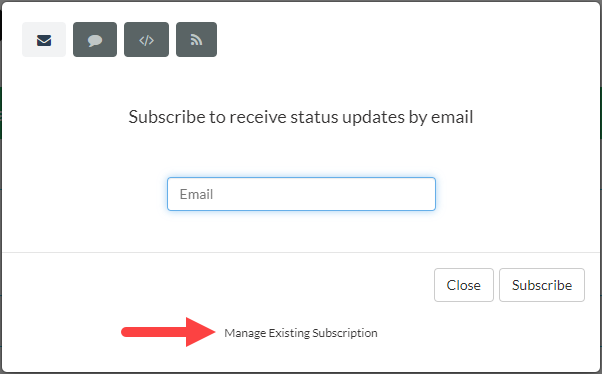 You can select which components and regions you want to receive updates on:



Here's a description of all the components we provide updates for:
Component
Potential Features Included
Site Access

Is EchoVideo up and available?

Capture

Device/Cloud Communication
Scheduled Captures
Ad Hoc Captures
External Media Ingest
Processing
Editing

Playback

Video On Demand Playback
Live Video Playback
Mobile Playback
Captioning
Downloads

Engagement

Polling Access & Creation
Q&A Access & Creation
Presentation Access & Creation
Notes Access & Creation

Administration

LTI Configuration
Captioning Configuration
Scheduling
Sending Emails
Managing Captures
API Access
CSV Functionality
Admin Alerting
Device Configuration

Authentication

LTI
SSO
EchoVideo Credentials
Mobile App Authentication

API

Scheduling API
Content Migration API
Enrollment API

Reporting

Engagement data tracking
Engagement data reporting
Administrative data tracking
Administrative data reporting