The main menu contains an Upload Video option, that allows you to upload videos from your mobile device to your EchoVideo content library.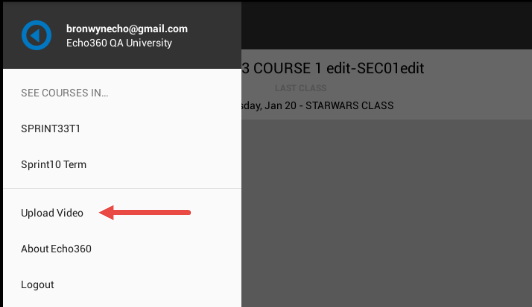 If you are using the Android mobile app, you will also see an EchoVideo option within your video recording app. This allows you to select to upload a video to EchoVideo the same way you might upload a video to Facebook or Twitter.
Both the iOS and Android apps allow you to TAKE a video when you select to upload as well. Click the Camera icon from the upload video screen (in iOS it's in the top right corner; in Android it's bottom right). Record your video then upload it directly into EchoVideo.
To upload a video from within the mobile app:
Click the menu button in the top left corner of the screen.
Select Upload Video; a list of the videos on your device appears.
At this point you can select a video to upload, or you can click the camera icon to record a video.
-- In iOS the icon is in the top right corner;
-- In Android it's bottom right.
Prior to uploading, the preview screen appears, allowing you to view the video to make sure it is the item you want to upload.
Click Start Upload.
A screen appears showing previous uploads, as well as any current uploads that are occurring.
You can cancel the upload from this screen by clicking the X located on the right-side of the progress bar. And as with all screens in the app, click the arrow in the top left corner to return to the previous screen.
As with all uploaded video content, you can edit the video through EchoVideo to trim the ends or cut out segments as needed.
Upload capabilities differ based on Mobile OS: The Android OS allows you to upload multiple videos simultaneously; the iOS allows for one video at a time. In addition, the Android upload runs as a service, meaning you can close the app and video(s) will continue to upload in the background. The iOS upload screen must remain open until the upload completes.