The EchoVideo Pod is the tabletop capture device, designed for smaller venues, created and distributed by EchoVideo. It was placed into service in May 2016. The Pod contains 32GB NAND (flash) storage, with 24GB available for recordings.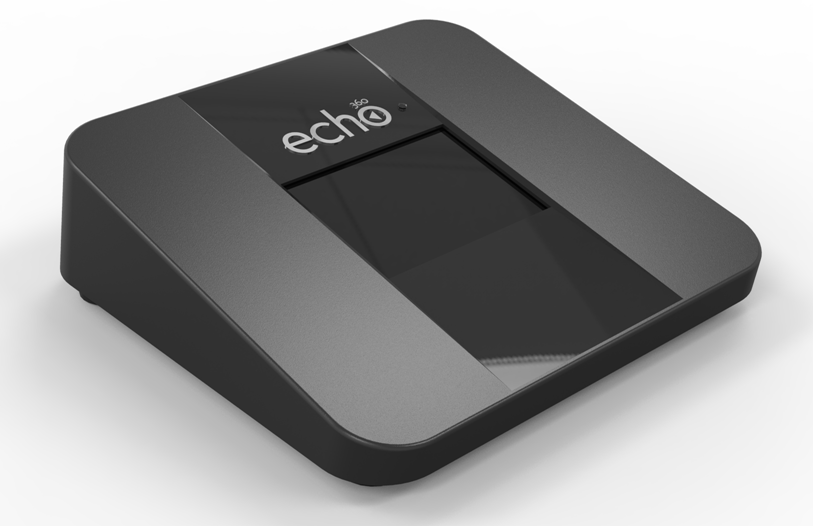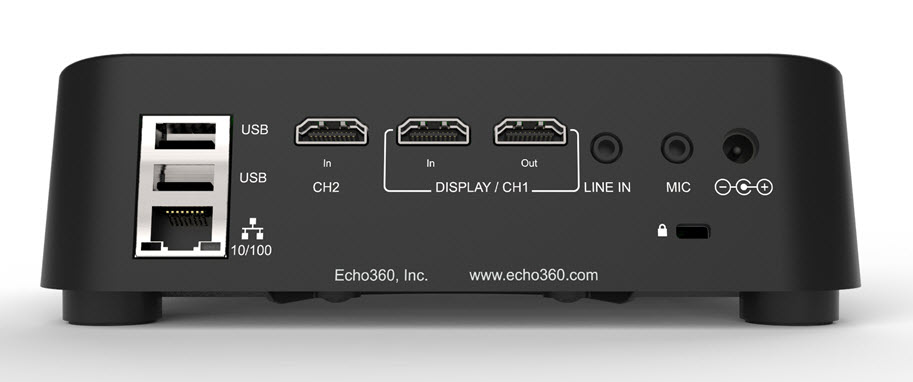 Deployment Options
The EchoVideo Pod can be set on a tabletop or shelf that allows access to the input ports on the back.
The allowable operating temperature of the EchoVideo POD device is between 0° – 45° C (32° – 113° F). Be sure to install the device in a location where the temperature around the unit does not exceed this limit. If operated in an environment where temperatures exceed this limit, the unit may overheat and malfunction permanently.
Software Required
EchoVideo active learning platform.
Display
Capture full-motion output from any HDMI or USB enabled device, including document cameras, laptop computers, and projectors.
HDMI splitter to record output from the laptop computer and simultaneously output the signal to a projector.
High-performance encoding engine provides H.264 encoded output up to 30fps at all resolutions and bitrates from 240kbps to 15Mbps.
Digital input via HDMI or USB.
Appliance Display Resolutions
Capture input resolutions from 640x480 to 1920x1080.
DMT: Display Monitor Timing lists standard display timings for various resolutions and screen sizes
GTF: Generalized Timing Formula is a video timings standard
CVT: Coordinated Video Timings (CVT) is a replacement for GTF
CVTRB: Video Timings-Reduced Blanking is a VESA standard which offers reduced horizontal and vertical blanking for non-CRT based displays
Video
Digital video input via HDMI or USB.
Provides H.264-encoded output with configurable frame rates including 12.5/14.985fps or 25/29.97fps at bitrates from 120kbps to 15Mbps.
HDMI splitter to record output from the source and simultaneously output the signal to a projector.
Audio
HDMI audio
USB audio (for USB-connected cameras)
Audio encoding in stereo mixed-mono or mono.
Audio capture in AAC, sampled at 22.05kHz or 44.1kHz, encoded at bitrates from 32kbps to 128kbps CBR.
Consumer 1/8" stereo microphone input
Consumer 1/8" line-in audio input.
HDMI/USB Audio
We currently support two channel PCM encoded audio over HDMI, however, high data rate encoded audio (like Dolby 5.1) is not supported.
All selected audio inputs are mixed. Meaning if HDMI and/or USB audio is enabled for either/both video channels, the sound feed from the input(s) will be combined and synced with the Audio channel feed (Balanced or Unbalanced). To use ONLY the HDMI or USB audio, select None or Mute for the Audio channel input.
Wireless Connectivity
The Pod is configured with two MAC addresses to support the additional connectivity. The odd-numbered MAC address is for wireless communication. The EchoVideo Pod contains wireless connectivity capability for when the device is being used in a room where wired Ethernet connections are not available.
Wi-Fi (802.11 b/g/n) for reliable content upload.
WPA and WPA-2 with PSK
If a wired connection is available, you are strongly urged to use that instead. The wired connection is configured using the even-numbered MAC address. This is the one you should use to add the device to a room and is the only MAC address displayed on a Room card (even if you've configured it to use the odd-numbered one).
NOTE: The Pod cannot do live streaming over wireless; if you wish to generate a Live streamed class using the Pod, be sure to use a wired ethernet connection for the appliance.
Package Options
These packaging options produce viewable media for students:
Podcast. MP3 audio
Vodcast. M4V audio and motion display
Audio Rich Media. HLS-based audio and display (browser)
Echo Media Player. HLS-based audio, video, and display (browser)
Signal Processing and Encoding
Signal pre-processing includes decimation, automatic de-interlacing, and noise reduction.
General
Dimensions: 17.5cm x 17.5cm x 5.5 cm
Weight: 1lb
Forced-air cooling
World-compatible direct AC/DC converter with adapter kit
Operating environment: 0°-45°C (32°-113°F) ambient temperature
Operating humidity: 25% to 80%, non-condensing
Power requirements: 100vAC to 240vAC, 50/60Hz
Agency Certifications
UL 60065, 7th Edition, 2006-11-20
FCC CFR47 Parts 15:107/15:109