Features, Improvement, and Fixes
These Release Notes contain a summary of changes made for the July 07-08 2023 release of EchoPoll. For changes made in previous deployments, see the other Deployment Notes articles located in this Topic group, or support@echo360.com.
New Features
Learner Dashboard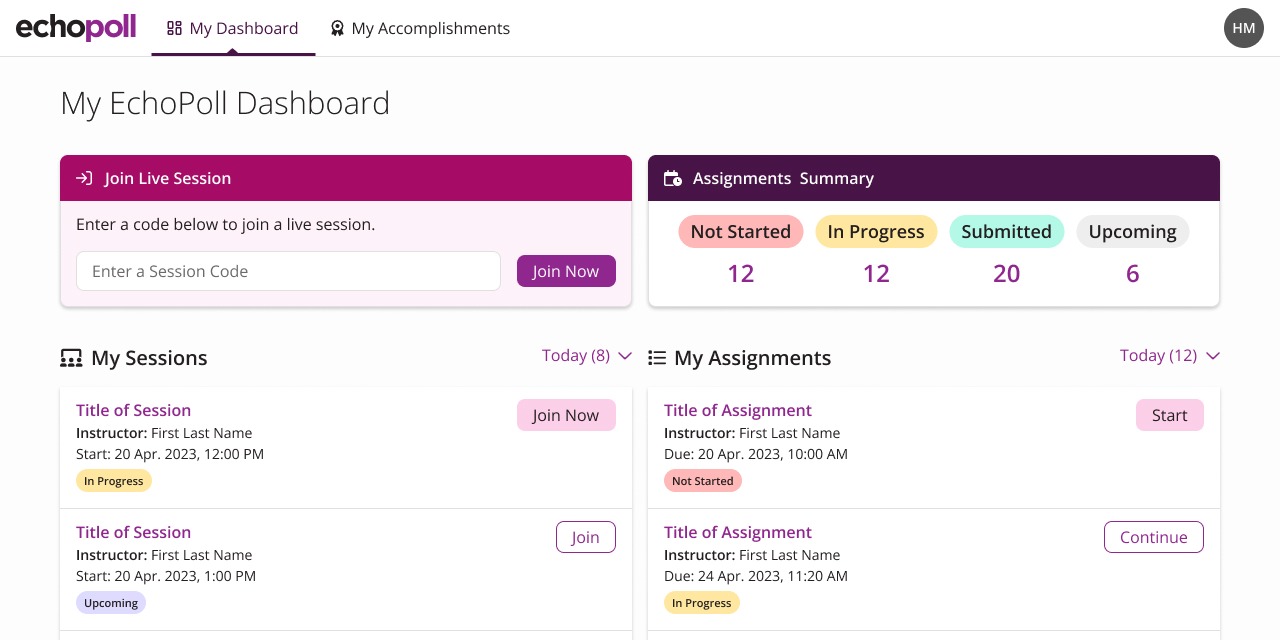 Any learner accessing their EchoPoll account will be greeted by My Dashboard – a centralized hub for all their important items. From here, they can quickly join an ongoing session using the provided join code, check out upcoming Live Sessions scheduled by their instructor, and view all the Assignments with fast-approaching due dates. Learners can keep an eye on any enrolled courses, with the ones having upcoming sessions or assignments automatically being displayed at the top of the list.
Instructor Dashboard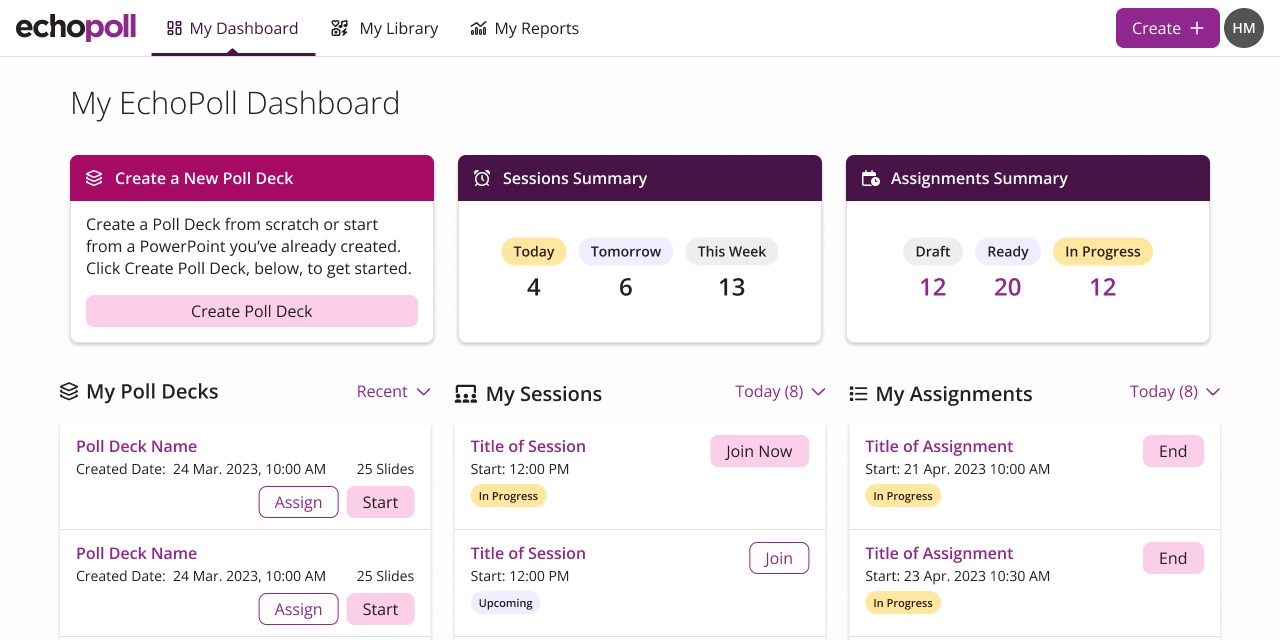 Any instructor accessing EchoPoll will see My Dashboard. Instructors can quickly create a new Poll Deck, or use a recent Poll Deck to deliver a session or assignment on-the-fly. Instructors can also see a summary of their Sessions and Assignments that are ready to be scheduled, will be available for learners soon, or are already in progress for them. If the instructor is using courses to deliver content, they will see a quick view of the courses they are an instructor on, with any that have upcoming sessions or assignments showing at the top of the list.
Download Detailed Reports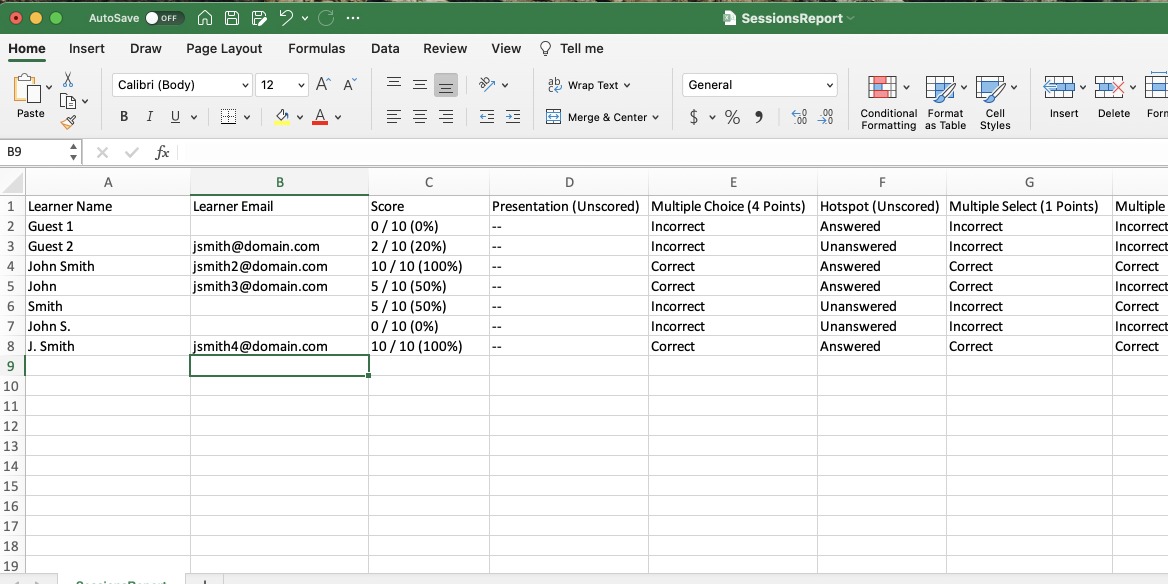 In addition to report summaries, instructors will be able to download detailed reports for in progress and completed Assignments, and for completed Sessions. The .csv report will be able to be downloaded from the Reports table or while viewing the details, and will include the score for each participant, whether they responded to unscored questions, and whether they answered correctly or incorrectly for scored questions.
Participant detailed reports of scores and courses will also be able to be downloaded directly from the Reports table, without needing to view the individual participant summaries.
Filter by Resource Type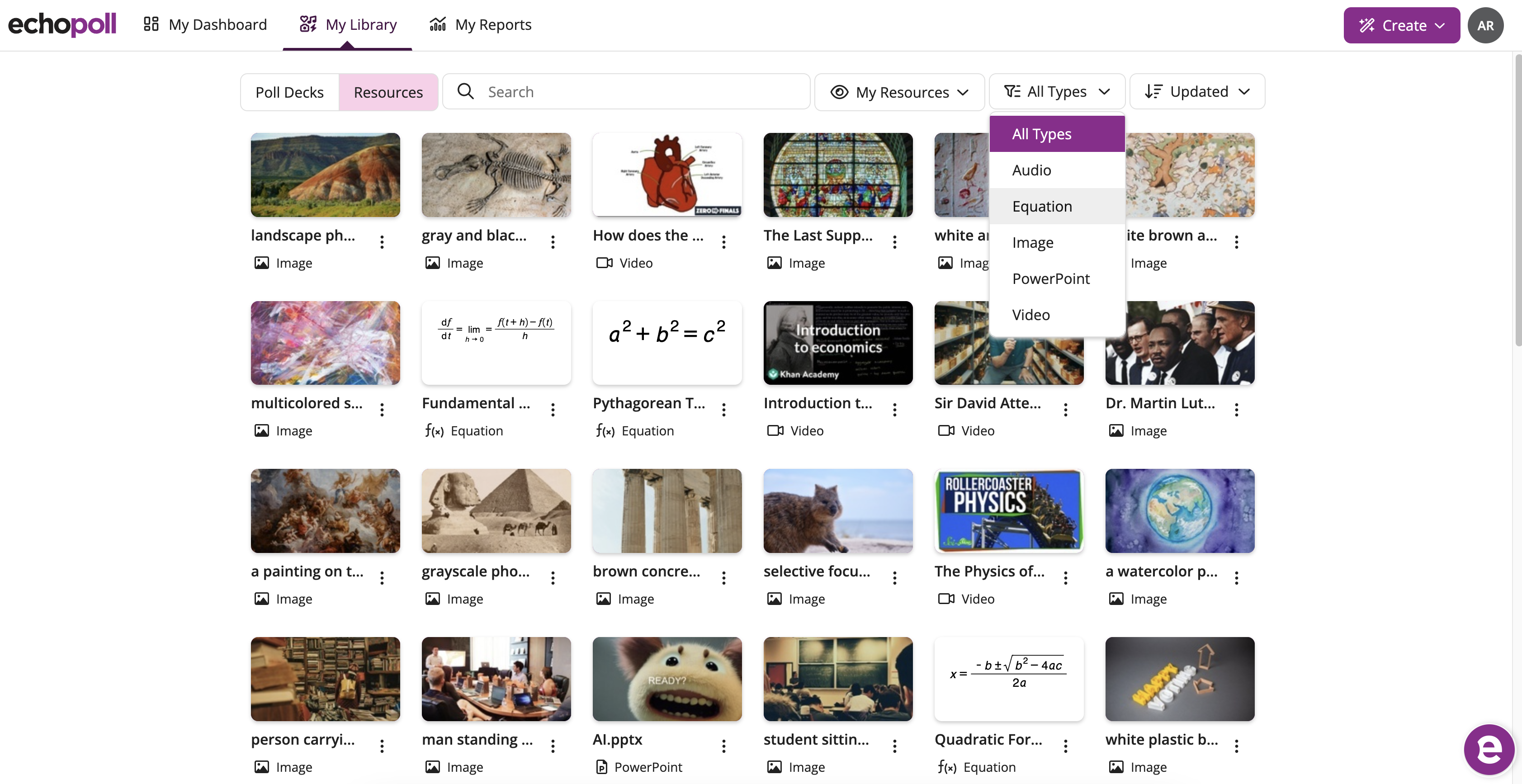 Easily locate the resources you need to create your Poll Deck. Utilize the filtering option in My Library to display all resources or just a particular file type.
Improvements
We've separated the Word Cloud question type in the Poll Deck editor to make it easier than ever to add this question type to a Poll Deck.

The role of "Owner" has been changed to show "Administrator (Owner)" for clarity when managing users and working in EchoPoll.
Organization Administrators will now see only their content by default when viewing Poll Decks, Resources, Courses, or Sessions and Assignments. Administrators can still access all content in their organization by changing the filter to "Show All" on these pages.
Gradients have been replaced with solid color placeholders when an image isn't available for a Poll Deck, Resource, or Course to make these pages more accessible.
Links to Terms and Conditions and the Echo360 Privacy Policy have been updated on account creation pages to reflect our current notices.
Create button styling and icon have been updated for a consistent UI between Echo360 products.
Knowledge base and Support are now separate items in the avatar menu for easy access to our help resources.
Update Downloads page for instructors to include a download option for the Mac EchoPoll+ app.
Fixes
Resolved an issue where Sessions presented from the EchoPoll+ PowerPoint Add-In were not displaying images fully for participants joining via mobile.
Resolved issue where EchoPoll+ could result in errors if starting a Session while updating the application.
Resolved an issue where resource usage was not displaying properly.