About Your Library
Not only is your EchoPoll Library the container for all of your content, but it's also a great way to build new EchoPoll content, launch new live Sessions, and create Assignments for your learners. You can launch Sessions and create Assignments with or without an accompanying course, depending on your needs.
In this document, we'll go over creating new content and easily turning that content into live Sessions or asynchronous Assignments your learners can interact with.
Your Library contains two types of content:
Poll Decks: Used to deliver live Sessions or asynchronous Assignments to learners.
Resources: Used to create and enhance Poll Decks. Create, upload, and link to resources you want to use in your Poll Decks and then re-use those resources whenever you want.

We'll go over each of these in great detail later and they are the key content types in your EchoPoll Library.
Creating Content
Your Library is your home base for creating and managing your EchoPoll content.
Creating Poll Decks
You can create Poll Decks with content slides and interactive question slides.
To get started creating a new Poll Deck, click the Create button at the top right of your Library, and select Poll Deck: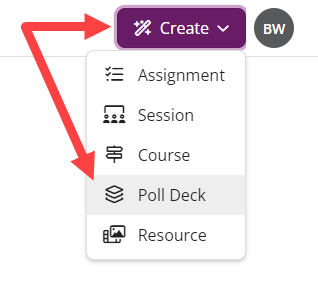 Once you've named your Poll Deck, you can start adding content to it.

You can create multiple types of slides in multiple layouts in your poll deck, easily adding new or existing Resources to your slides.
There are multiple types of new slides you can add, most of them containing different types of polls or questions:
Presentation

: a static slide composed of text and Resources.

Hotspot

: an image slide prompting users to click on a specified area.

Multiple Choice

: a multiple choice question

Numeric

: a question with a numeric answer

Short Answer

: for more open-ended questions

True/False

: a true/false question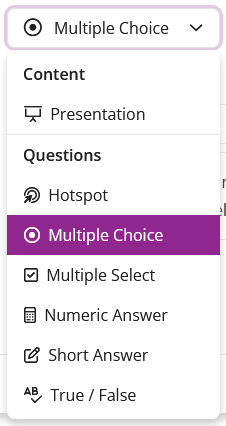 Creating Resources
Resources can help to create or enhance Poll Decks.

Create new Resources by clicking on the Create button in the top right and selecting Resource.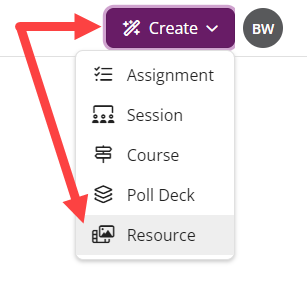 From here, you can create many types of Resources that you can use (and re-use) in your Poll Decks.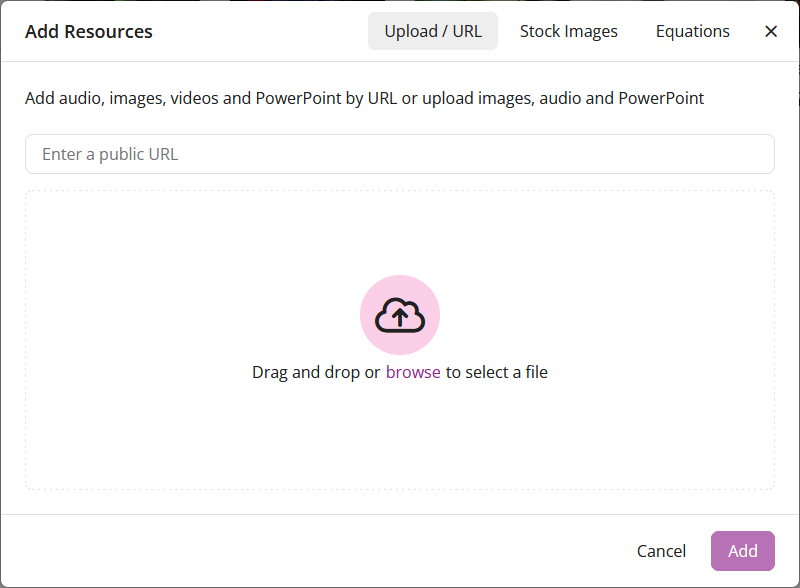 You can create resources by uploading or linking to:
Audio
Images
PowerPoint
Videos
You can also create Resources accessing our provided collection of stock images, or creating equations to use in your Poll Decks.
We currently support the public links to videos from the following sources:
Filtering Resources
From your Library, you can see all Resources that you have added and that were shared with you. You can filter Resources by the following types:
Audio
Equation
Image
PowerPoint
Video

Sessions and Assignments
Sessions and Assignments are the way your learners interact with the Poll Decks in your Library.
Sessions are live learning activities where you guide learners through a Poll Deck. You can launch a new session from your Library any time you want.
Assignments are asynchronous activities your learners can complete at their own pace with optional due dates that you can set from within your Library.
Starting a Session
You can start a new Session from a Poll Deck in your Library any time you want. Just access your library, locate the poll deck you want to use, and click the Start button on the Poll Deck.

When starting a new Session, you have several options to choose from, such as the Session Name, an optional Course to associate the session with (if you want to), determining who can join your session, as well as some more fine-tuned session settings.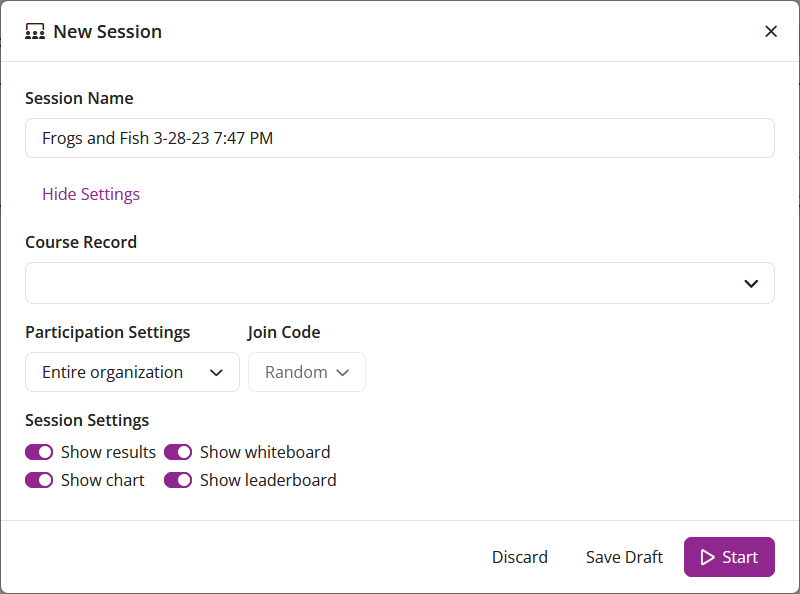 Participation Settings
You can always set your Participation Settings to allow anyone in your EchoPoll organization, authenticated guests (sign-in), and unauthenticated guests (public), depending on your EchoPoll licensing. If you do decide to associate your session with a Course, you can also ensure the session is only available to users on your course roster.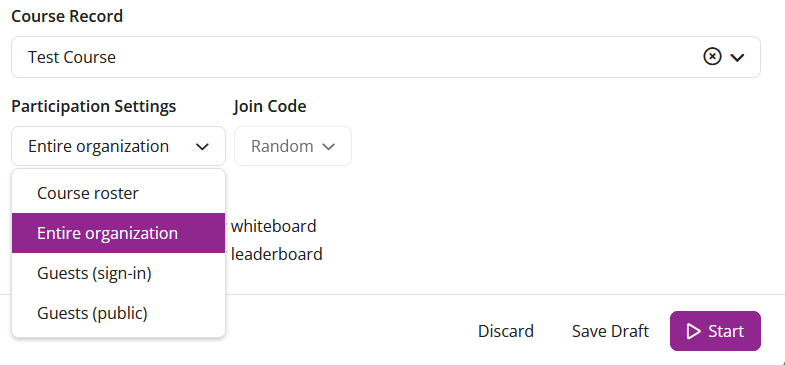 Creating an Assignment
Creating a new Assignment is similar to starting a new Session, except the Assignment is asynchronous, allowing your learners to engage with the Assignment on their own schedule. You can specify a Start Date and End Date for your Assignment and optionally associate your Assignment if a Course, if you want.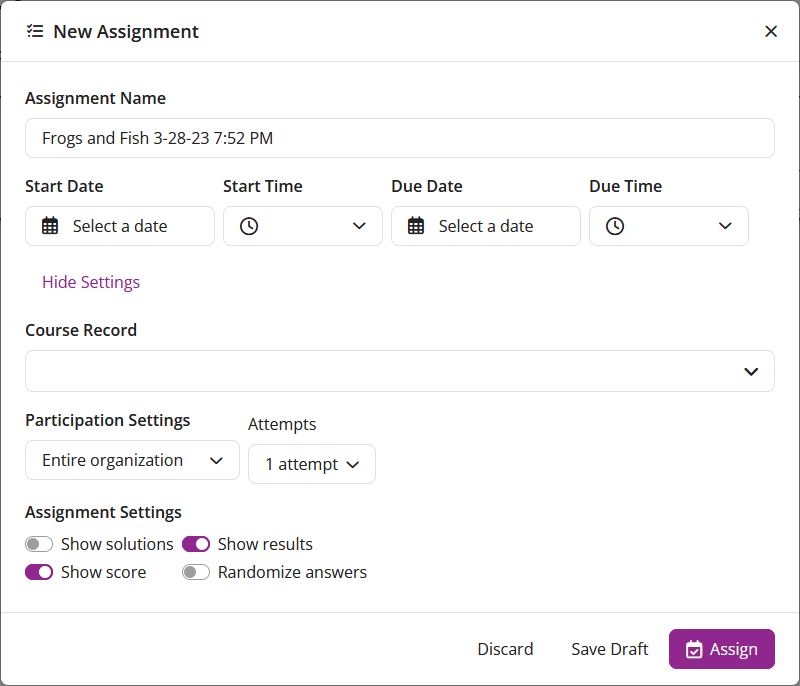 Assignments have a different set of fine-tuned options from Sessions as they are not live events, but they share the same Participation Settings.