Two-column Formatting
By default, ExamView displays tests in one-column format. Follow the steps below to switch to two-column formatting.
Not all questions can be displayed in two-column format. For example, a question may be too wide to fit within the column.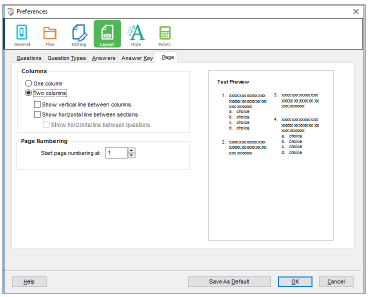 Click the Two Columns button from the picture toolbar.
Optionally, click Test from the menu bar, select Layout, click the Layout icon, click the Page tab, and select the radio button labeled Two Columns.
Optionally, select Show vertical lines between columns and/or Show horizontal lines between sections.
Click OK.


Click Save As Default if you want all future tests to display in two-columns.