Both students and instructors have access to a "heatmap" for classroom media. The Heatmap is a graphical overlay, that appears above the playback bar and indicates what segments of the media have been played back most often by users in this course.
The figure below identifies the Heatmap button available for video/audio classrooms and shows the heatmap overlay enabled.
NOTE that heatmap data is updated once daily.
The following figure shows an interactive media classroom that uses the newer version of the media player. The Heatmap option resides in the Settings menu, as shown below. Turn the toggle on (it is off by default) to display the heatmap overlay for this media.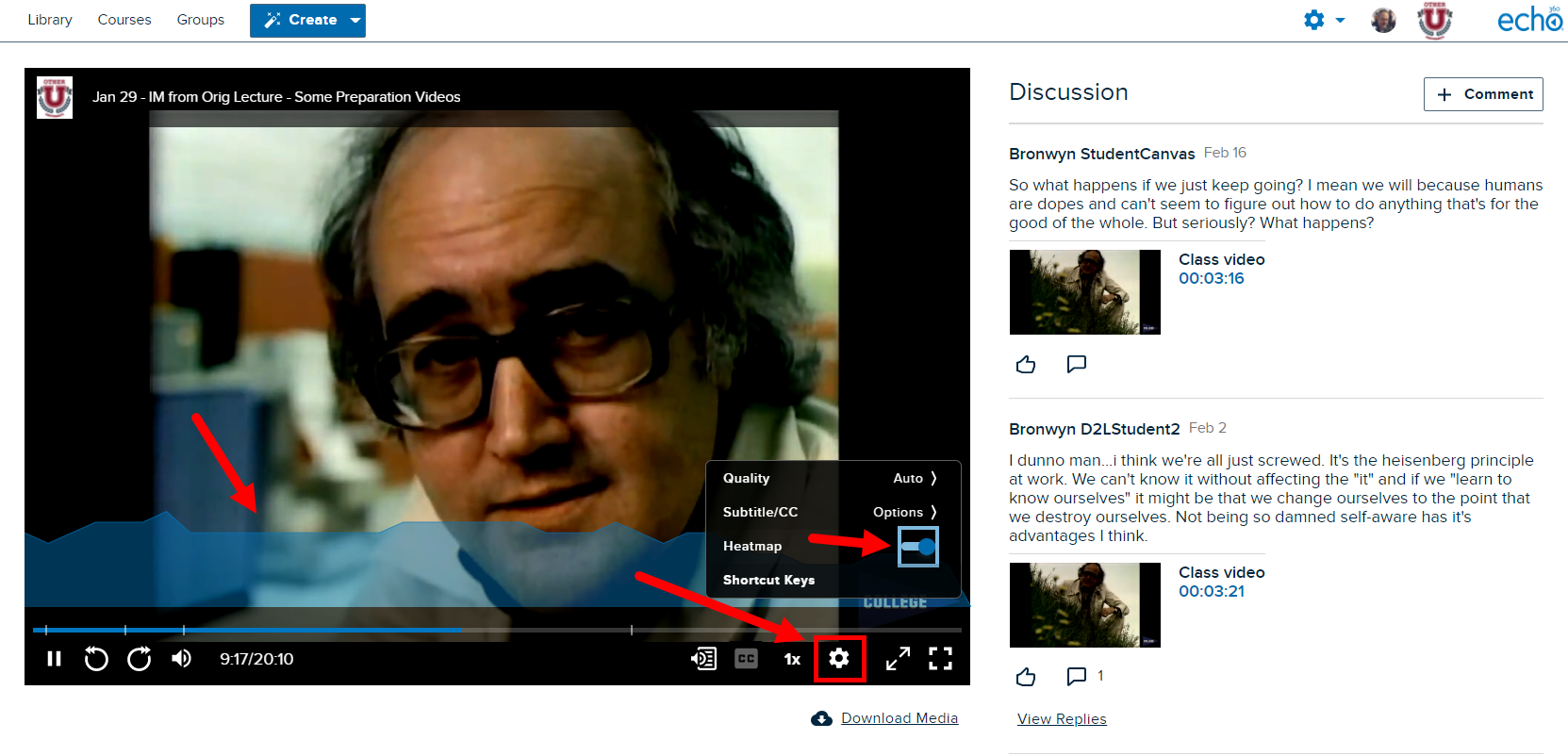 For instructors, this information can be useful to know what portions of the lecture students found most interesting or confusing. For example, if the audio is garbled, students may have to view some segments multiple times to understand what is being said or demonstrated.
For students, this information can be useful to know what portions of the lecture other students are reviewing most often, to ensure you are getting all of the lecture material needed to understand the topic.
The heatmap button and settings option both work like a switch. If you turn it on, it stays on until you turn it off, either by clicking the button again or by clicking the toggle off in the settings menu.
Keep in mind a few things about what information the classroom heatmap is showing:
It includes both student and instructor views of the video
It includes only views from within in this course
It is a "relative" mapping of views, showing which portions of the video have been viewed more than others, and which sections have not been viewed at all (if applicable).
If the same media is published to multiple classes in the same course, the view data is for views across all classes in the course. If the same video is published to multiple courses, the classroom heatmap only shows view data from the course you are currently in.