Once your content, including both presentations and videos, is associated with a class (published), you can make it available or unavailable at a schedule you choose. This is referred to as "date-based" availability because you set the dates on which the item becomes available or unavailable for student viewing.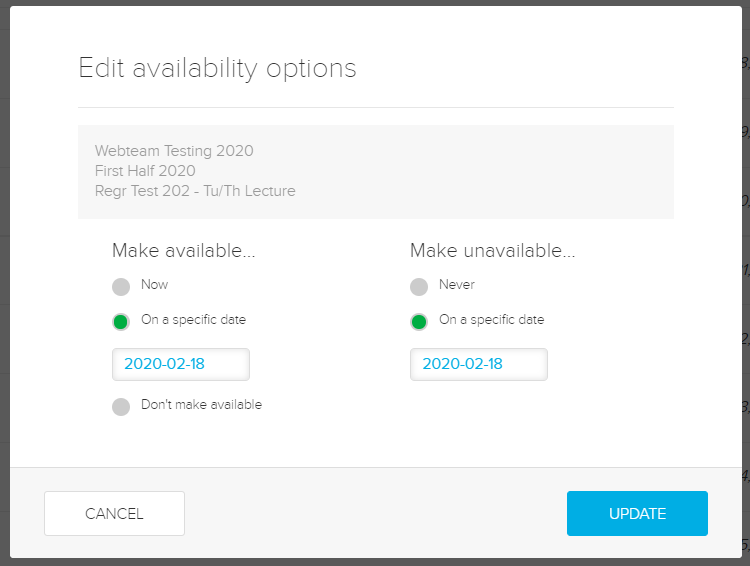 When setting date-based availability from the class list, the change takes effect at midnight on the date set.
If you need to set immediate unavailability/availability, you can select Make available/Make unavailable from the media icon menu instead.
How to set date-based availability for published media
From your courses page, click on the course tile. This opens the class list, as shown below. If you enter from an LMS/VLE, the link into Echo from there may put you directly onto the Class List page.



Notice that the media icons are different colors. A dark gray icon indicates that media is NOT currently available to students; a black icon indicates the media can be viewed by students. The media icons also provide a tooltip indicating current availability.

Click a media icon to open the menu, then select Availability settings as shown in the below figure.

The Edit availability options dialog box appears.

Configure the following Make available options:

Now - makes the selected content available immediately. This is the default.
On a specific date - enter the date you want to content to become available.
Don't make available - removes the content from student view.

If appropriate, configure the following Make unavailable options:

Never - the content will remain available until it is removed or you manually make it unavailable. This is the default.
On a specific date - enter the date you want to content to become unavailable.

When finished, click UPDATE.
Date-based availability is based strictly on the date; meaning the item becomes available or unavailable at midnight of the date configured.