Who can do this?
Instructors where the institution has a Zoom Integration configured. If you do not see a Zoom Settings option on the left side of the Account Settings screen as described below, this page does not apply to you.
The Zoom Settings page in your Account settings screen has configuration options that are specific to YOUR account (which is why they appear in the Account Settings page).
This page discusses the use of the Alternate Email option for your Zoom settings. It is designed for those users and institutions where the login email to Zoom is different than the one for their account in EchoVideo. If you know that your email addresses are the same in both, you can stop reading.
What is my email address in EchoVideo?
You may not use an email address to log into the institution or LMS/VLE where you access EchoVideo. So you may not be certain of your EchoVideo account email address Click the Settings icon, then select Account Settings. In the User Information page, you will see an Email address field, as identified in the below figure.
Does this email address match the one you use to log into Zoom? If yes, then you can stop reading. You don't need to configure an alternate email address.

If it does not match, click Zoom Settings on the left side of the page. Then select the Alternate Zoom Email tab on the right side of the page. This is shown in the below figure.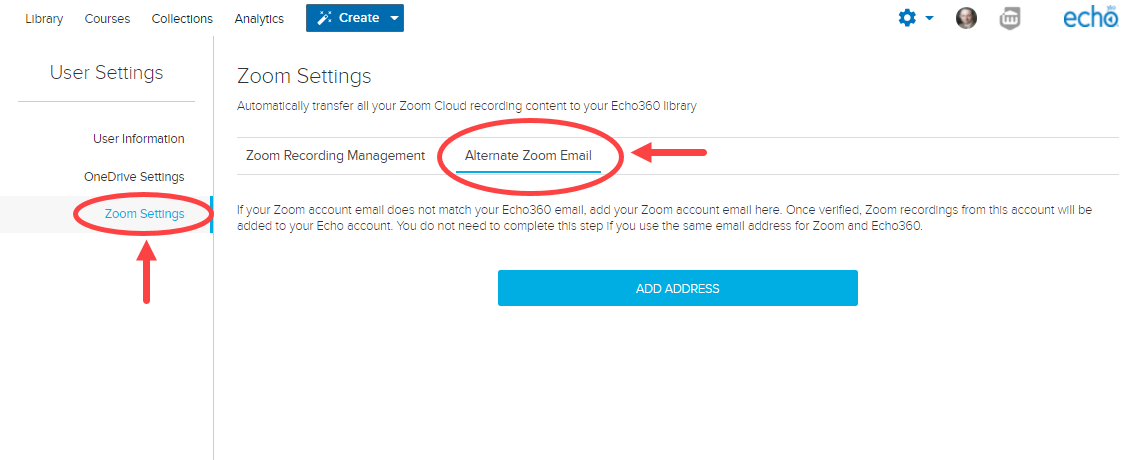 This page allows you to add the email address you use for logging into Zoom, equating it with your EchoVideo account.
The email you enter you enter MUST also exist in your institution's Zoom account. Simply adding hermione.granger@hogwarts.edu to your Zoom settings will not result in recordings being ingested for that email address unless that email address is also managed by your institution in their Zoom account.
To add an alternate email address for Zoom
Enter EchoVideo as an Instructor.
Click the Settings icon, and then select Account Settings as shown in the figure at the top of this page.
Click Zoom Settings from the left side of the page.
Click the Alternate Zoom Email tab on the right side of the Zoom Settings page, as identified in the above figure.
Click Add Address.
In the popup box that appears, enter the Zoom login email address you want to equate to your EchoVideo account. It MUST be an address that is managed in the institution's Zoom account.

Click SAVE.
Check the email for the address you entered. You will receive a verification message.
Click the verification link in the email you receive.
Once your alternate Zoom email address is verified, it appears on your Zoom Settings Alternate Zoom Email page. Administrators can also see your alternate email in your User Profile. Administrators can control this along with your other Zoom settings, in the event you need assistance with any of these configurations.