If your presentation slide deck contains polling questions, the buttons located below the question/answer area allow you to close or reset the poll, show responses to students, and provide the correct answer (if there is one).
The buttons are shown in the below figure.
From left to right the buttons are:
Total number of submissions/total number of students in the course. This isn't a "button" but a panel that gives you information on how many students in the course have responded to this poll.
The Hand Icon - this button CLOSES the poll to additional responses. You can close and then re-open the poll if necessary, or close it and leave it closed. Students will see a Poll Closed button on their view of the polling slide. You must close the poll in order to show the correct answer (see Checkmark Icon below).
The Bar-graph Icon - this is the "show results" button and exposes the responses that have been submitted to this point. NOTE that if a user has not yet responded to the poll, they will NOT see the exposed responses until they do.
The Checkmark Icon - this is the "show correct answer" button and exposes the correct answer (if one is identified) to all users. This button is disabled until the poll is CLOSED (click the Hand icon to close the poll). This is so that students cannot submit a response after seeing the correct answer (unless the instructor re-opens the poll). This button is grayed out in the below figure because the poll is still open.
Reset poll - this button refreshes the polling question and REMOVES all current responses. This allows (and requires) students to respond again.
If you provided feedback for the poll, the feedback is shown to students (those who have responded) after you close the poll (click the hand icon) and show the correct answer (click the checkmark icon).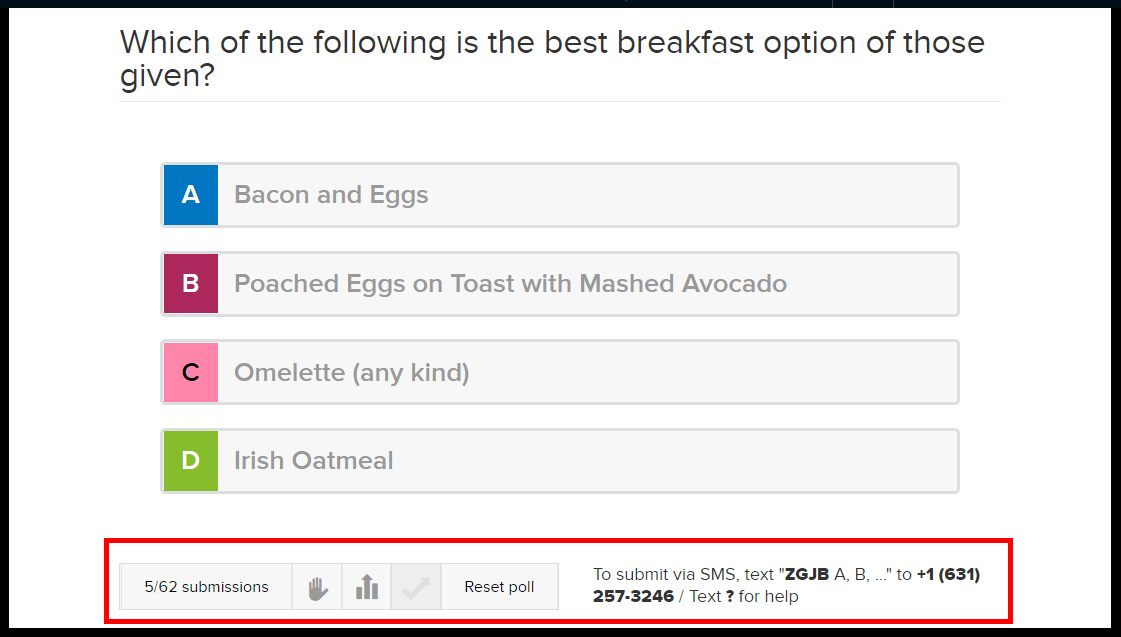 Students can also respond to polls using SMS (text), as long as they are registered for the class and have provided their mobile number in their account profile (so the system can recognize the responder).
The phone number and activity code (GHSF 42 in the above figure) for SMS responses are automatically provided on the slide for polls that allow responding via SMS.