Who can do this?
Instructors and Teaching Assistants where the institution has a Zoom Integration configured. If you do not see a Zoom Settings option on the Account Settings screen as described below, this page does not apply to you.
The Zoom Settings tab in your Account settings page has configuration options that are specific to YOUR account (which is why they appear in the Account Settings page). Click the Settings icon in the top right of the screen, select Account Settings > Zoom Settings as shown in the below figure.
This page discusses using the automatic copy feature for your Zoom settings. If you want to have ALL of your Zoom meetings, or NONE of your Zoom meetings automatically copied into Echo360, you can toggle this feature on or off and forget about it. 
You don't need instructions for a toggle.
But since Echo360 gives you the option to turn it on and off as needed, this page explains why you might want to turn it on or off for different circumstances, and what happens when you do that.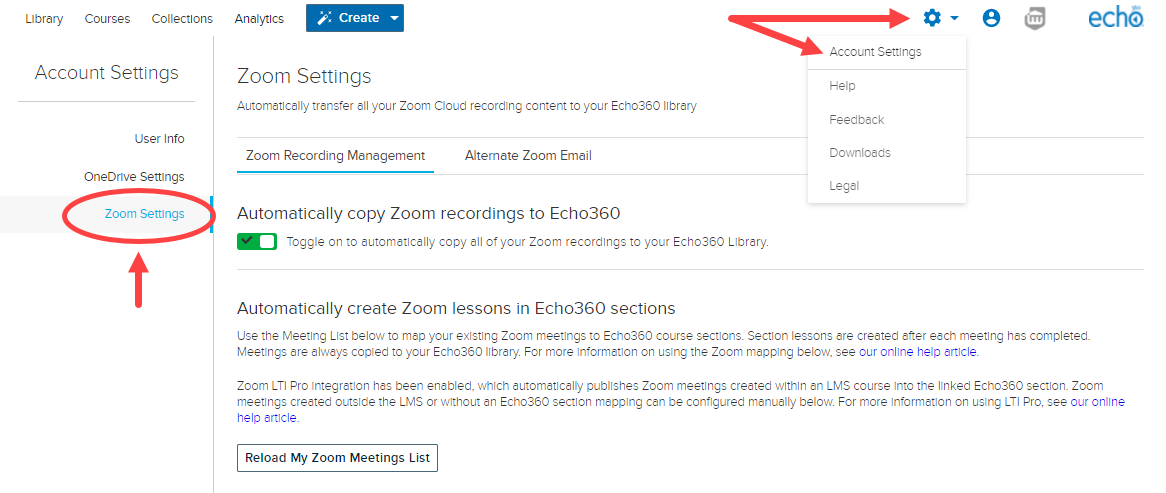 You may also want to review Zoom Integration for Instructors and Teaching Assistants. This article specifically talks about the options and settings in Zoom that are necessary and/or suggested for optimizing the use of Zoom with Echo360.
Turning Automatic Copy On - Opt In
The automatic copy of Zoom meetings into Echo360 may be turned on for you by default. Or you may need to turn it on for yourself. This depends on how your Echo360 administrator set up the integration.
When this toggle is turned ON, all Zoom meetings recorded to the cloud by YOUR Zoom account (managed by your institution) are AUTOMATICALLY copied into your Echo360 Library. 
This automatic copy does not apply to Zoom meetings that are recorded to the local computer. 
This automatic copy does not apply to Zoom recordings made with your personal Zoom account (or any account not managed by your institution). However, see Zoom Alternate Email Settings if your zoom login email for your institution account does NOT match your Echo360 account email.
This automatic copy only works for meetings that occur WHILE the toggle is turned ON. Meetings that occurred before then are not auto-copied into Echo360.
From your Library, you can edit your recordings and publish them. Or embed polls into them to turn them into interactive media for students to view and respond to.
When Automatic copy is turned on, you will also notice the option for mapping your regularly scheduled Zoom meetings into your Echo360 sections. This is discussed in more detail in Mapping Zoom Meetings to Echo360 Sections.
This option MUST also be turned on if you want to use the Zoom Meeting option in the Create button of Echo360. This creates an "instant Zoom meeting" for ad hoc use, including a link to the meeting that can be distributed to students and posted in a section. 
Turning Automatic Copy Off - Opt Out
Echo360 gives each user the option to turn off automatic copy of Zoom meetings as needed.
Why would you need that?
You may need to use your institution Zoom account once or twice for something other than a class lecture or meeting. Or you may decide that you don't normally use Zoom for class materials, using your installation of Universal Capture or other technology instead. Or you may prefer to manually download only those Zoom meetings you want to post into Echo360 and then manually upload them to your Library or a course.
Turning the Auto copy option off immediately suspends the automatic copy of your cloud meeting recordings into Echo360. For this reason you should BE SURE that any recent meetings have arrived in your library first, before changing this setting. This ensures you don't accidentally miss getting a recording you wanted. Zoom has control over this timing so Echo360 cannot guarantee that recent meetings which may still be "in flight" will be received after this is turned off.
IN ADDITION, turning this option off ALSO suspends any automatic publishing of your scheduled Zoom meetings into the Sections they are mapped to. See Mapping Zoom Meetings into Echo360 Sections for more details.