This article describes the steps that instructors (or admins) need to take within each Canvas course to complete the integration with Zoom and Echo360. The information here assumes that your Administrator has properly configured the LTI Pro App for your institution's Zoom account, and has added a Zoom LTI tool to Canvas.
IMPORTANT: For full Zoom/LMS/Echo360 integration, you MUST be opted in to the Automatic copy of Zoom recordings to Echo360 (the toggle is turned on). In addition, your Zoom login email must match your Canvas email OR you must configure an Alternate email for your Zoom account.
See also Zoom Integration for Instructors and Teaching Assistants.
The following 3:45 video shows a Zoom LTI Pro and Echo360 integration with Canvas.
Step 1 - Link your Canvas course to an Echo360 section
Maybe you perform this regularly for your Canvas courses. Maybe your administrator does this for you. Maybe your institution automatically creates new Echo360 course sections when you link from Canvas. However this happens for you, the first thing you need to do is click the Echo360 tool link from your Canvas course (it probably lives in the left navigation) and ensure that you land in an Echo360 section.
If you do the mapping to an existing Echo360 Section, clicking the link will look like this (or similar):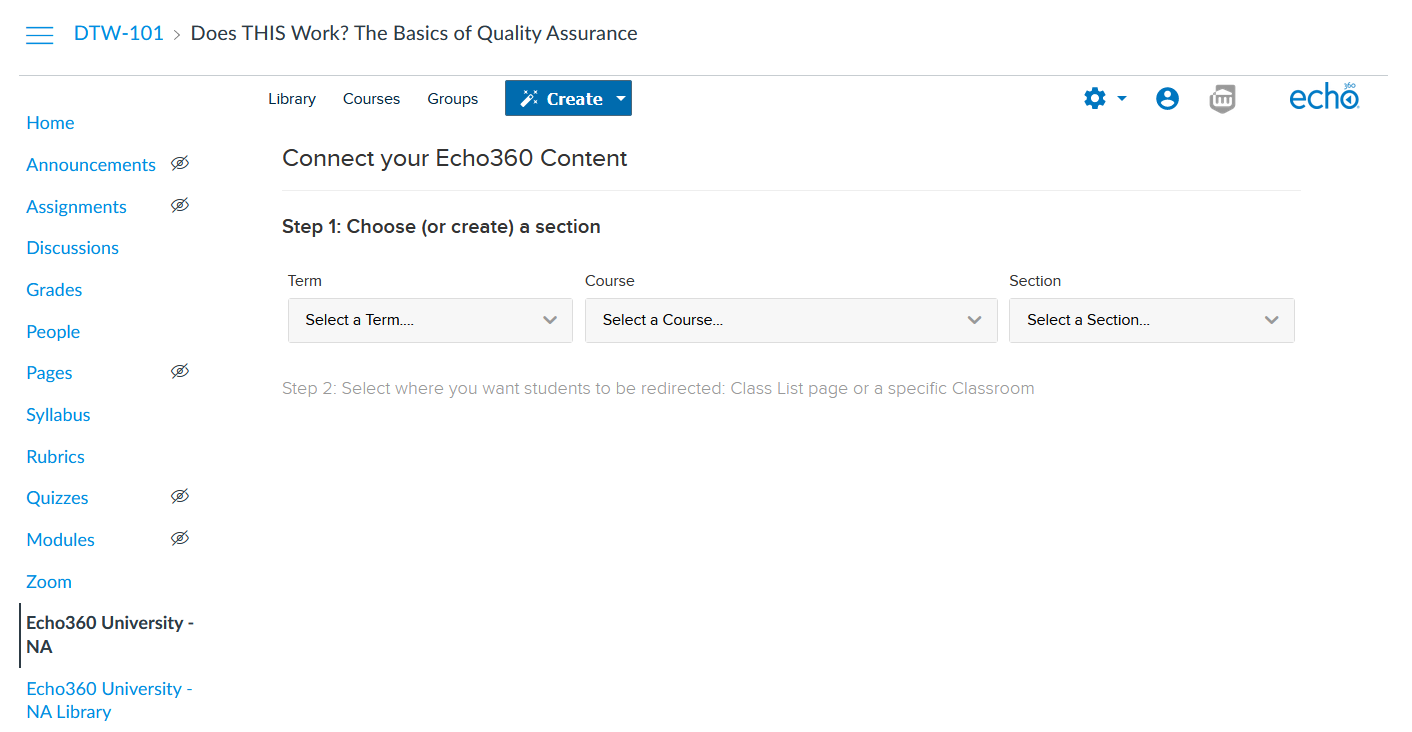 Select the Term, Course, and Section (or in some cases just the Section) to link this course to.
If your Administrator does the linking OR Echo360 is set up to automatically create the section for you, clicking the Echo360 link will look like this: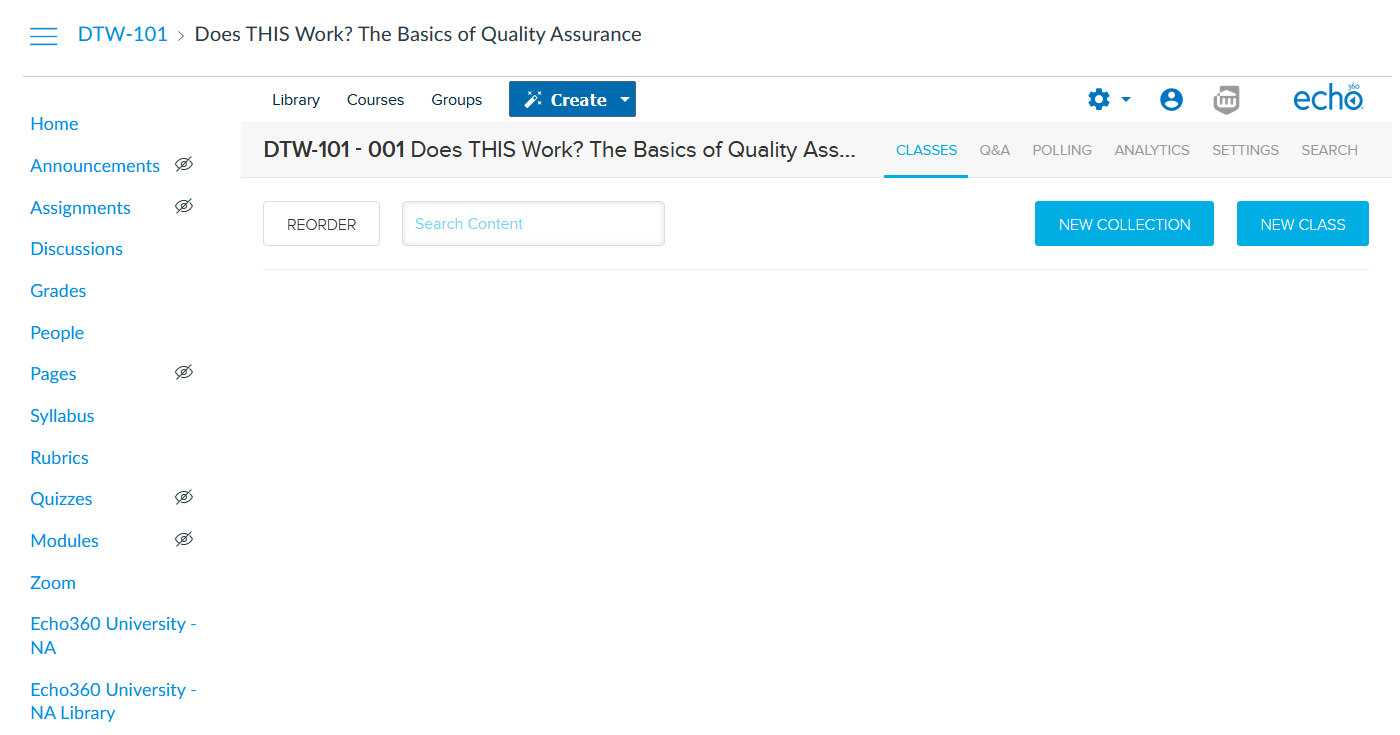 That's all you have to do for the first step!
There may or may not already be classes in the linked section. The Zoom meetings you create in Step 2 will create new classes for the recordings once they are complete. Either way, as long as you have this Canvas Course linked to an Echo360 Section, you are ready to move on to the Zoom portion of the setup.
While it is not strictly necessary to do this first, it is important that the Canvas course to Echo360 section link exists. Doing so ensures that the recordings of the Zoom meetings you schedule for this course are automatically published into classes in the linked Echo360 section.
We do strongly recommend also adding an Assignment link to Echo360 into your course. This allows you to export student analytic data from Echo360 into your Canvas gradebook.
Step 2 - Click the Zoom link and schedule your Zoom classes
Once the link to Echo360 is established, it's time to set up your Zoom class meeting schedule!
To set your Zoom schedule for this Canvas course
Click the Zoom link in the left navigation. The Zoom scheduling interface appears.

Click Schedule a New Meeting as identified in the above figure.
Complete the form, including date(s), time, duration, and whether the meeting is a recurring one.
SCROLL DOWN to the Meeting Options section.
IT IS IMPORTANT that you check Record the meeting automatically in the cloud, as shown in the below figure.



WHY is this important? Two reasons. First, so that your classes are automatically recorded without you having to remember to click Record. Second, so that those recordings go to the Zoom cloud and NOT your local computer. Echo360 can only pull the recordings from the Zoom cloud.
If you do NOT enable this, you will need to manually click Record on each meeting and (if given as an option) select Record to cloud.

When you are done, click Save.
At the top of the meeting details page, click Course Meetings, identified in the below figure.

The Zoom panel changes to list your newly created meeting(s). These meetings are now associated with this Canvas Course.  You can start the class meetings from here, delete them if necessary, and add other class meetings for this course as appropriate.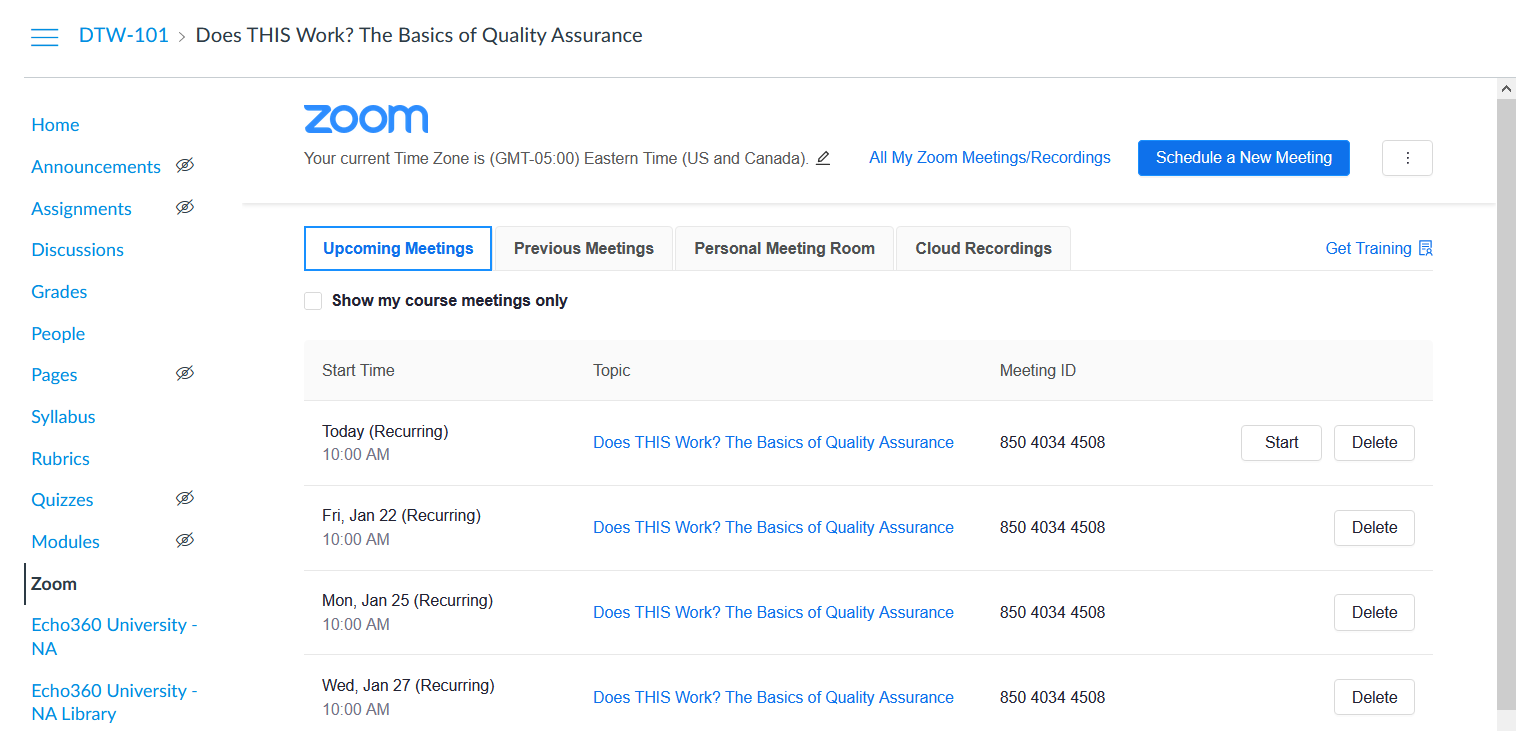 The recordings of these meetings will be automatically published to your Echo360 section when they complete. The below figure shows a new class in the Echo360 section that was automatically created when the Zoom meeting was finished and copied over from Zoom.

When Students click the Zoom link, they also see a list of the class meetings you created for this Canvas course, along with the option to Join the meeting.

Step 3 (Optional) - Add an Assignment link and create Modules for easy student access
As stated earlier on this page, we do recommend that you create a link to Echo360 on your Canvas Assignments page. This allows you to export Echo360 section student engagement data into your Canvas gradebook. It ALSO allows you to create a Module for the Assignment link as well as a Module for the Zoom tool. All of this is optional, but noted here for your use.
Once you have Modules, you can have the course Home page show the course Modules. This presents easy-to-access links to Students (and to you!) every time they enter the course.

To configure Modules and set as Home page
Open the Assignments page in your Canvas course and add an Assignment link to Echo360 using the instructions located on this page: Adding an Echo360 Link to a Canvas Course.
Open the Modules page in your Canvas course and click + Module (add module button).
Enter a name that identifies this as the link to your Zoom meetings.
Select External Tool from the drop-down list.
Find the Zoom tool and select it from the list.
Click Save when finished.
Click + Module again.
Enter a name that identifies this module as the Echo360 section link or the link to the zoom class recordings and other materials you may publish there.
Select Assignments from the drop-down list
Select the Echo360 assignment link you created in Step 1.
Click Save when finished.
Be sure to PUBLISH both links either now or when you are ready, so that students can see and access them.
You can leave these modules in the Modules page, or you can go to the Home page for the section, then set the Home page to show your Course Modules.