If your administrator has added it, your Microsoft Teams instance has some EchoVideo options for you.
There are two locations this EchoVideo app can appear.
The first is in the left "global" navigation bar. If you see an EchoVideo app located there, click on it! You will land in your EchoVideo media Library. Alternately if it is not always visible, you can add it to your app bar.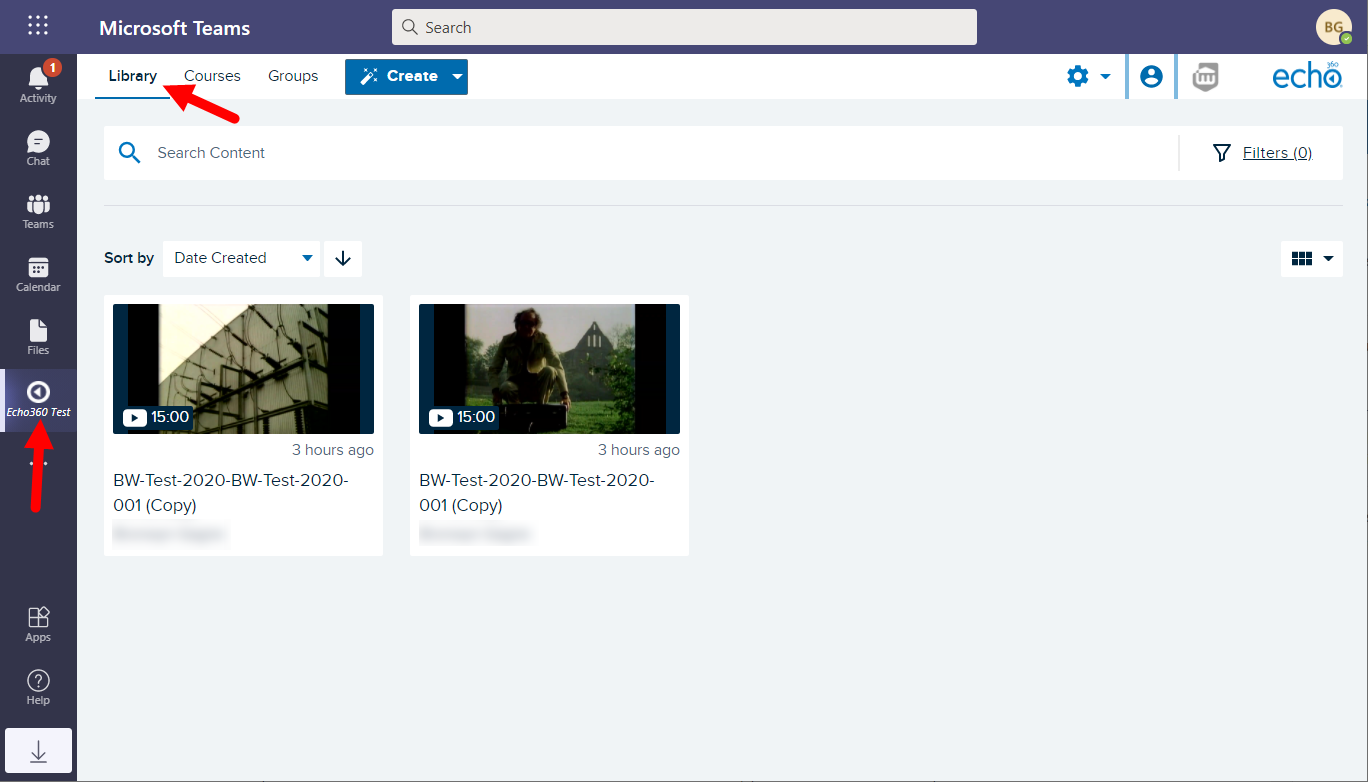 From here you can add media and edit media already present. You can take an existing video and add polling questions to it to create interactive media for your students. If your Teams recordings reside in One Drive, you can use the Create button to upload those recordings into Echo for use (or create interactive media out of them!). See Your Media Library for more information on what you can do in your library and links to other help articles for creating and managing your media.
The second location you will find the EchoVideo app is when you add a tab to one of your Teams channels.
The App used as a tab in a Teams channel allows you to link into your EchoVideo section. Once you establish that link, your students can use the tab to easily access their EchoVideo classes for your course.
If you are the kind of instructor who uses different Channels within a Team, you can also link each separate channel into a particular class of the course. This sends students right into the media viewing area for that class. Or you can simply use the General channel for a single tab that opens the EchoVideo course.
If your institution has a OneDrive integration set up with EchoVideo, you can subscribe to the Teams/SharePoint folders and automatically send your Teams meetings recordings and other media files for the Team Channels directly into your EchoVideo course section.
To link a Teams channel to an EchoVideo course section
Log into Teams as an Instructor (or Admin).
Find the Team you want to link into EchoVideo.
Use the General channel that appears by default or create a new channel.
In the channel, click the plus icon to add a new tab to the channel.

Find and select the EchoVideo app for the new tab. Use the Search box to find the app if you need to.

Pass through the steps for adding an app to your channel.


You may encounter a button that indicates you must Refresh the window to show EchoVideo. This should only happen the first time, but if your EchoVideo session expires (because you haven't been in for several days, or your browser cache and history is cleared) you may see it again. This is expected; just click on it and your Echo page will appear.
When finished, the tab will change to show your link-through into EchoVideo. WHAT you see in the tab depends on how your institution is set up.
IF you already have EchoVideo course sections, you may be using the app to link into those from MS Teams. In this case, you will see a screen similar to that shown below.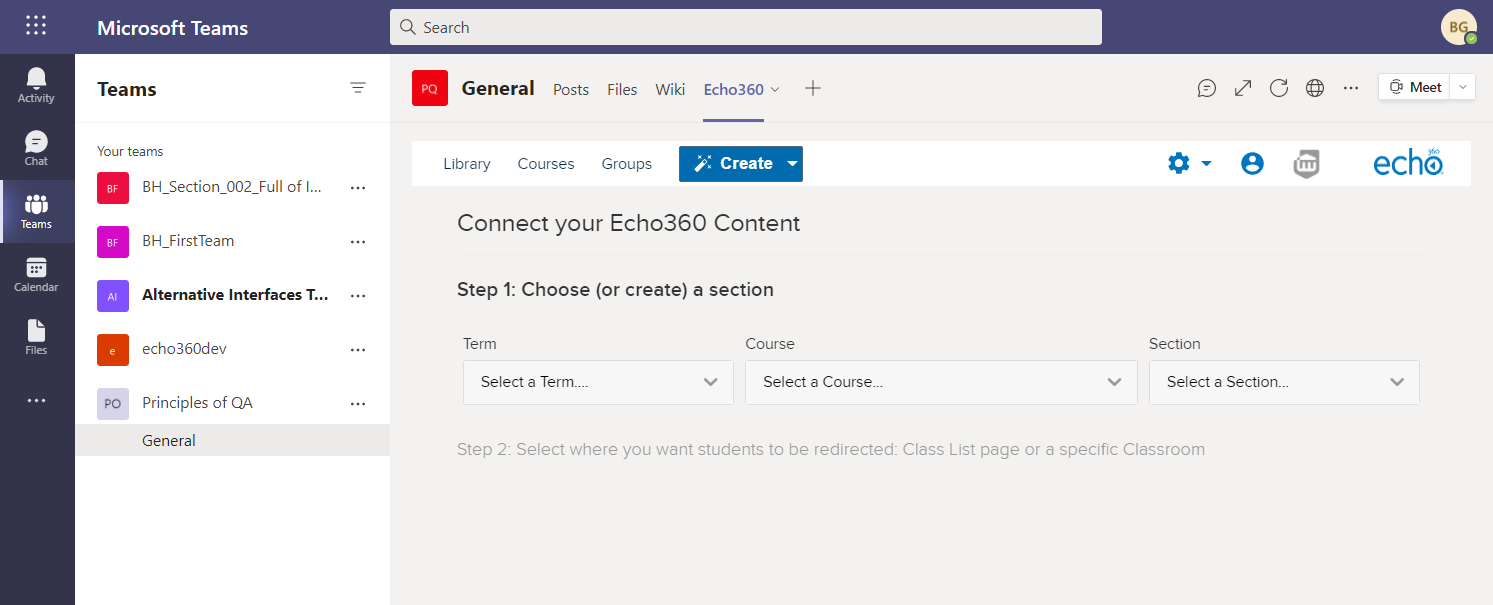 Select the Term, Course, and Section (or possibly just the Section if that is your only drop-down) and then click Link Content.
The EchoVideo Section Class list appears, as shown below. In this case it is likely your section will already contain some content, or at least future classes where lecture captures will go.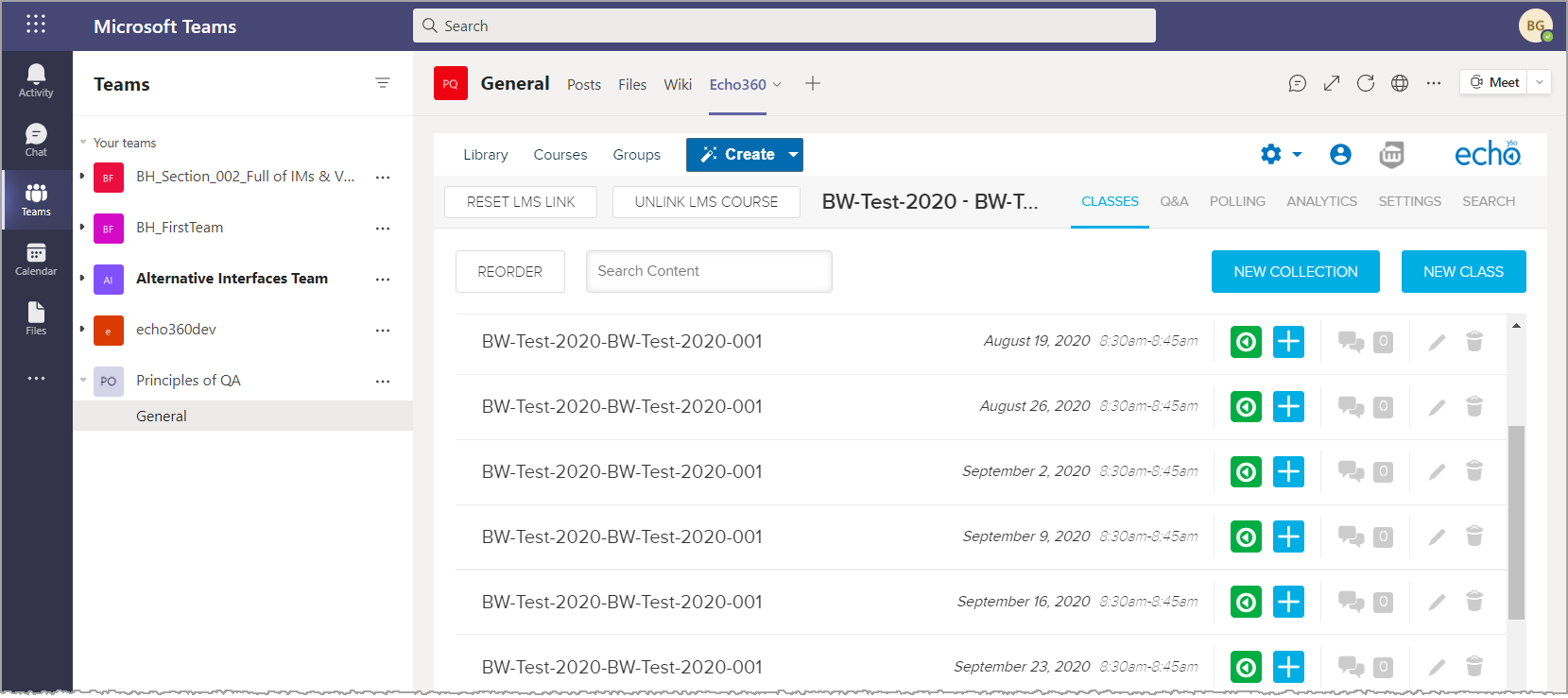 For more information on linking through to an existing EchoVideo course, see Linking LMS/VLE Courses to EchoVideo Courses. For linking to individual classes in your course, see Linking from an LMS Course to an EchoVideo Classroom. In both of these situations, MS Teams is acting like a a learning management or virtual learning system, so the link through process is identical.
IF your institution is set up to CREATE course sections for you when you pass through (called Simplified Provisioning), then your adding an EchoVideo app to a new tab results in a new section, ready and waiting for you to create classes and add content for students.

If this is what YOU see, refer to Simplified Course Provisioning Options for Instructors along with Instructor How To's for LMS Simplified Course Provisioning. These articles help you get started with creating classes and media for your students and generally working with your new clean EchoVideo slate.
You will also want to refer to For Instructors: using OneDrive with EchoVideo to take advantage of a OneDrive integration to automatically copy Teams recordings into your EchoVideo section, creating those classes automatically.