Who can do this?
Instructors where the institution has a Zoom Integration configured. If you do not see a Zoom Settings option on the left side of the Account Settings screen as described below, this page does not apply to you.
The Zoom Settings page in your Account settings has configuration options that are specific to YOUR account (which is why they appear in the Account Settings page):

The items on the Zoom Settings page are reasonably self-explanatory and have some information on the page with them. The sections below provide brief overviews that may give you enough information to work from. The linked articles provide more details and instructions as needed.
Note that Administrators can view and control these settings, in the event you need assistance in setting up or using the Zoom settings options. 
You may also want to review Zoom Integration for Instructors. This article specifically talks about the options and settings in Zoom that are necessary and/or suggested for optimizing the use of Zoom with EchoVideo.
Opting In or Out of Automatic Zoom Uploads
The toggle on the Zoom Settings page to Automatically copy Zoom recordings to EchoVideo allows you to opt-in (turned on) or opt-out (turned off) of the automatic Zoom uploads feature. This toggle is shown in the above figure, and resides on the Zoom Recordings Management tab that appears by default on the Zoom Settings page,
When turned on, all Zoom recordings that are recorded to the Zoom cloud, and which belong to YOUR Zoom account (the one managed by your institution) are copied to your EchoVideo Library after they have finished. If you have mapped scheduled Zoom meetings to EchoVideo sections, these recordings are also published to classes in the mapped sections along with being put into your library.
This automatic copy does not apply to Zoom meetings that are recorded on the local computer.
This automatic copy does not apply to Zoom recordings made with your personal Zoom account (or any account not managed by your institution).
This automatic copy only works for meetings that occur WHILE the toggle is turned ON. Meetings that occurred before then are not auto-copied into EchoVideo.
When turned off, none of your Zoom recordings will be automatically copied to EchoVideo. Turning this option off ALSO disables the automatic publishing of scheduled Zoom meetings to mapped EchoVideo sections. Turning this option off ALSO removes the Zoom Meeting option from the Create button, disabling the ability to create ad hoc "instant Zoom meetings" through the EchoVideo interface.
For more information, see Opting In or Opting Out of Automatic Zoom Uploads.
Add Alternate Zoom Email Address
Some institutions and some users have Zoom logins that do not match their EchoVideo email address. As long as the alternate Zoom login exists in your institution's Zoom account, you can add it to your Zoom account settings. This tells Zoom to recognize this login/account as belonging to YOU, so that Zoom can automatically copy your Zoom cloud into EchoVideo.
On the right side of the Zoom Settings page, click the Alternate Zoom Email tab, shown in the below figure. Then click Add Address.

You will be asked to verify the email address you enter by following the link that is emailed to you. You cannot use an email address that you cannot also verify.
For more information, see Zoom Alternate Email Settings. 
Mapping Zoom Meetings to EchoVideo Sections
If you have multiple scheduled Zoom meetings set up for your courses (and those meetings are set to record to the Zoom Cloud), you can map each of those different meetings to the EchoVideo course sections to which they apply.
The grid at the bottom of the main Zoom Settings page, shown in the below figure, lists all of your currently scheduled Zoom meetings. Use the grid to identify what sections to copy those meetings to after they are completed. All recordings automatically go to your Library in addition to (or instead of) any mapped sections.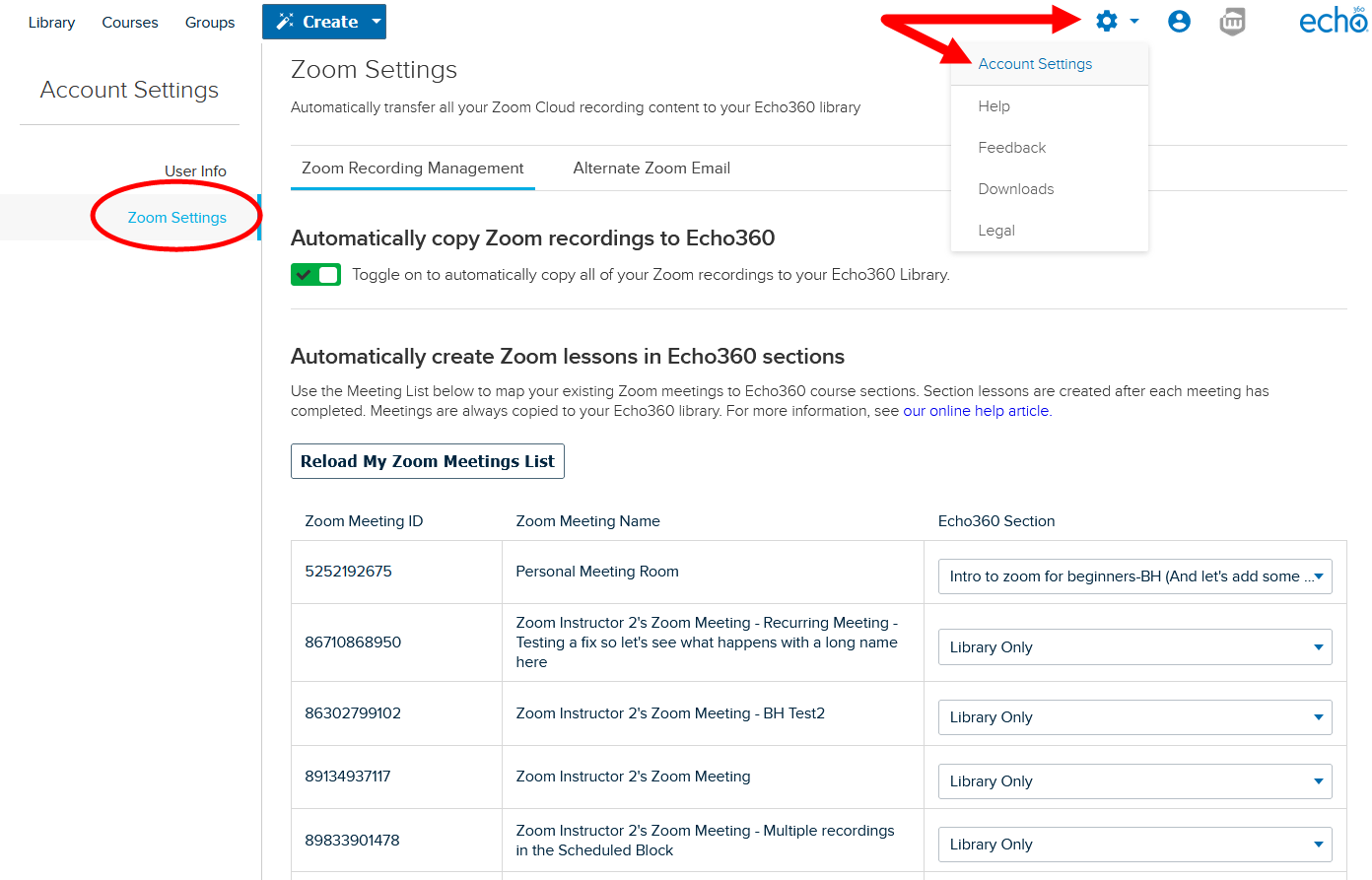 EchoVideo automatically creates a class in the mapped section to hold the meeting. Note that the classes are not created in advance; they are created after the meeting has finished and have been copied into EchoVideo.
Logically you must have the Automatically copy Zoom meetings toggle turned on for the auto-publishing feature to work.
See Mapping Zoom Meetings to EchoVideo Sections for more information.