The Echo360 Technical Support team is responsible for troubleshooting and diagnosing common or complicated technical issues pertaining to your Echo360 active learning solution.
Standard Support Program
The Standard Support Program is designed to help you maintain and support all of your Echo360-licensed solutions. All customers with an active license/contract or maintenance agreement will receive the following:
Designated Customer Contacts
With the Standard Support Program, you may designate primary contacts to communicate with Echo360 Technical Support and may change the designated contacts for this service at any time.  These contacts are authorized to engage our 24/7/365 support process.
Unlimited Incidents
Under the Standard Support Program, you'll have access to support for an unlimited number of incidents. Support incidents are managed with Desk.com, an industry-leading incident management system.
Software Updates
The Standard Support Program offers free software updates for licensed Echo360 products. Customers with active licensing and support contracts with Echo360 are entitled to hotfixes, service packs, and major product releases.
Return Materials Authorization
Should you experience an issue with an Echo360 hardware device currently under warranty and we confirm that the unit is faulty; we will replace that unit at no cost to you.
Echo360 Service Status
Echo360 provides a tool enabling all customers to track active service degradations and disruptions. An Echo360 cloud-based active learning platform service degradation is defined as an impaired but functional service while a service disruption is defined as an interruption in service functionality. Customers may go to status.echo360.com to see any active service disruptions or degradations as well as subscribe to receive notification of any future service disruptions.
24/7 Global Support Program
All Echo360 cloud platform customers receive 24/7 support for high severity issues.
To provide this service, Echo360 uses a global follow-the-sun support team as well as a paging system to alert our support staff during off-hours.
Please follow this workflow during off-hours in order to trigger our paging system and alert our support staff:
Requests for assistance to resolve Severe issues must be submitted online through the Resource Center. This resource center is functionally linked to our global follow-the-sun support team and our automated paging system and as such, is the only trigger for off-hours assistance.
An internal system will monitor for accounts that are either using our cloud platform or have been granted Premium Support coverage on the EchoSystem Server.
If a top priority Severity 1 case is submitted by an authorized account, we will use a combination of a global follow-the-sun support team and on-call technicians to deliver assistance.
This system includes an automated escalation scheme that ensures backup technicians and appropriate management members are notified.
Supporting Echo360 Within Your Institution
While Echo360 is always ready to assist you with any support-related needs, it's also important to create an internal support community within your institution. Echo360 recommends defining an internal support methodology and support personnel during your initial onboarding process.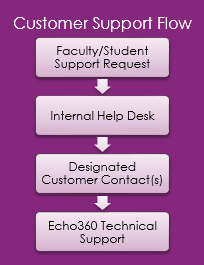 Faculty and Student Support Requests
Echo360 will gladly provide assistance to Faculty and Students who contact us via email (support@echo360.com). Please note that many Faculty and Student requests will require engagement with the administrators of your Echo360 tenant to resolve.  We recommend that Faculty and student support requests be directed first to your institution's help desk for evaluation and assistance and then escalated to Echo360 support by designated customer contacts if needed.
Internal Help Desk
Your institution's internal help desk evaluates the issue and uses self-help resources and internal knowledge to resolve the issue. If the help desk has exhausted all resources and knowledge on a particular issue, the support request should be escalated to the designated customer contact(s).
Designated Customer Contact(s)
Designated customer contacts are Tier II support personnel for Echo360 solutions internal to your institution. Escalated issues are evaluated by the designated customer contacts for resolution. These contacts will be granted access to create Echo360 support cases and engage our 24/7 Global Support Program.
Self Help Resources
Documentation
Video Tutorials
Active Learning Platform:
Support Escalations
For urgent technical issues, please submit a Severity 1 support case via the Resource Center.
Your account team leader is here to ensure your institution is successful. Please contact your Customer Success Manager or account team for assistance with any non-technical questions.